Do you put up seasonal wreaths to celebrate holidays throughout the year? I've always done a Christmas wreath, that one seems to be a given, but I just started doing wreaths for the season this year and it's been so much fun! The only reason I've hesitated in the past is thinking it would take a ton of time to put together and not really having ideas of what to do. However, this easy Halloween wreath diy took less than 15 minutes to put together! If I would have known it could have been so easy I would have started doing seasonal wreaths long ago.
Easy Halloween Wreath DIY
Supplies:
Grapevine wreath
Black spray paint
Spiderwebs
Your choice of fall or Halloween foliage
Spiders or other decorating accent
Scissors
I picked up all of my supplies at Michael's and used a 40% off coupon so in total all of my supplies were under $15! If you have decorating supplies you can pull out from your Halloween bucket, it will be even cheaper.
I started with an oval shaped grapevine wreath. These are normally brown like the twigs they are formed with. I choose the 18″ form, which is the perfect size for a normal (not oversize) front door.
The first step is to spray paint your wreath. This will take a while, as you need to spray from all the different angles and spray paint both the front and back of the wreath. I spent about 5 minutes on each side, making sure I got all the nooks and crannies, then went back inside to work on other projects for about a half hour and then headed back out to flip my wreath and start on the second side. Then, let your wreath dry completely.
Finally, pull your spiderwebs so they are loose and thin and stretch the webs across your wreath in any way you'd like. I just pulled and stretched the webs across the two sides of my wreath, but you could string them through the center or whatever you'd like. If you're using a new package of webs, you will likely need a pair of scissors to cut off a piece of the webs and then start pulling as they can be hard to rip through.
When your happy with your webs, next thread some foliage through the wreath, using just a stem or two at a time so it's not too heavy. Just cut off a piece, including the stem, that you want to use. Thread it in and out of the grapevine wreath form. It should hold securely and you shouldn't need to use any hot glue, but you can if you'd like.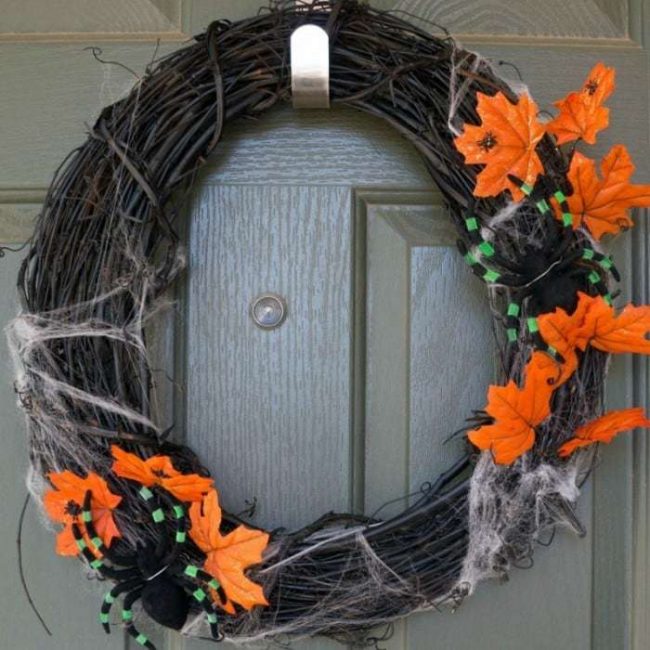 Finally, add on your accents. I picked up a 2-pack of spiders that we're attached to their packaging with twist ties. I just reused the twist ties to secure the spiders right to the wreath. That made it super fast and easy to add them and I can swap the spiders out for something different next year if I want to easily change up the wreath.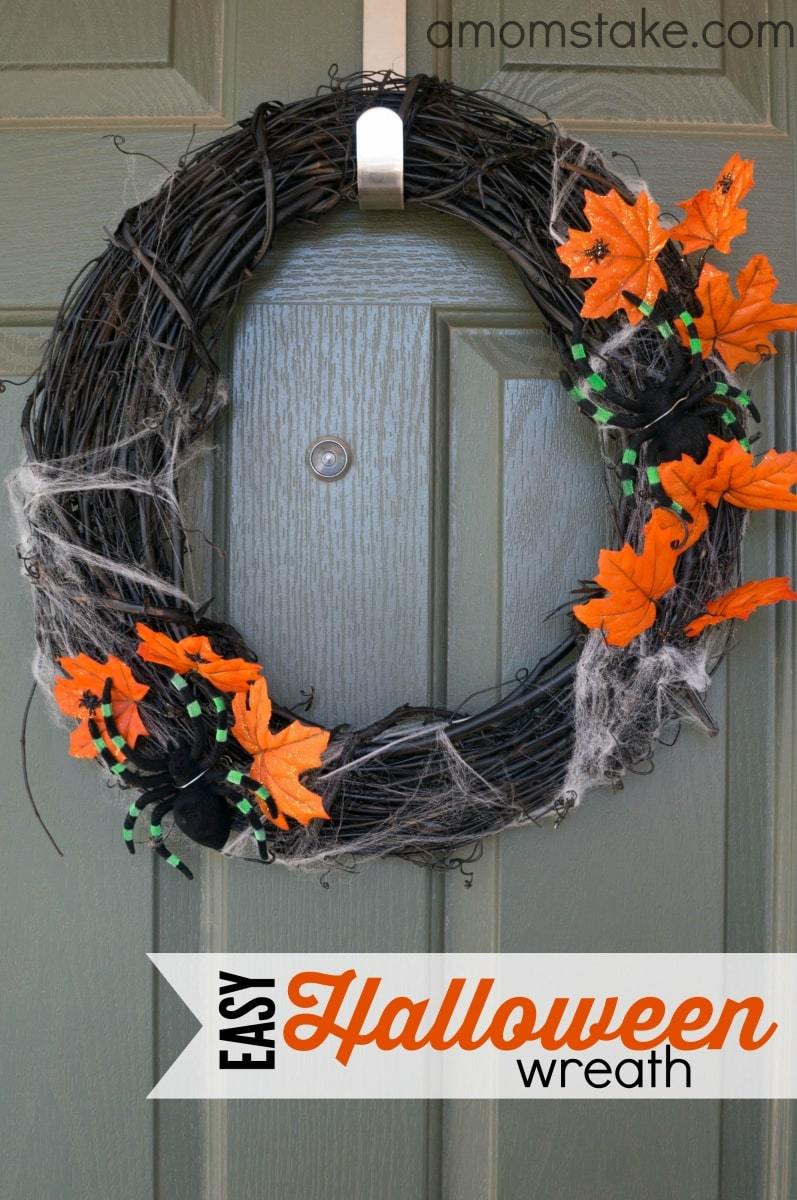 That's it! You now have an
easy Halloween wreath
in under 15 minutes and $15!