This is a sponsored post written by me on behalf of BIC®. All opinions are 100% mine.

It's nice to be able to give a gift to a friend or coworker when they are feeling down just to show them that they are in your thoughts and remind them that someone cares. When those moments come about – like a bad break-up or maybe the loss of a job or other misfortunes you can make your loved ones a DIY personalized umbrella as a perfect easy gift!
How to Make a Personalized Umbrella to Gift!
You'll need:
Umbrella
BIC Mark-It

™

Permanent Markers
Card or Notepad
To start, pick out an umbrella that you like. I picked out this really cute umbrella with shades of blue that would go perfect with the quote I would use on my umbrella and fit my theme. It was just $5 at Walmart, making the whole gift really budget friendly but still incredibly thoughtful.
Once you have your umbrella, you can start to plan your design. You can write anything you want on the umbrella to fit whatever theme you want from a wedding to a new baby congratulations to a happy birthday and anything else in between. I wanted to make mine personalized for someone hitting a rough patch as that is an area that is hard to gift for when you still want to share something thoughtful with your friend.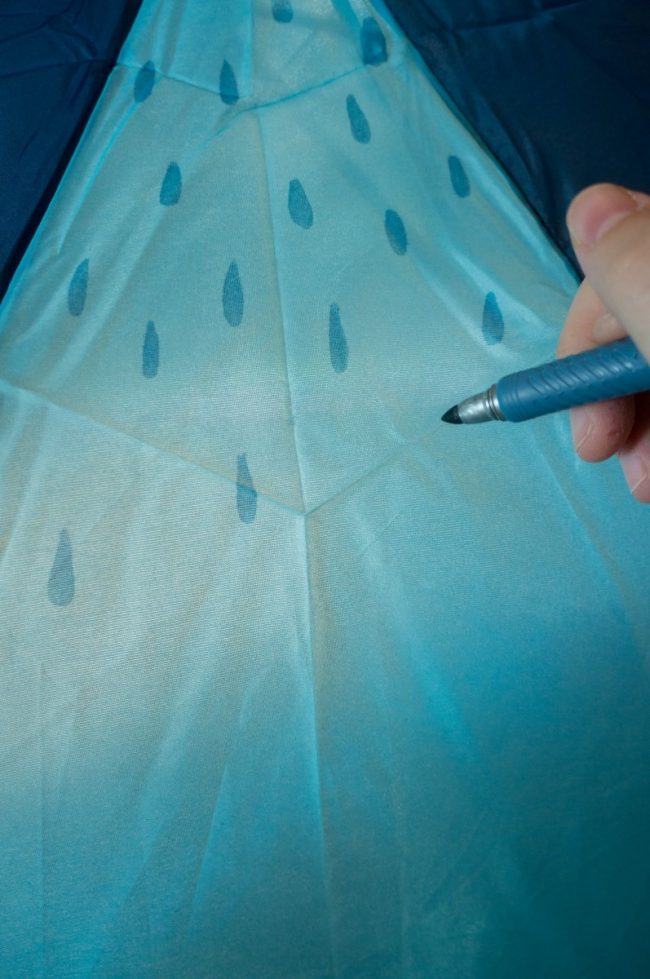 I wanted to play up the blues in my umbrella so I used a BIC Mark-It™ Permanent Marker in Misty Blue. The color went beautifully with all the different shades of blue on my Umbrella already. It had enough contrast to be interesting but also blended in nicely so that my design didn't feel out of place.
I started by drawing on rain drops on one panel of the umbrella. When I got about halfway down, I started writing my quote:
"You won't see the rainbow without the rain"
Then, to add in some color and a pop that would help the quote stand out, I colored in a rainbow right on the umbrella as well. Finally, I wrote out a note to go with the note, and folding my notepad note right into the folds of the umbrella as I rolled it closed.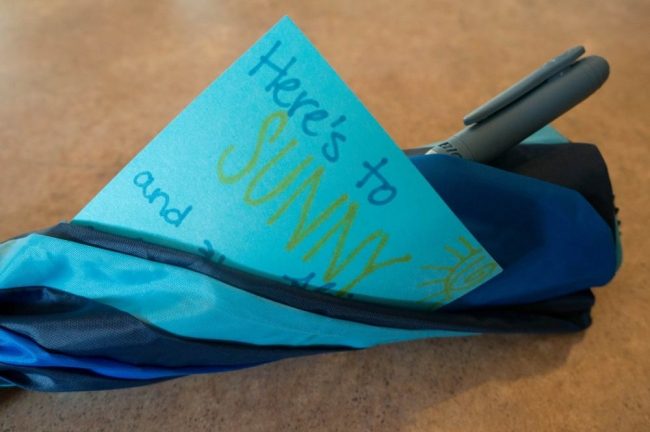 Check out this quick tutorial video where I show you firsthand how I designed my personalized umbrella gift. I also make a fun and simple treasure map in the clip, too!
These two simple DIY ideas are part of BIC's free PDF Merry Marking printable. You can get the booklet of merry marking and a coupon to start marking with BIC Mark-It™ Permanent Markers!
Now, I challenge my friends Michelle, Aubrey and Bethany to give this a try! It will be a perfect gift for passing along to a friend in need!
How would you personalize your gift umbrella?