Little girls have tons of bows for their hair and those can quickly clutter up the bathroom counter or drawers but this DIY: Easy Ribbon Bow Board is a great way to get rid of clutter and store their bows in a cute and fun way. I created a simple version that can easily be changed up with your daughter's favorite colors and themes.
DIY: Easy Ribbon Bow Board
SUPPLIES:
Large Picture Frame
Ribbon
Hot Glue Gun
Embellishments: Foam Craft Paper, Bows, Beads, Flowers, etc.
ASSEMBLY:
I found a rather nice larger frame on a clearance rack at our local Michael's Store. This was marked down from $34 to only $3! Because the frame had a small crack on the back side that wouldn't allow it to support an image and glass they marked it down. It was still perfectly nice for the use I had which was to create an easy ribbon board to hold girl's hair bows. I chose some sheer and pretty ribbons in pink and silver to use since the bows going on this ribbon bow board are likely going to be for a young girl and fairly small. If you are creating for a girl who has larger or heavier bows to store a sturdier ribbon would be recommended.
Cut lengths of ribbon a few inches longer than your chosen frame. Cut enough to allow 3-4 inches between each ribbon once attached.
Heat glue gun and attach ribbons to frame making sure you wrap them around front of frame and attach on back side. For thinner ribbons like I used you may use a thumb tack through the hot glue and frame to secure and give strength for holding heavier bows.
Trim end of ribbons so they are even with frame and won't show when hanging.
Embellish tops of each ribbon and corners or sides of frame with foam craft cutouts, beads, flowers or whatever is preferred to match the personality of the owner.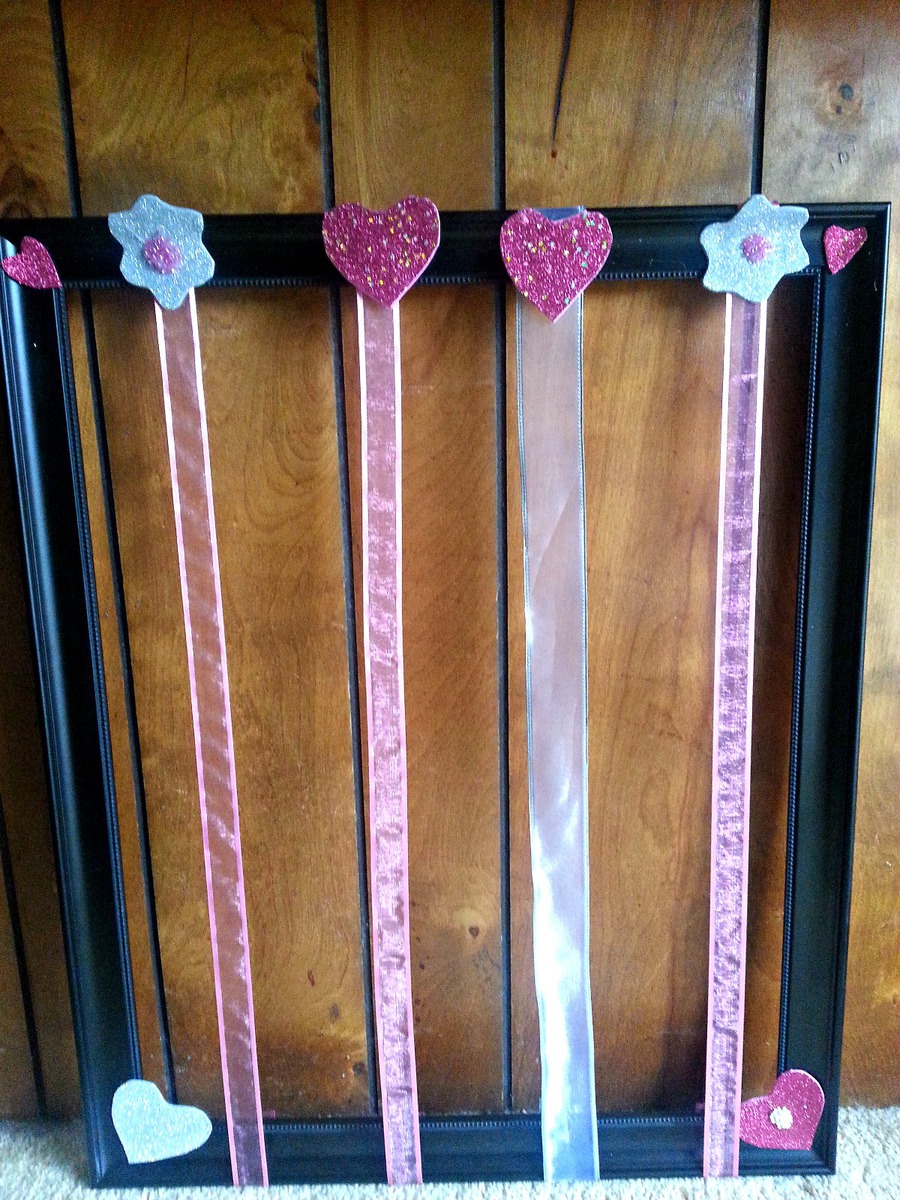 As you can see this is a very simple and easy project that you can make truly make your own. If you have an old beat up frame lying around the house you can use, perhaps a can of glitter or bright colored spray paint would cover the nicks and scratches and create an easy way to recycle something that would otherwise become trash. There are also some great inexpensive foam letters that could be attached with hot glue to create a name at the top of the board to truly personalize this easy ribbon bow board. For under $10 you can easily create a uniquely personalized gift for the little girl on your holiday list this year.