All of our extended family live out of state. Sometimes it can seem very lonely when we hear of all of our cousins getting together for birthday parties and family gatherings, and we just can't travel that far all the time. It's really important to our family that even though we live so far away, we keep a close relationship with all of our extended family.
One way that we've decided to do this is with hand-made birthday cards–that are more than just a card. With just our close extended family (grandparents, aunts & uncles, and cousins) we have almost 40 birthdays (and those happen EVERY YEAR)! Just the cousins alone are currently 21 and counting. Our budget cannot afford to send a fabulous gift to each and every person for every birthday, but we want to send more than just a card.
Our family has come up with unique DIY Birthday Cards+, which is a card and a little bit more…
Unique DIY Birthday Cards
Each year we pick a theme that the birthday cards are going to revolve around, and we try to figure out a way to make each and every card personal while still being able to mass produce them on some level. Here are three Birthday Cards+ that we've recently sent out to our family. My kids love being able to send out fun things on each birthday that are more than just a card, and it means more to them that they helped create each card. (I do have to let some of my perfectionism go when my kids help, but when I see the joy on their faces as they take pride in their accomplishments making the cards, it makes me realize what is truly important.)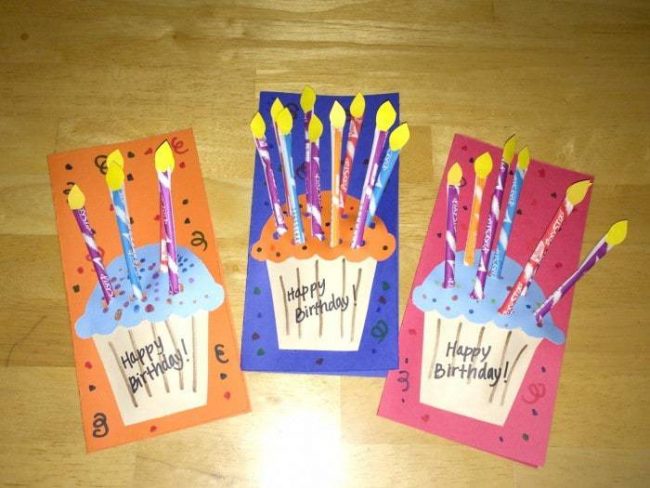 The Birthday Cupcake
This card was one of the most fun to make. We cut out simple cupcake bottom and top pieces, and hole punched the number each person was turning into the top piece (that's how we individualized each card). The kids decorated the sprinkles on the top of the cupcakes and the cards, and I hot glued the cupcake parts to the front of the card. We added a flame to the top of pixi stix (which is the MORE than just a card part) and put the card all together.
I made the card the size of a business envelope and they went through the mail with just one stamp every time. I did stick a flat piece of cardstock over the front of the card so that it was more flat and stable as it went through the mail.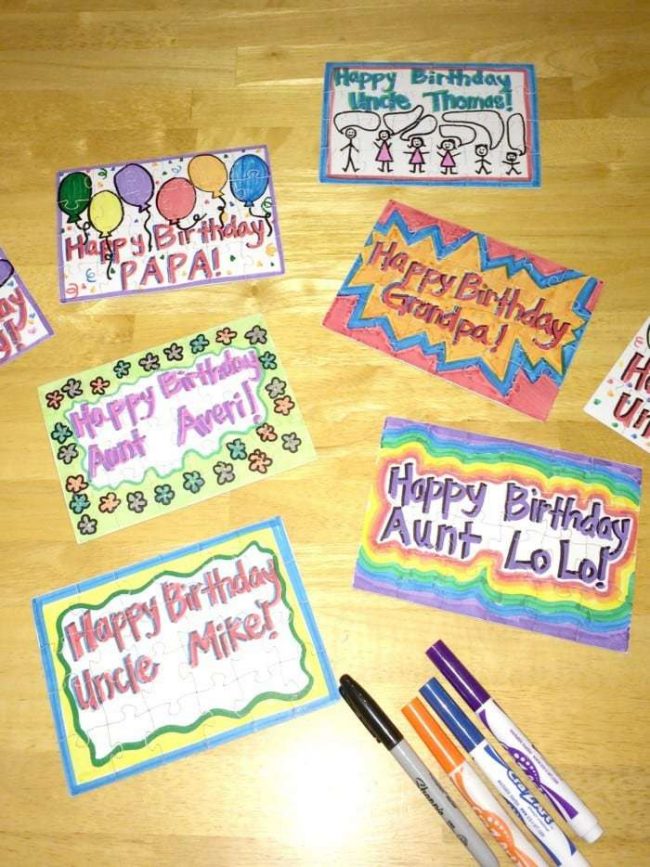 The Puzzler
We found some great blank DIY puzzles that we could individualize and decorate for each person. I did a basic design and the kids wrote their own personalized messages over it. Then we broke up the puzzles and stuck all the pieces inside a regular letter envelope and mailed it, again with just one stamp. I found that it helped the recipient put it together if there was a border drawn around the puzzle to give them a start.
The Bubble Gum Birthday
This card took a lot of trial and error to figure out how to make it work so that it was flat enough to mail. We used the top and bottom plastic pieces from cupcake wrapper containers as our jar. We decorated a gum ball machine on white card stock. I found flat pieces of gum (the actual round gum balls were too large to fit in my jar or in the envelope. The smaller, square pieces of gum move around loosely in our gum ball machine which looks great!) I ran a line of hot glue around the card stock before setting on my plastic case. Inside we wrote: Just "POPPING" by to wish you a Happy Birthday!
Sending fun, unique, hand-made birthday cards that have a little something extra with them has become a really fun tradition for our family to help stay connected with all of our out of state family.
How else do you stay connected with long-distance family?