Planning your dream wedding in your own backyard (or borrowing a backyard) is a fantastic way to save money on your wedding over a traditional venue. Your wedding location is one of the biggest expenses, and the right backyard can really be a great way to have a more intimate wedding.
One of the first things you should consider is your guest count (your total number of guests should probably be under 50) and it's a good idea to keep a plan b in mind – just in case. But for a micro wedding you won't likely need much more than a private backyard!
There are lots of steps to planning an outdoor wedding from creating invitations to picking out a theme and settling on a wedding dress.
But as the big day starts to near, it's helpful to have a checklist there to help you pull together the big day. This checklist is all about helping you, and your family and friends that will be pulling together all the details, plan for and set up your backyard wedding!
By this stage, you have all the details well planned out with a schedule or itinerary for the day. Now, it's time to pack up and get ready to pull the big event together with the day before or day of preparations!
You won't need a wedding coordinator if you do it yourself — just make sure a family member or one of your bridesmaids has a copy of your wedding day checklist so they can help keep you organized.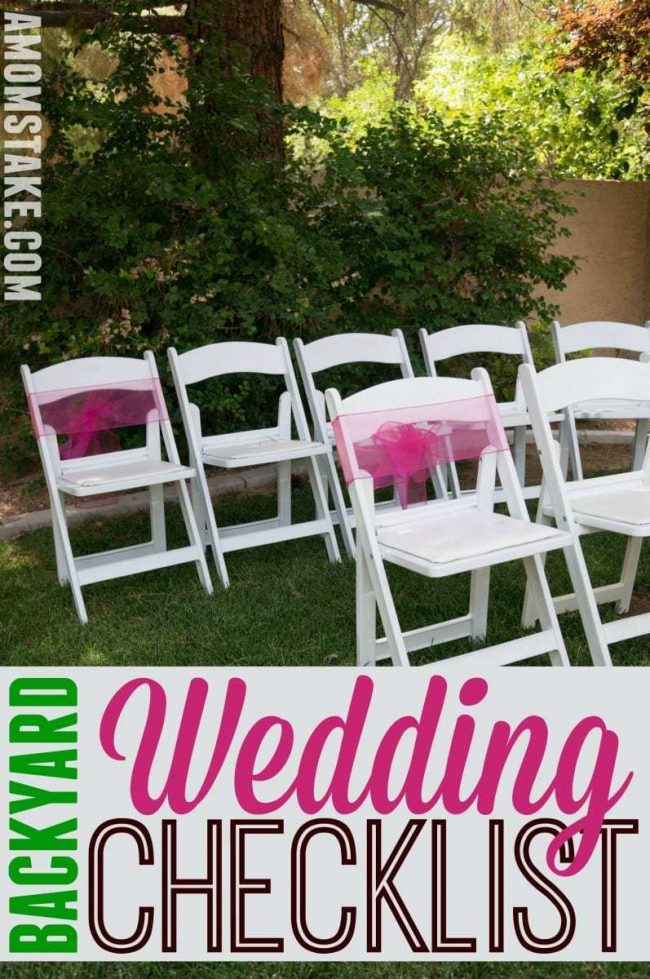 DIY Backyard Wedding Checklist
Bride: Make sure she has these basics on hand, and all the help she needs to pull together her look.
Make sure your home wedding has enough space for the bride to have a room to get ready!
Wedding Dress
Veil
Shoes
Garter
Something Old, New, Borrowed, Blue
Makeup
Jewelry
Outfit to change into
Bouquet
Something to eat
For the Yard: Prep the space for the wedding celebration and/or reception.
Tables
Tablecloths and Linens
Centerpieces
Chairs
Arch
Greenery
Decorations
Tent, if additional shade is needed
Trash receptacles
Outdoor Space Rental Tips: Repurpose chairs by using them first for the wedding ceremony area and then let the guests move the chairs while bridal photos are taking place to the tables and seating area. It's the best way to save on rental fees.
Parking: You won't have much space if you're in a residential area for street parking space. So look around to see what options might be available nearby or let close neighbors know. In some instances, you may also want to look into a shuttle service.
But for most weddings you can avoid all those extra wedding worries that are a lot of work and simplify during your planning process to keep the essentials that matter to you most and wedding guests to those you really want to celebrate the day with.
Food Prep:
Paper Products – Cups, dinner plates, cake plates, utensils
Meal items – Dessert, dinner, appetizers depending on your menu
Wedding cake
Serving utensils
Drinks
Toasting glasses for the bride and groom
Other ideas to consider: Book a food truck to handle all the food. It will give your backyard a little extra space and take one thing completely off your plate (pun intended)!
Alcohol warning: Make sure you have a licensed bartender for your cocktail hour and while any alcoholic beverages are being served to stay in compliance with local ordinances.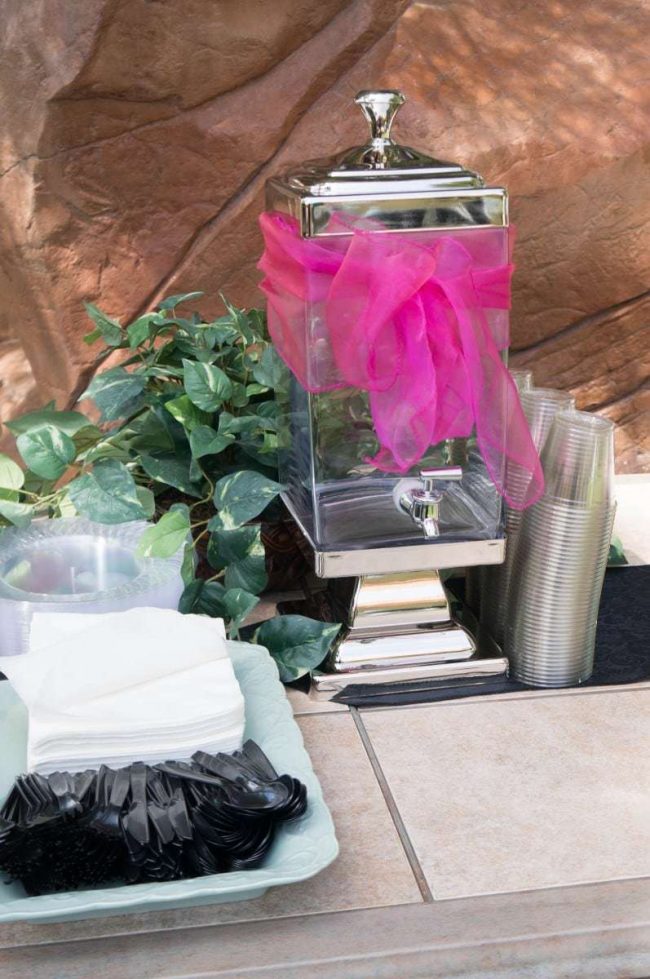 Music:
Playlist
Speakers
Microphone
Computer, tablet, or iPod to play your playlist
Dance Floor Tip: Look for a paved patio as that will make an ideal dance floor that doesn't need any prep or setup at all! Tables can go out in the lawn, leave the patio for dancing! You can always rent a portable dance floor from a local rental company if you need to for your backyard wedding reception location.
Noise Ordinance: Keep in mind any local laws, regulations, and HOA rules that will apply to your place.
Don't Forget:
Wedding Rings
Photographer
Marriage license
Guest book
Indoor Accommodations: Make sure your backyard wedding host doesn't mind some indoor space being used for guests as well. For example, the living room would make a great place for gifts and the dining room can be helpful for setting up food prep or for a beautiful indoor display of the wedding cake.
Airbnb as a Venue: We rented an airbnb for my sister's backyard wedding and it was the perfect location as were sure guests could come indoors, as needed, and our immediate family stayed here to save on costs! It also gave us very easy access to close family by staying in a private residence together that didn't have any concerns about a small event.
A Quick Note on Bathrooms: The last thing you want is a problem with bathrooms! If absolutely necessary, you may want to consider portable restrooms — rental companies often offer them, especially if you have large gatherings planned.
Printable Backyard Wedding Checklist
Easily keep all your wedding planning and preps in one location with this 1-sheet backyard wedding printable checklist! Simply save or print this PDF checklist file and save it with your wedding notebook to have your plan in place.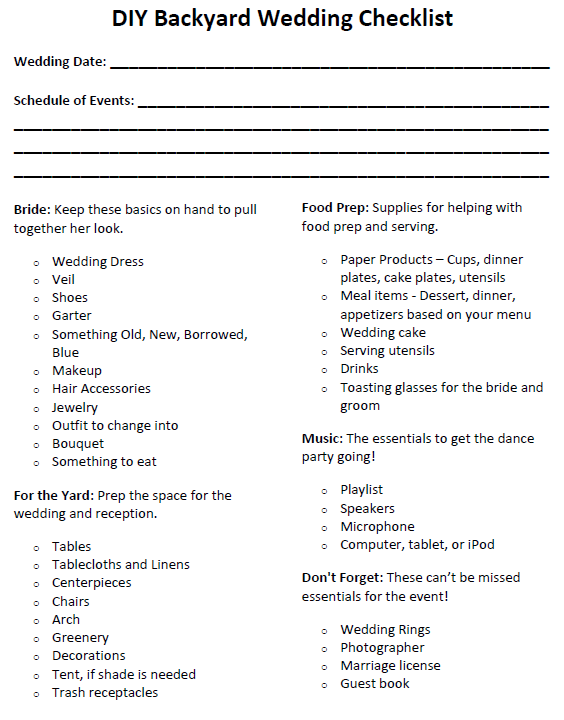 Click on the link below or click here to download the free DIY Backyard Wedding Printable Checklist! The PDF file will open up in a new tab and you can either save or print the file and use it for your own personal, non-commercial use!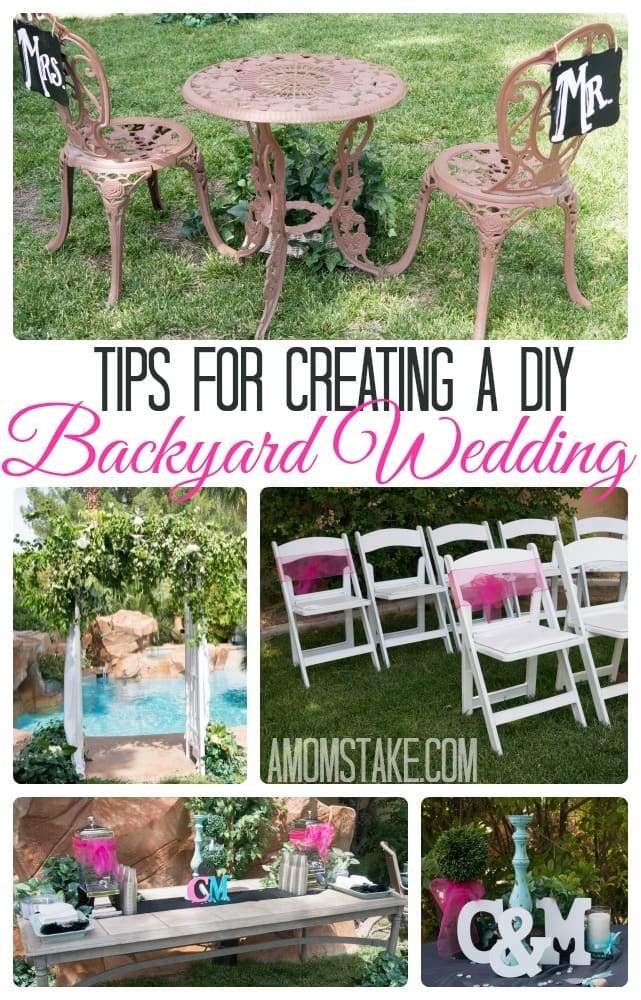 Looking for tips on how to pull a successful backyard wedding together? Head over and read our post on Tips for a DIY Backyard Wedding! We share what worked well for us and how to overcome some of the common challenges you might face with planning a wedding in your home.
What would you add to this backyard wedding checklist?