I received a Tubby Table in exchange for this post. All opinions are my own.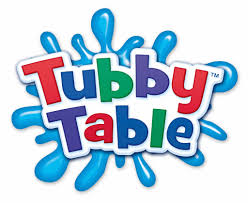 Bath time is a very beloved time of the day for my little toddler. If I even mention the word "bath", my son will run to the tub and start pulling his clothes off; this kid lives for soapy water and rubber duckies. Now that the Tubby Table is part of my son's bath time routine, his love for baths has only grown; I can't get him out of the tub!
Now, I know that not all children love bath time as much as my kid. However, the Tubby Table will persuade your child fall in love with taking baths. The Tubby Table provides fun water play perfect for all children. Designed for children ages 1+, the Tubby Table captivates attention through 5 multi-colored, numbered, and shaped water cups and a flat play surface for hours of fun. The Tubby Table's innovative suction cup design keeps play in the center of the tub. This height adjustable toy grows with your child allowing years of bath time fun.
My son adores his Tubby Table. I love watching him develop his fine motor skills as he tries to piece together the various shapes on the top of the table. This awesome teaching aid allows my son and I to practice colors and numbers while playing in the bath. One of my son's favorite things to do with the Tubby Table is to line up all of his rubber duckies along the edge of the table. He then will laugh and exclaim "Oh, duckies!" My son also enjoys using the multicolored cups to pour water through the Tubby Table's perforated top; he loves looking at the water strain through the small holes. I love the fact that the Tubby Table's top is perforated so I don't have to worry about water spilling all over my bathroom floor. Because I can adjust the table to my son's height, I'm not worried about him standing up in the tub trying to reach the top of the table. I also appreciate the Tubby Table's soft non-slip mat for my son to sit on; this helps provide extra safety measures while in the tub. The Tubby Table aids my son in developing his fine motor skills, provides a safe bath time experience, and endless fun. What more could you ask for in a bath toy?
Incorporate the Tubby Table ($29.99) into your bath-time fun by visiting www.tubbytabletoys.com. For the next 2 weeks, use coupon code momstake10 to receive 10% off your Tubby Table Purchase. Tubby Table is currently hosting a Facebook sweeps (through 4/20) and giving away an $80 Amazon gift card—the perfect amount to purchase two Tubby Tables! You can enter by clicking here. Tubby Tables can also be found on Amazon ($29.99).