My little boys LOVE to swim! My mom will often take them to her community pool and they have an absolute blast playing in the water, diving for toys, and playing their swimming games for kids.
The only thing that they don't like about the pool is getting water in their eyes! We have purchased many different goggles over our time but they always seem to break quickly and water leaks in making them pointless. I was thrilled to have the opportunity to try out Aqua Sphere's swim goggles line made specifically for kids.
Here we are all sporting our Aqua Sphere swim goggles. My mom ended up in the hospital for a week with an infection and has been taking it easy ever since so we didn't have access to the local pool we always visit. So, we took our goggles for a spin in the bathtub.
The first thing I noticed about these goggles is they are REALLY high quality. They have built in clips or push buttons that let you slide out the straps to loosen or tighten your straps really easily.
This lets us get a really good fit that keeps the swim goggles secure but not too tight on their face. This also makes the goggles come off really easy by just pushing down the pin (or the clip) and pulling on the goggles to loosen the straps.
One of the pairs even un-clips with the Quick-Fit system that removes it from the side making them even easier to get off. Another thing I love is these swim goggles all have built-in protection with 100% UVA and UVB protection to protect their eyes from the bright rays.
The Aqua Sphere goggles are extremely comfortable and they work great. They are by far the nicest pair of goggles we have ever had for our children. I absolutely recommend these goggles to keep your kids eye safe, protected, and help them see clearly while playing in the pool. Their kids goggles start at $15.95.
Children Pool Safety Tips with Amanda Beard
Amanda Beard, olympic swimmer and mom of soon-to-be two, shares with us why we should get our kids swimming and enjoying the water with children pool safety tips.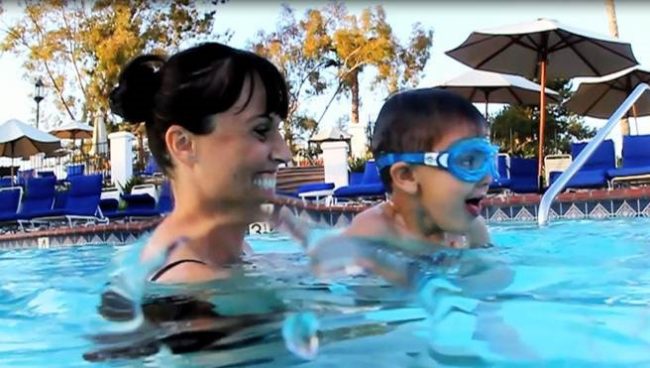 Amanda's #1 tip? Introducing your children to water early.
"I had my son in swim classes at 6 months old! For me, it's not about becoming an Olympic Swimmer or even being on a swim team, it's simply for water safety and it's a life-saving skill. I stress to every parent out there to get your kids in the water with a professional and have them learn how to swim."
I received samples of Aqua Sphere swim goggles in exchange for this post. The opinions expressed above are my own. Any claims should be verified on the sponsor's site.