When you were a kid, didn't you always wish you were older? Now that you're a grown-up, you probably have mixed feelings about aging, ranging from a vehement "You couldn't pay me to go through my awkward, junior high, braces-and-coke-bottle-glasses phase again!" to "What would I give to have just a fraction of that youthful energy?" But no matter how content you've grown with your accrued wisdom or how gracefully you've aged, there's that one day of the year when every adult wishes they were still a kid: October 31st. Why, you ask? It's simple: It's all about the Halloween treats!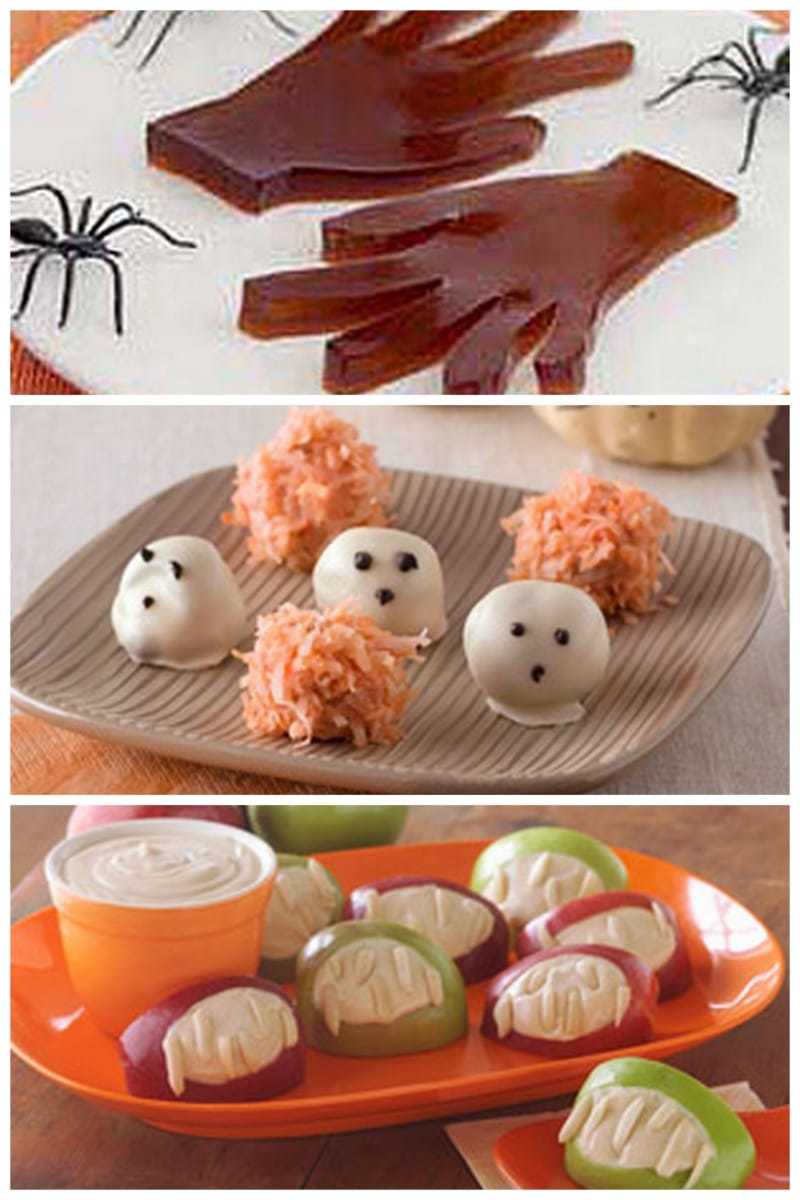 You have to admit, Halloween is awesome. It's the only night of the year when you get to dress up, run around at night with your friends making lots of noise, and – most importantly – beg candy off of everyone you meet!
Of course, most of the Halloween shenanigans really only apply if you're a kid. Grown-ups have to find other ways to enjoy this most spook-tacular of all holidays. Since you really can't go out and collect your own bag of Halloween candy, rent a cheesy, scary movie from the 80s – though the awful acting and hairstyles will undoubtedly be more terrifying than the actual plot line – and watch it while you whip up a batch of Halloween treats.
These goodies will be so delicious that your kids will forget all about their bag of trick-or-treating candy, leaving it sitting vulnerable and alone on the kitchen table… so you can snag it and eat all the good candy once they fall asleep! These four recipes will help you put your evil plan in motion.
Slimy, Jiggly Hands
This recipe gives "finger food" a whole new meaning. Get the whole family involved in making these cute Halloween treats – it's the perfect après-trick-or-treat activity. For even more fun, make jiggly feet, too!
Ingredients:
2-1/2 cups boiling water (Do not add cold water.)
3 pkg. (3 oz. each) grape flavor gelatin
1 pkg. (3 oz.) orange flavor gelatin
Make it:
Add boiling water to combined gelatin mixes in large bowl; stir 3 min. until completely dissolved. Pour into 13×9-inch pan. Refrigerate 3 hours or until firm.
Trace outline of hand on piece of paper. Cut out pattern; place on top of gelatin. Cut around pattern with sharp knife, making sure to cut all the way through gelatin to bottom of pan. Repeat with remaining gelatin.
Dip bottom of pan in warm water 15 sec. Carefully remove hand cutouts from pan. Use as a garnish for your favorite Halloween punch or place on individual serving plates. Cut out any remaining gelatin with Halloween cookie cutters. Serve with the Jigglers Hands.
Terrifying Toothy Grins
Mmm, bite right in — if they don't bite you first! Though these ghastly grins are great for kids, they also make a creepy, not-too-sweet treat for an adult party.
Ingredients:
1 pkg. (8 oz.) cream cheese, softened
1/2 cup packed brown sugar
1/2 tsp. vanilla
2 large apples, cut into quarters
1/4 cup slivered almonds
Make it:
Beat cream cheese with mixer until creamy. Add sugar and vanilla; mix well.
Cut thin wedge in peel side of each apple piece; fill with 1 tsp. cream cheese mixture. Insert 4 to 6 nuts in cream cheese mixture in each apple to resemble teeth.
Spoon remaining cream cheese mixture into serving bowl. Serve with apples for dipping.
Creepy, Crawly 8-Legged Cookies
Warning: Those who suffer from arachnophobia may run screaming when they see these eight-legged snacks. The rest of us, however, might just find these cookie spiders too cute to eat!
Ingredients:
48 pieces (1-1/2 inches each) black shoestring licorice
6 chocolate cream sandwich cookies
12 black jelly beans
1 Tbsp. ready-to-spread chocolate frosting
Make it:
Insert 8 licorice pieces into cream filling around side of each cookie for "spider's legs," using frosting to secure.
Attach 2 jelly beans to each spider with frosting for the "eyes."
Devilishly Delicious Truffles
These luscious truffles are perfect for any spooky get-together. Enlist the kids' help with the decorating and save even more time.
Ingredients:
1 pkg. (6 squares) bittersweet chocolate
1/4 cup whipping cream
1 Tbsp. butter, softened
1 pkg. (6 squares) white chocolate, divided
Yellow and red food colorings (3 drops yellow and 2 drops red)
3 Tbsp. flaked coconut, tinted orange
Black decorating gel
Make it:
Microwave bittersweet chocolate squares, cream and butter in microwaveable bowl on HIGH 1-1/2 to 2 min., stirring after 1 min. Stir until chocolate is completely melted; cover. Freeze 1 hour or until firm enough to handle. Use teaspoon to scoop and roll chocolate mixture into 20 balls, each about 1 inch in diameter; place on waxed paper-covered baking sheet. Freeze 20 min.
Microwave 3 white chocolate squares in clean microwaveable 1-cup measuring cup or small bowl 1 to 1-1/2 min., stirring after 1 min. Stir until chocolate is completely melted. Set aside. Repeat with remaining white chocolate squares in separate bowl; stir in food colorings. Cool chocolates completely.
Dip 10 chocolate balls in tinted chocolate, turning to evenly coat each ball. Return to baking sheet. Repeat with remaining chocolate balls and untinted chocolate. Decorate orange truffles with coconut to resemble pumpkins. Use decorating gel to draw eyes and mouths on white truffles to resemble ghosts. Refrigerate 30 min. or until chocolate is firm. Keep refrigerated.
No matter which Halloween treats you make, they're sure to distract your children from their bags of trick-or-treating loot just long enough for you to sneak in and make your move. And don't feel guilty – all that sugary candy's not good for their teeth, anyway.
Disclosure: This post is brought to you by a guest author.