Summertime is the perfect time to head outside in the evening hours with a few sleeping bags, a good book, and good company. Laying out reading under the stars is a lot of fun. Here are some ideas to help get you started on your own Reading Under the Stars Party!
This post is sponsored by Scholastic. All opinions are my own.
Under the Stars Party Snacks
Asteroid Belt Trail Mix
Make your own asteroid collection into a fun trail mix. Combine muddy buddies with mini marshmallows, mini oreos, milky way bites, mixed nuts and square pretzels.
I made a half batch of Muddy Buddies, then added a cup of each: mini oreos, pretzels, and milky way bites. Add a half a cup of mini marshmallows and mixed nuts. Mix up your trail mix and let your guests scoop and serve their own treats with small disposable clear plastic cups.
Star Jello Jigglers
Make a batch of jello jigglers with two layers of blue and yellow mixes. Prepare both jiggler recipes separately. Pour your bottom layer into a 9×13 baking dish and allow this layer to cool about 15 minutes. Meanwhile, prepare your second layer and let it drop in temperature on the counter or in the fridge in a bowl.
Pour your second layer on top of the first before it's too solid to pour, but when the first layer is solid enough to keep it's layer in tact. The baking dish layer will become solid faster than what you have set aside in the bowl as it will be much thinner. Cut out your jigglers using a star, moon, or planet cookie cutter. The best part is, the guests can peel apart between the two layers giving them two fun jigglers in one!
Party Invitation
Start your party planning by making a guest list and an invitation for each of your guests. Scholastic has a free invitation you can download and print!
To save, just right click on the image below and select "Save As" and save the invitation to your computer. You can then print from home, email the invitation, or send the photo off to a printing service for very inexpensive invitations.
Reading Under the Stars Party Activities
Constellation Challenge – Research ahead of time what constellations can be seen in your area and for the season you'll be holding your party, as the night size is frequently changing. Print out a guide to 3 or 4 constellations and try to help the children find and point out these constellations in the night sky. Have a fun prize for anyone who can find them all and a consolation prize for everyone who gives it a try.
Book Reading Stations – The whole fun of an Under the Stars party is to get kids reading and learning while having fun. Have a couple of cute metal buckets around the lawn tied with a variety of ric rac ribbons around the handle. Fill the buckets with an assortment of books appropriate for different reading levels.
Paint Moon Rocks – Use glow-in-the-dark paint and let the kids help paint their own rocks using inexpensive foam paint brushes. Let the guests help "charge" up their rocks so they can see them glowing! If you can't find glow-in-the-dark paint, try using silver or black with glitter mixed in.
Outer Space Bookmark – Create a simple bookmark to represent space by using yellow cardstock and a sheet of blue tissue paper. Cut both pieces to your desired bookmark size, making enough sets for all party guests. Let guests decorate their cardstock layer with planets, stars, or fill in a cool fact they've learned about one of the constellations from the party. Next, crinkle up the tissue paper layer and then press it smooth to give the book mark a cool affect. Finally, have the guests line up their two pieces and hole punch towards the top of the bookmark. Tie a piece of ribbon through the hole punch to complete their bookmark. Make sure their name is on their bookmark and set these aside to add to the goody bags.
Under the Stars Party Favor
Send guests home with a book about space and the party crafts they made while at the party. You can also include pop rocks as a fun space themed candy in their goodie bag and a space themed stencil to let them continue the outer space fun from home.
Reading Under the Stars – Floating Stars
If you happen to be throwing your party with little kids or you live where it is light out until really late, you can make your stars for a reading party! I cut out a piece of yellow cardstock into 2″ stars. Then, using some white yarn and tape and a simple knot I hung up the stars from an outdoor umbrella at varying lengths.
I added a waterproof yard blanket and some pillows and blankets and this made the perfect backdrop for our party as it's not dark enough for stars until about 11pm here in the Pacific Northwest.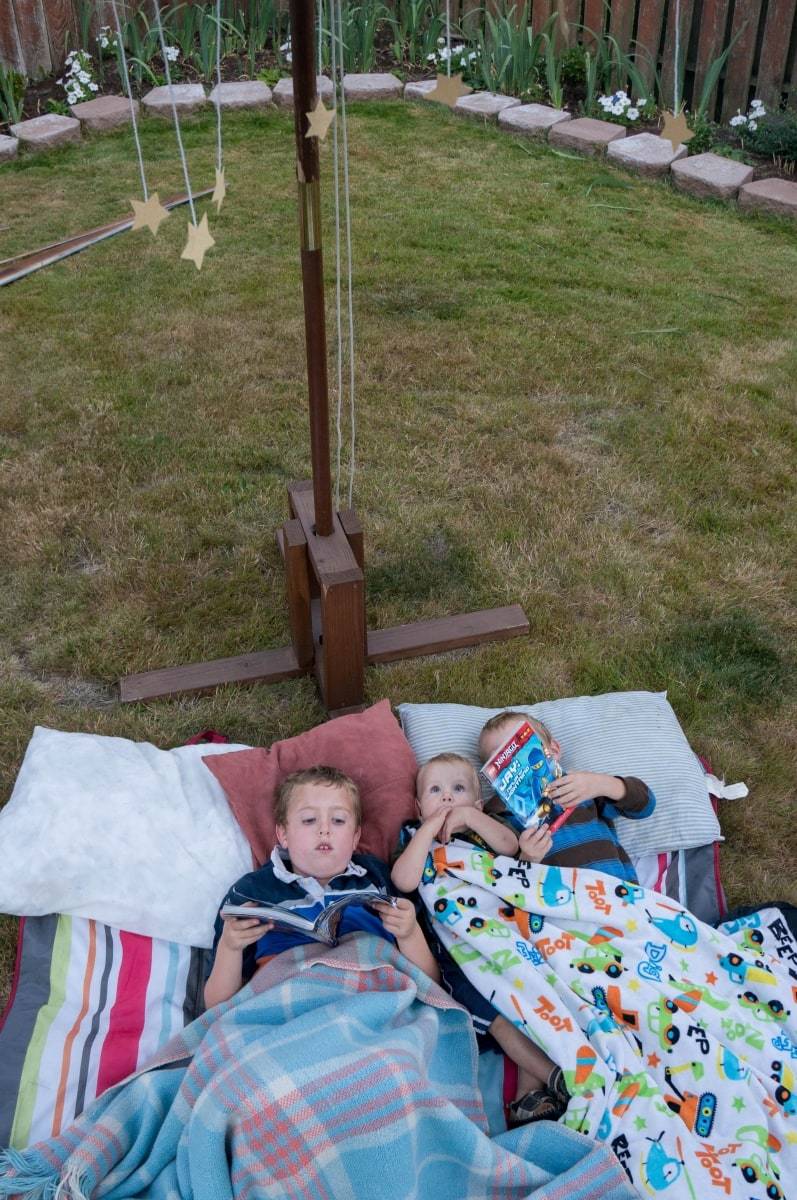 They all loved laying out under our "stars" and reading together. My oldest is super excited to be adding to the world record of minutes read this summer. The record is already almost 10,000,000 over last year's record!
What would be more fun than to host your own Under the Stars party this year? It's a great way to get together, have fun, and celebrate all the best parts of summer! Visit http://www.scholastic.com/summer to get started on the reading challenge or find resources like a star guide and book lists to get your children excited to read.
This year's Summer Reading program is powered by EVEREADY®, the maker of batteries and flashlights, to encourage families to discover new and fun ways to explore reading outside this summer. So grab a flashlight, a favorite book, and a bit of imagination and head outdoors to read this summer!
What activities would you do at an Under the Stars Party?