I received a Zoku popsicle maker to review in exchange for a separate post. I used my complimentary Zoku for these recipes. You can use any popsicle molds you have, though. Opinions are my own.
There's nothing more fun to make with your kids than popsicles! The ingredients are quick to whip up so their attention doesn't wane in the middle of cooking. Plus, once all the ingredients are mixed it's always fun to help pour the ingredients into the popsicle molds and stick them in the freezer! If you plan to decorate your popsicles, the kids will love that as well. If you are looking for a fun family night activity with your kids, try making one of these popsicle recipes!
We tried out three different popsicle recipes and gave them each their own unique toppings. Here are the recipes we used:
Banana Cream Pie – Pudding Pop Recipe
This fun recipe is based off my one of my favorite cream pies! You can add fresh bananas as well, if you'd like. Just thinly slice them and add to the sides of your popsicles.
Banana Cream Pie Pops:
Banana pudding mix
2% milk
Graham cracker crumbs
Whipped cream
Makes approximately 9 pops
To make a pudding pop, simply follow the package directions for your favorite pudding flavor. Add the pudding to your popsicle molds as soon as you've whisked the ingredients together as per the package directions. You'll want to add the pudding to the molds before it starts to firm up while it is still very pourable. Fill to just below the fill lines. Crush graham crackers crumbs and add them to the top of your molds at the base of the popsicle. Freeze until firm. When ready to serve, top with whip cream!
Zoku Vanilla Dipped Popsicle Recipe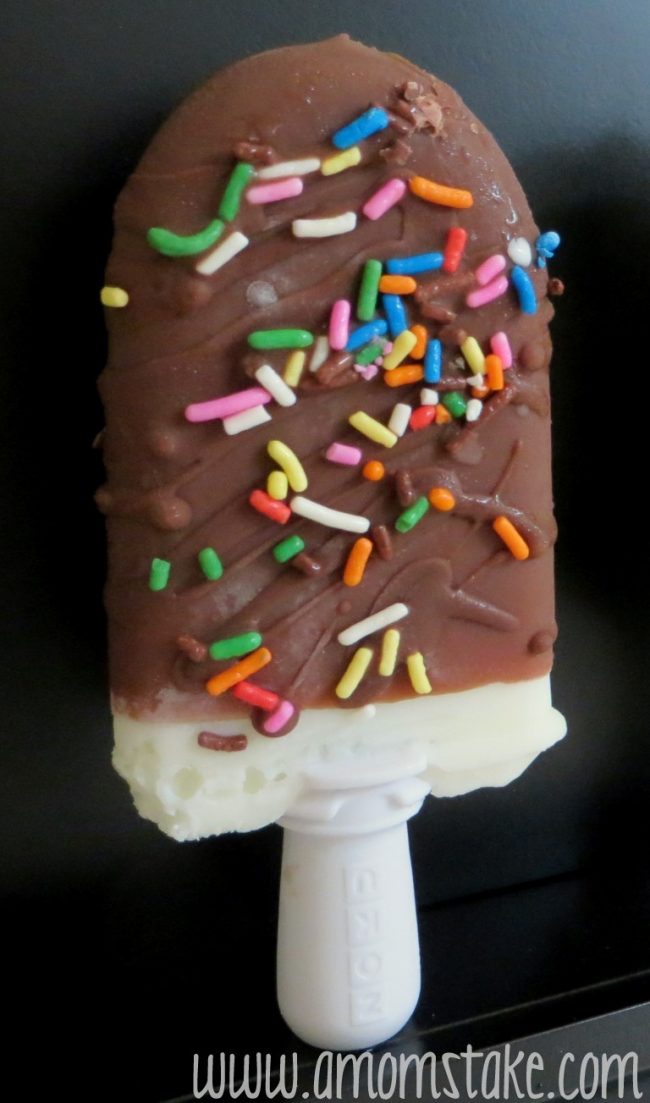 The base vanilla ice cream recipe for this popsicle came from Zoku's blog. To make this popsicle, I followed Zoku's recipe for a Vanilla Base:
1 cup (8oz) 2% milk
1/4 cup + 1 Tbls heavy cream
2 Tbsp sugar
2 tsp vanilla extract
Makes approximately 6 pops
Mix together the ingredients for your vanilla base. Add to your popsicles molds and freeze until firm. Once frozen, dip in chocolate and garnish with sprinkles.
Dipped Yogurt "Zebra" Popsicle
Yogurt Popsicles:
1 cup of Vanilla Yogurt (or other flavor)
1 cup of 2% milk
Magic Shell or Homemade Magic Shell
Makes approximately 6 popsicles
Whisk together your yogurt and milk. Pour into your popsicle molds and freeze! Combine the milk in with the yogurt thins it out to make it more pourable and the popsicle is then easy to pop out of the molds as well. When the popsicle is frozen, dip into chocolate and drizzle chocolate off a spoon to create zebra stripes.
Which popsicle flavor sounds the best to you? What are your favorite popsicle flavors?