I remember playing Barbies a lot growing up. I had a best friend, Lauren, who had a great collection of Barbies. We would get together and come up with all sorts of imaginative stories and create our whole own world around the dolls. Lauren's mom was a Barbie doll collector and I remember several times getting to look through all of her collection of gorgeous dolls with their stunning dresses. She was always sure to get the Holiday Barbie to add to her collection! I even remember seeing the 1996 and 1997 dolls in her collection looking back at these fun pictures of the dolls from over the years.
Barbie is celebrating the 25th Anniversary of introducing Holiday Barbie! Their very first Holiday Barbie was in 1988. It's so fun to look back and see the very first Holiday Barbie. It's also fun to take a walk down the years of barbie and see how her style has changed as time goes on.
Here's a look at the Holiday Barbie in 1998, 10 years later. There's quite a difference to see Barbie here in the styles of this year from the very first Holiday Barbie. It reminds me a lot of my years in high school and school dances as I was in high school during 1998.
A couple years later, Holiday Barbie 2000, sparkles in a golden dress. I remember what a big deal it was to be alive for the year 2000, so this doll represents a bit of a special year during my youth.
This was last year's doll, Holiday Barbie 2012. I love to watch and see how Barbie is always accessorized with beautiful necklaces and other jewelry.
Holiday Barbie 2013
The Holiday Barbie Doll is one of the longest running series of collectible Barbie dolls. This collection began in 1988 and is now releasing Holiday Barbie 2013. You can find the 2013 collectible doll at Walmart. This limited edition barbie comes with an exclusive ornament. Plus, as a special treat, the first 1,500 purchasers of the 2013 Holiday Barbie at Walmart.com will receive a $10 Walmart gift card!
Which of the Holiday Barbies is your favorite?
* You can click on this image below to see the picture larger! *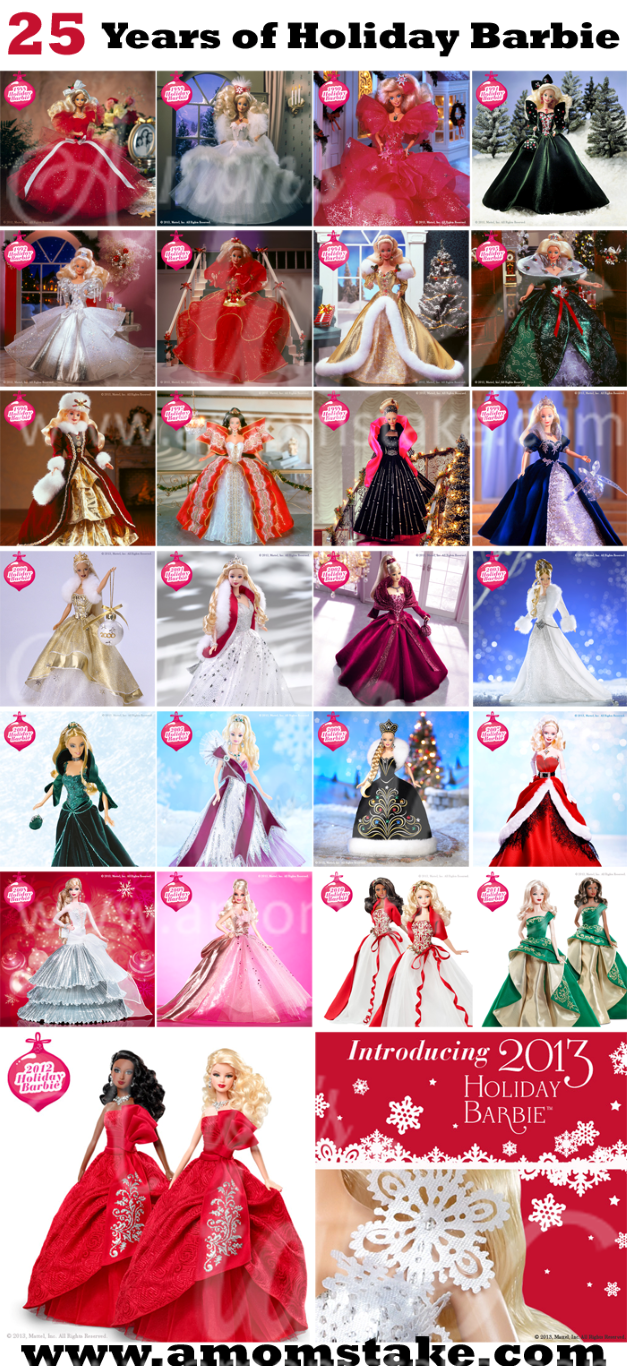 Disclosure: This post is sponsored by Lunchbox.