This is a sponsored post written by me on behalf of ConAgra. All opinions are 100% mine.
Need a filling dinner in a pinch? This easy taco bites recipe can be whipped up in 15 minutes or less and is the perfect way to use up your leftover chicken! This filling dinner will help make dinner fun again, and attainable without spending hours in the kitchen!
Easy Taco Bites Recipe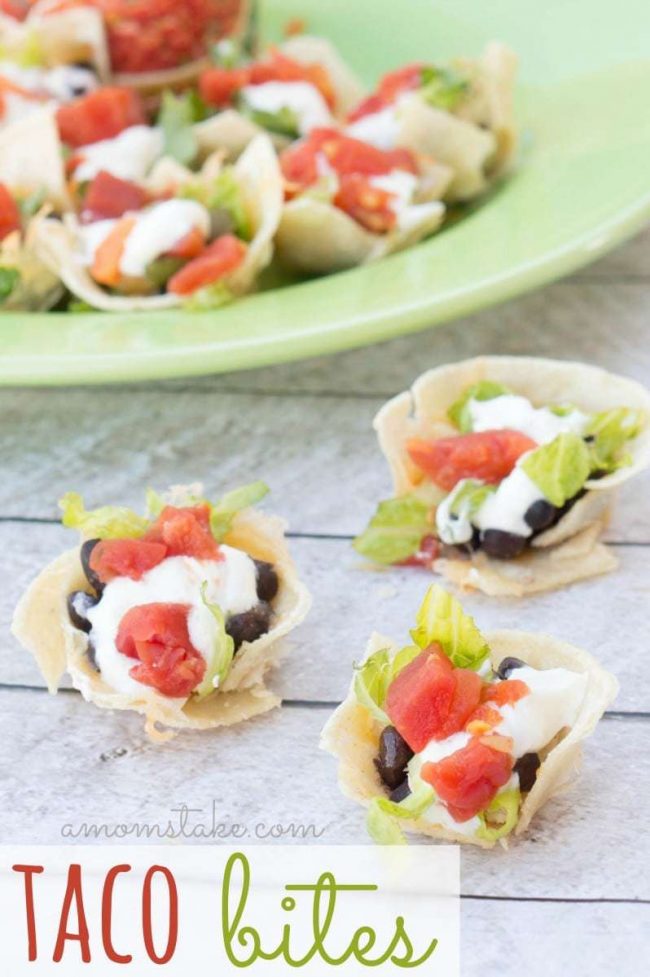 Ingredients:
PAM Cooking Spray
12 corn tortillas
1/2 cup cheddar cheese, finely grated
1 lb chicken, cooked and diced
Taco seasoning
Black beans, drained
Lettuce, finely diced
Sour cream
ROTEL Diced Tomatoes & Chilies, drained
Directions:
Warm the corn tortillas in the microwave for 30 seconds to soften them. Cut into quarters with a pizza cutter.
Evenly coat a mini muffin pan with PAM cooking spray. Fold your corn tortilla triangles into each individual mini muffin tin spot.
Add a little bit of cheese, then layer your diced cooked chicken. This is a perfect use for that leftover cooked chicken! Plan a night or two ahead of time and cook up an extra half pound of chicken to use with your bites! Sprinkle a dash of taco seasoning on top of the chicken, if not already seasoned.
Next, layer black beans and cheese. Bake at 350° F for 7-10 minutes, until your cheese is melted and all the ingredients are warm and toasty!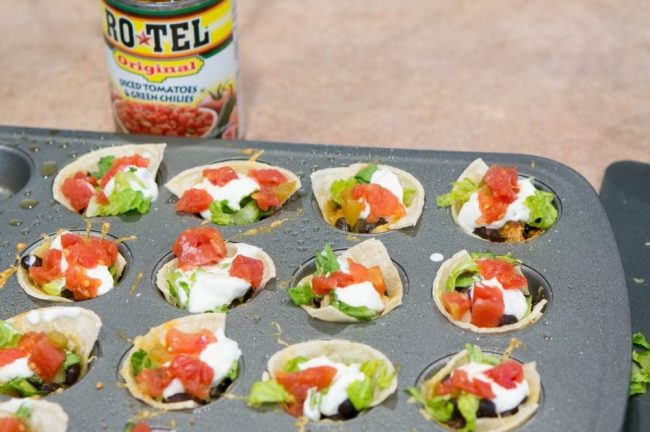 Once your bites are out of the oven, you can garnish with your favorite toppings! We added a pinch of lettuce, a small scoop of sour cream, and the topped our bites with ROTEL Diced Tomatoes & Green Chilies. Make sure you drain your diced tomatoes well. Then, it's like a bite of salsa on top, without being runny!
These yummy bites are perfect for a family meal, a great dinner for college roommate or newlyweds, or perfect for an appetizer for a fun gathering. No matter when you serve them, you'll have a delicious meal or snack in less than 15 minutes!
Join in with ConAgra during the #GreatAmericanCookIn Challenge where people can make a pledge to "cook in" for one week during the month of May! It may seem intimidating, but with easy meals and inspirations, you can prepare fun meals quickly that will help you save money, spend time together around the dinner table, and be better for your health and time!
You can join in the challenge by sharing your cook in meals each day with the hashtag #GreatAmericanCookIn on Twitter and Instagram. You can find inspiration, recipes, tips to save money, and even ideas to help planning meals ahead of time at Forkful.com. to help you with the challenge.
Mark your calendars for May 25th when you will be able to join in ConAgra's LIVE Cook-A-Long to help you find and create your own "Cook In" recipes to help you with the challenge!