I love finding reasons to celebrate and party with my friends and family. What's the best part of any party? The food, of course! Nothing beats mingling and laughing over delicious eats. Looking for some tasty appetizers for your next get-together? Well let me just tell you, you're not going to want to plan your party without Alouette's delicious Le Petite Fromage and Le Bon Dip.
I received samples and compensation in exchange for this post. All opinions are my own.
In my opinion, party snacks are all about the spreading and dipping. Perfect for such occasions, Alouette's Le Petite Fromage spreads flawlessly over all of your favorite sides. Available in four mouthwatering flavors, your party guests will instantly fall in love with Alouette's velvety Fromage: Garden Salsa, Garlic & Herb, Parmesan & Basil, and Cucumber & Dill. Best of all, Le Petite Fromage is only 40 calories per serving!
If you more into dipping your party foods, you've got to try Alouette's delicious Le Bon Dips available in Basil, Zucchini & Parmesan, Fire Roasted Vegetables, Zesty Garden Salsa, and Roasted Red Pepper & Chickpea. Need some other party food ideas? Check out these 10 Easy & Delicious Party Snack Ideas.
10 Easy & Delicious Party Snack Ideas
1. Cheese and cracker spreads: Spread Alouette's tasty Le Petite Fromage on crackers, multi grain chips, pita bread, or an assortment of veggies. A few of my favorite veggies include tomatoes, cucumbers, and olives.
2. Veggies and dip: Dip your favorite sides and veggies in Alouette's Le Bon Dip. Available in four scrumptious flavors, there's a dip for everyone: Some of my favorite dipping foods include: squash, cucumbers, zucchini, pepperoni and pretzels.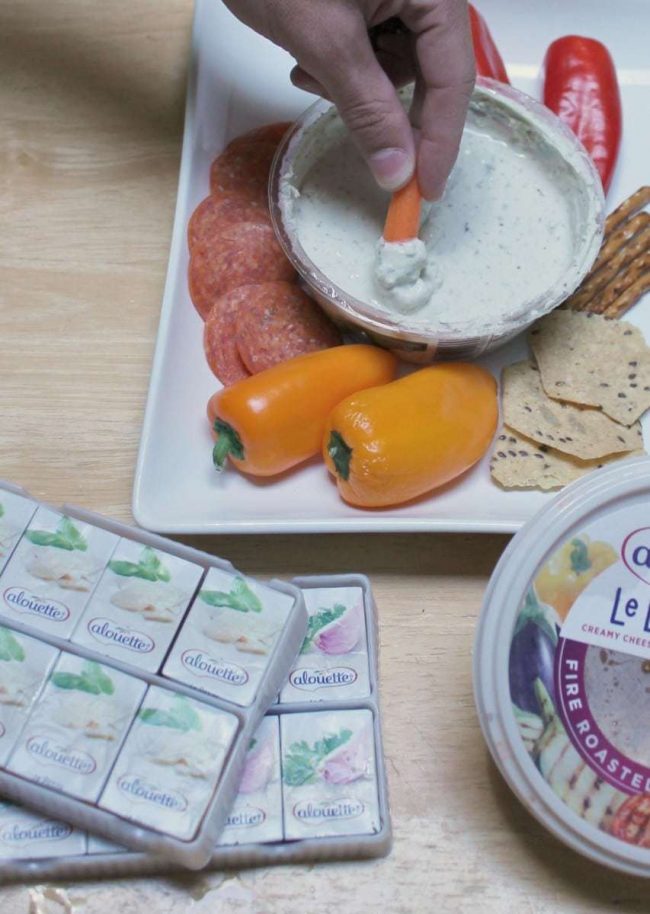 3. Meat and cheese roll-ups: Roll your favorite meat and cheese together and hold in place with a toothpick.
4. Veggie wraps: Spread Alouette's Cucumber & Dill Le Petite Fromage inside of a tortilla. Top with cucumbers, peppers, olives, and other desired veggies. Roll up and enjoy!
5. Caramel apple bar: Create a DIY caramel apple bar using sliced apples, caramel sauce, and a variety of toppings such as crushed cookies, chocolate chips, sprinkles, etc.
6. Frozen fruit: Create a fruit platter with frozen grapes and bananas.
7. Watermelon pops: Slice watermelon into triangular slices and put popsicle sticks in the watermelon rind.
8. Fruit kabobs: Using skewers, string your favorite fruit into kabobs.
9. Various shaped sandwiches: Use cookie cutters to create fun shaped sandwiches – hearts, circles, triangles, etc.
10. Pretzels and peanut butter: Spread peanut butter onto pretzels for a tasty and healthy snack.
Be sure to visit Alouette for more delicious party snack foods!
What are your favorite party snacks?