We all love the weekends best, right? I know I do! It means I don't have to rush out of bed and toss together a quick bowl of cereal for my kids before rushing out the door to take them to school. Weekends to me mean the chance to sleep in, roll out of bed in my pj's, and start the morning off with a yummy, indulgent breakfast for everyone! This past long labor day weekend, I took the time to make these fun pull-apart Cinnamon Rolls!
This post is sponsored by Pillsbury. I received compensation to create this recipe and post. All opinions are my own.
Pull-apart Cinnamon Rolls
For this recipe, I used Pillsbury Cinnabon Bakery Style cinnamon rolls. This specific variety worked great as the cinnamon isn't loose and messy like in some of the other varieties, so it is super easy to make pull-apart bread with it!
Start by preheating your oven, following the package directions.
Pop open the cinnamon roll dough can and separate the cinnamon roll spirals. Start ripping the rolls apart into bite-sized pieces with your hands. Now, layer the bottom of your baking dish with the pieces, slightly overlapping the pieces, but not packing them too closely together as the dough does expand as it cooks. This whole process should just take a minute.
Bake your cinnamon roll pull-apart bread following the package directions, the cooking time should be about the same, but you may watch the rolls closely the last few minutes of the cook time. Ours were done right at the lowest time range on the package, but that may vary depending on how closely you pack your broken up pieces together.
While your cinnamon rolls are still hot, spread the icing from the package, trying to evenly distribute across the whole pan. The icing will melt and thin out making it easier to spread as it warms from the heat of the rolls.
Now, just use a spatula and serve up a scoop of the yummy bite-sized cinnamon rolls depending on individual appetites.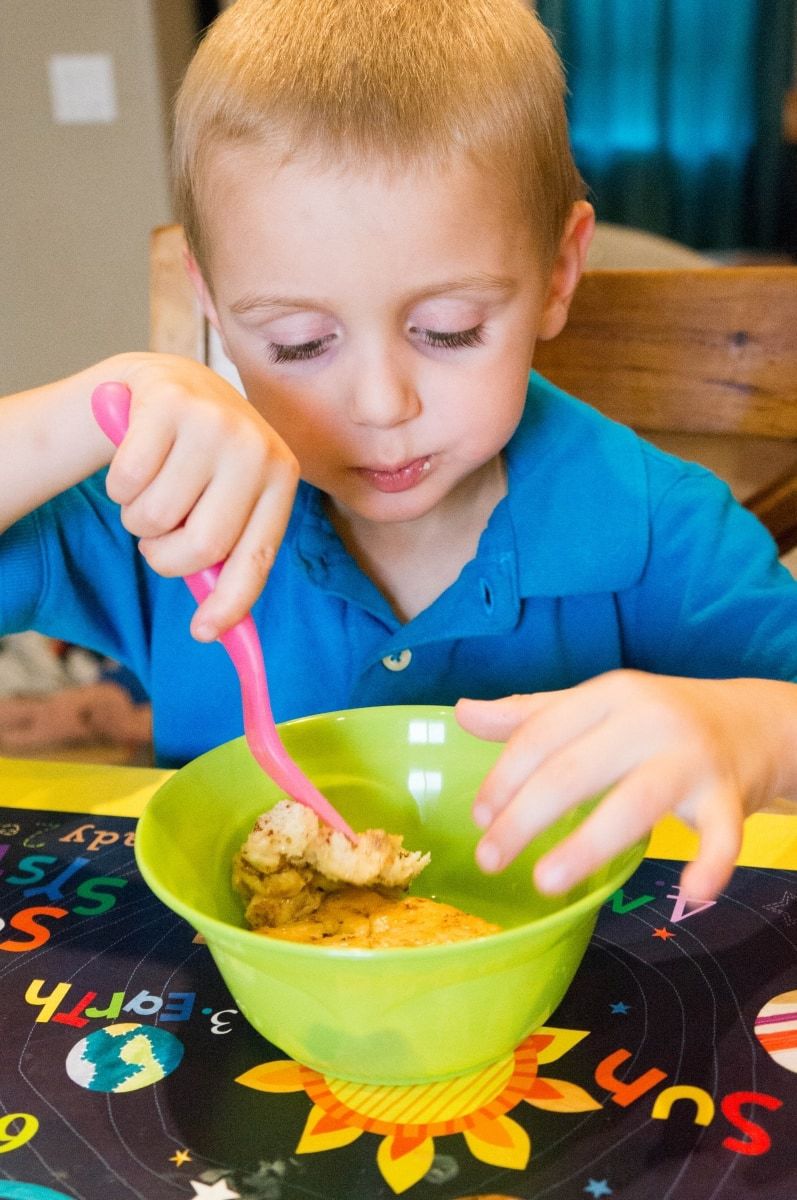 The Cinnabon Bakery Style cinnamon rolls were perfect to use for this recipe. They make putting together this weekend breakfast really easy and they have a great taste! The Cinnamon roll pull-apart bread was a big hit! My boys loved them all torn up and reassembled as it made it super easy for them to eat their cinnamon rolls – mess free. Since they were already bite sized pieces, they could just use a fork and easily separate out the bites. Of course, this made mama happy too – no super sticky fingers covered in frosting!
If you want to skip all the prep work and go for an extra large cinnamon roll, try out Pillsbury's newest product. They recently released a Bakery Inspired jumbo cinnamon rolls package that comes with four jumbo rolls. The rolls use official Cinnabon Cinnamon and frosting, so you know they are bound to be yummy! You can find Cinnabon bakery Inspired Cinnamon Rolls at your local grocery stores.
We all agree, cinnamon rolls and a lazy morning is a much nicer way to start our day than rushing through the morning and running out the door.
How do you indulge on the weekends?