I contacted Xpad to see if they would be interested in a review on my blog. They quickly got back to me letting me know they would love for me to try their product. The Xpad arrived quickly and I was excited to get it and try it out!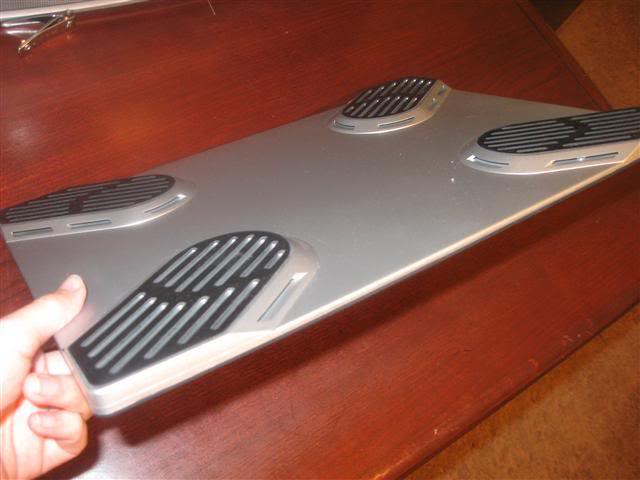 When I pulled it out of the package I was so surprised by how THIN it was and how LIGHT!! I pulled out my 10.1″ Acer Netbook to try it out on the Xpad. I was expecting it to be too big since it is 4″ wider then my netbook but it fit great on top of the X pattern and worked perfectly!
I have been on my Netbook now for 3 hours and my lap has not been hot ONCE!! My Netbook is QUIETER than normal as it's internal fan seems to not need to work as hard as when it's flat on my lap. There is also no noisy fan or extra plugs or cords I have to deal with from the cooling unit itself which I love!
My laptop also has stayed in place instead of sliding back and forth across my lap as I move this way and that. I can even sit very comfortably cross legged and the Xpad forms a nice platform for my Netbook to sit comfortably on so it is flat and so much easier to use!
On the bed, table, and on my lap were all very comfortable with the Xpad.

My Favorite Features:
Super Slim! Only .5″ thick!
No noisy cooler fan and less noise from Internal Netbook Fan
No Hot lap!!
Can sit comfortably with a sometimes awkward sized Netbook in many positions!
No cords or Plugs to deal with!
Accommodates most laptop sizes!
My only real complaint is the rubber pads smell VERY strongly of rubber. *Xpad let me know you can quickly get rid of this smell by placing the cooling pad in front of a fan overnight or it will fade overtime. Thanks for the tip Xpad!

Xpad is sold online at http://www.xpad4laptop.com/index.html
Check the FAQ to be sure your laptop will fit! Accommodates laptops up to 17″!
*Disclaimer – I received an Xpad for free in order to review and form an opinion on the product. I was not compensated for this review in any other manner.