I can't believe how fast my little guy is growing up. It seems like just yesterday I brought him home from the hospital. Now he is 8 months old and a very busy little boy. He hasn't mastered the crawling stage yet, but "scoots" to his desired location.
My baby is constantly moving which sometimes leads to little accidents. Despite my valiant effort to protect him in every way possible, he still finds many ways to get into trouble.
Luckily, I don't have to worry about my little guy when I set him in his crib; the Wonder Bumper insures my baby absolute safety.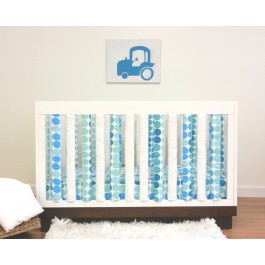 Go Mama Go Design's award winning Wonder Bumper is a stylish way to provide your child protection while in their crib. Designed to fit any crib, zip (with lead free reversible zippers) these vertical 6″ by 24″ crib bumpers onto your crib rails and provide your child with amazing safety.
Whether you choose to apply these crib bumpers to round, flat, or short rails, the poly-foam insert inside the Wonder Bumper is eco-friendly, non-woven polypropylene which repels water and organically increases breath-ability. The Wonder Bumper increases airflow while reducing carbon dioxide re-breathing.
This wonderful invention is proven to reduce suffocation and entanglement. Because of the Wonder Bumper's vertical design, your baby's body will receive extra protection from the crib's hard surfaces and also inhibit your toddler from climbing out.
These doctor recommended crib bumpers are not included in any bans because of their remarkable safety features. These modern crib bumpers will add a unique style to your home while protecting your child from danger.
Go Mama Go's Wonder Bumpers are the COOLEST crib bumpers I have ever seen. My husband even let out a "cooool" when he first saw Wonder Bumpers.
Not only do the Caribbean Blue Wonder Bumpers add amazing design to my son's nursery, but I love their soft touch. Because my son likes to "scoot" around, occasionally while in his crib, I find his head up against his crib rails. However, now that we have Wonder Bumpers, his head is protected from the crib's hard surfaces.
I really like how the bumper runs vertically; this provides a soft surface for the entire crib rail while still allowing my son to see outside of the crib. My son's old bumper had a few strings that were used to tie to bumper into place.
Because my son is constantly putting everything in site in his mouth, I worried that he would try to suck on the old bumper's ties. However, I LOVE the fact that the Wonder Bumper zips on without using any ties!
Wonder Bumper's breathable features helps me let out a sigh of relief knowing that my son is protected from suffocation and entanglement. I love the fact that each bumper is reversible-I can choose the perfect pattern for my son's nursery.
Easy to assemble, Go Mama Go's Wonder Bumpers provide style and absolute safety for my little guy. I will never buy any other crib bumper.
To make Go Mama Go's Wonder Bumpers (approximately $249 for a 38 set) part of your home, visit their website by clicking HERE.
I received product samples and/or compensation in exchange for this post. The opinions expressed above are my own. Any claims should be verified on the sponsor's site.