When my first daughter was born I was so excited to go shopping. I love shopping for boys clothes, but there are so many more options out there for girls. Mostly I was excited for the accessories! Bows!! I finally got to buy bows! The funny thing was my oldest daughter didn't have any hair until she was about 3. Now that I have two girls, our bow collection was growing at a pace that was hard to keep up with for a storage point of view.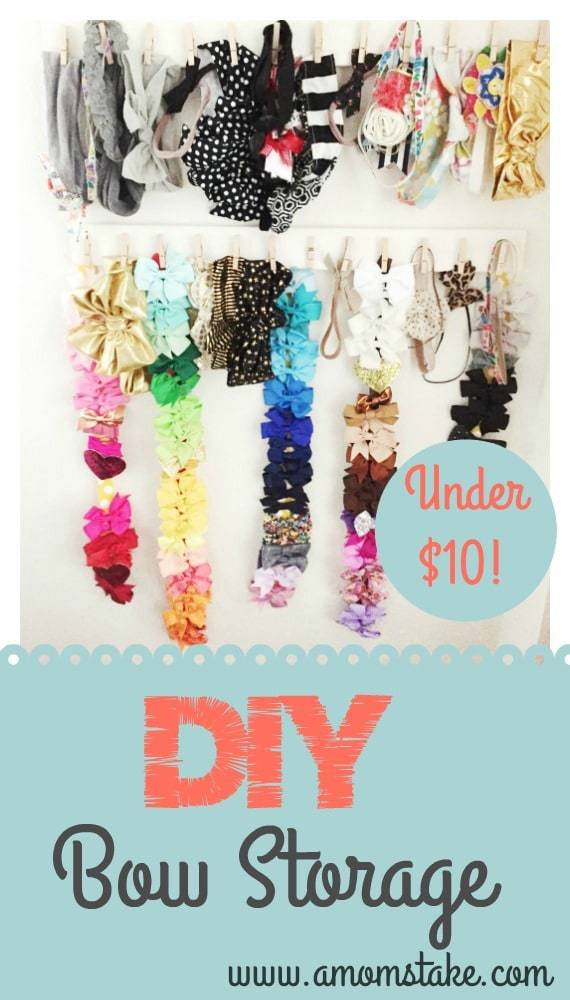 I knew I needed to come up with something. Previously we had used a container for bows and clips and a headband hanger like this one to hold my daughters headbands. But, I found that we were using the same 5 bows all the time because they were always out and easy to get to. I wanted to be able to see what we had so I could easily find the perfect match. The solution I came up with is this quick, easy, and cheap DIY Bow Holder. It can be dolled up to look cute or left plain and simple. The best part is it took about a half hour from start to finish and cost less than $10!
You need:
Primed MDF board (Mine is 1.5″ x 10 Ft)
A couple of packages of mini clothes pins.
Hot Glu
2in Wide ribbon
Start by deciding how wide you want your strips of wood, cut as many pieces as you need from your MDF. I picked up my primed strips of MDF at my local hardware store. They were about $5 for the 10 ft piece.
If you want to paint your clothes pin or boards, now is the time to do it! You can even use washi tape along the top of the clothes pin to help jazz it up a little bit.
Hot glue your clothes pins at regular intervals along the MDF strips.
Cut strips of ribbon about 18-24″ and glue to the backs of at least one strip so that they hang down vertically.
Go ahead and hang your boards, I am currently in a rental so we just used Command Strips to hang ours inside of my daughters closet. They can easily be installed behind a bathroom door, or even inside a bathroom cupboard door! They also make great baby shower gifts! Make a row, clip some bows on and you are set with a gift any girl mom will love!
Use the clothes pins to hang headbands, each one can hold one in the clip as well as 1-2 hanging around the clip.
Use your ribbons to clip bows and barrettes up.
Now get to work putting together some amazing outfits for your littles!
Need some bow inspiration? Head over to see our super easy 5 minute No Sew Bow DIY!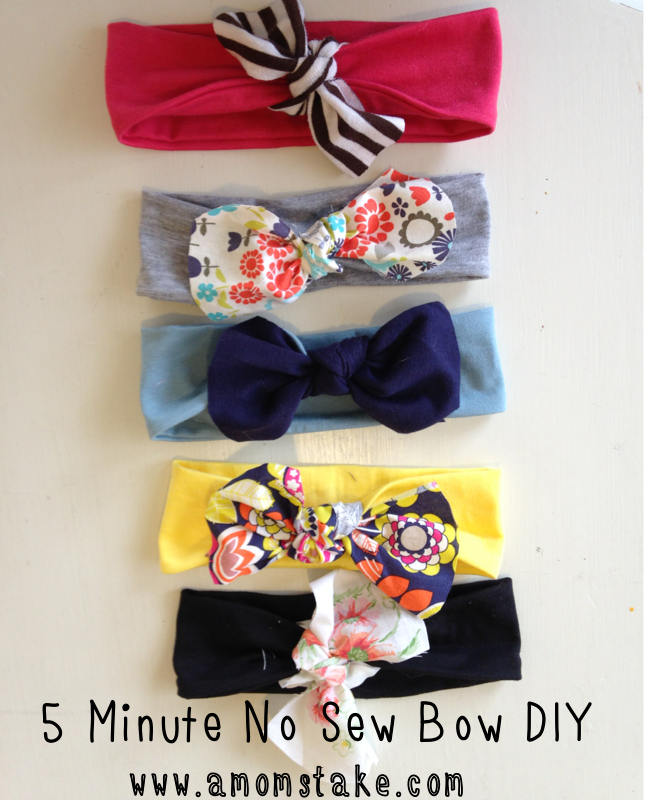 Would this easy DIY bow holder and organizer work for you?