Being a mom is a tough job, I think that is a fact well established by now. Every mom's situation is unique to her. Her kids are different, her life circumstances are different, her personality is different. But one thing that unites us all is our love for our children and our need to take care of ourselves. Sometimes it feels like carving out time for the things that make make us who we are outside of our "Mom" title can be one of the hardest tasks of all. I am no expert, but here are 5 things I do to make time for me and the gear that helps me do it, in the middle of chasing toddlers, rocking babies, and waiting in the school drop-off line.
I received samples to facilitate this post and review, all opinions are my own.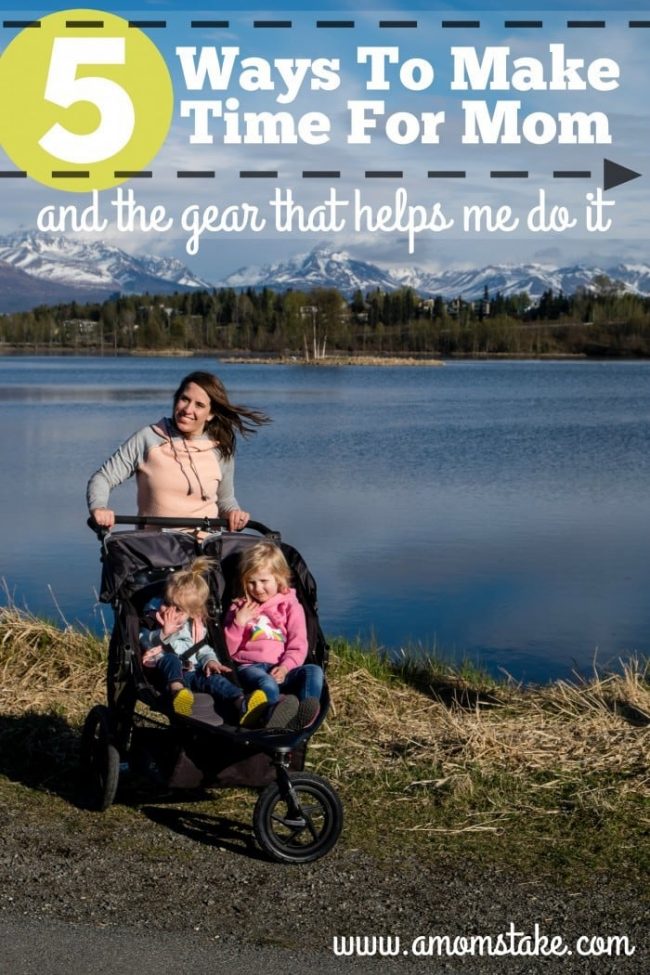 1. Read – A book that doesn't have pictures. For years after becoming a mom I forgot how much I love to read books. It was a daily habit that slipped away and was replaced with changing diapers and midnight feedings. I recently made a point to make time each day for reading and it has been so uplifting. Sometimes it is after everyone else is in bed asleep. Sometimes it is curled on the couch with my kiddos playing on the floor around me after school. And sometimes I use my phone to play audio books as I fold laundry or do the dishes. Reading gives my brain a chance to engage in a different way and it helps me recenter myself each day.
Suggested Gear: A library card or subscription to an audio book app is all you need to make this habit happen.
2. Music – I love all types of music, including the soundtracks to all my kids favorite shows and movies, but I have made it a point to instill of love of music in my children by sharing MY favorite bands and albums with them. I keep a running playlist of all their favorite songs as well as my favorite tunes that I know we all love. We love to listen as we clean and play in the afternoons, as well as in the car or on our walks.
Suggested Gear: A great set of wireless speakers for your home.
3. Appearance – Everyone loves yoga pants and mom buns, myself included, but if ever I find myself in a downward spiral of body image, confidence, and energy, I really try to make time to get ready each morning. I am not talking glam outfits and a full face of makeup. I mean get out of your pjs, throw on some jeans, a cute shirt, some mascara and take on the world.
Suggested Gear: Moisturizer, mascara, and dry shampoo you love.
4. A Night Out – Get a planner. Use it. Schedule time for you. That could be a date night, it could be a girls night out, it could be a solo trip to Target to wander. Physically write it down and make it happen. You might need to juggle schedules a little or call a babysitter, but having time to yourself will make you a better mom.
Suggested Gear: A good planner, calendar, or scheduling app. Whatever works best for you.
5. Get out of the house – This one is HUGE. Getting out of the house can be hard, it can be frustrating, and it is easy to put off, but a day out with my kids throws life in to perspective for me. We love to be outside exploring, hiking, walking, riding bikes, going to the library, and exercising.
Suggested Gear: A high quality stroller.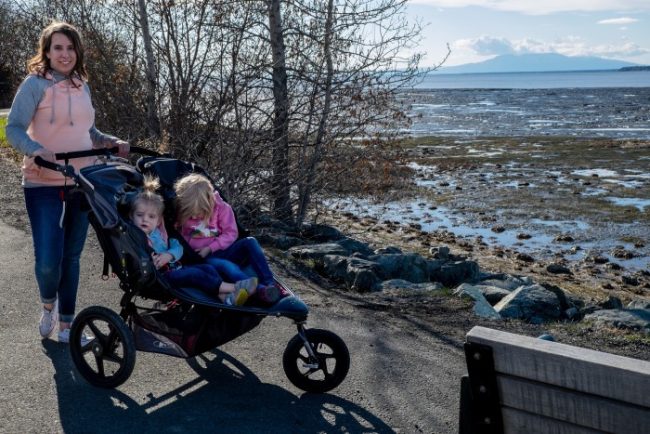 It took a long time for me after baby number three to figure out how to wrangle all those kids on my own, but for me, my double stroller is key and they are not all the same! I recently switched to a BOB 2016 Revolution Pro Duallie and it fits all of my stroller needs perfectly. My younger girls ride and my son walks or rides his bike on our adventures. When my baby was younger I would wear her and the older two would ride.
It is one of the most versatile strollers I have ever used, and it comes in a single seater as well. It easily fits through most doorways, making it great for shopping or running errands. It folds up quick and easy and fits nicely in the back of my car. We use it daily.
The Revolution PRO DUALLIE is the most deluxe, 2-kid all-terrain stroller from BOB, the #1 jogging stroller. Here in Alaska, we have taken it hiking over gravel, sand, and even snow, it handles the elements like a champ. I love the hand-activated rear drum brakes, they give me peace of mind as we navigate hikes, it makes for the best downhill control.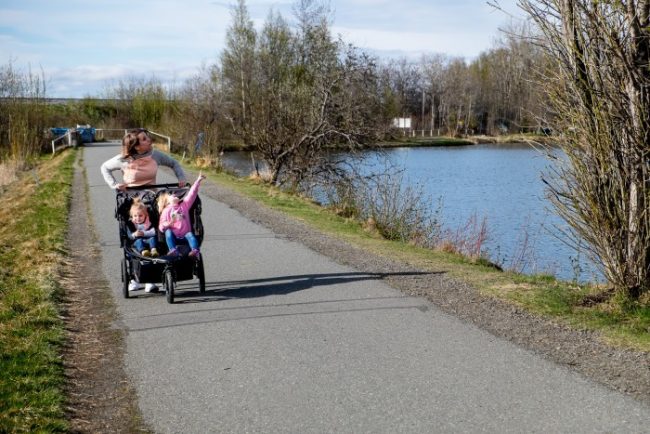 When running the front wheel can swivel for top maneuverability or lock for added stability. I take my girls for several long walks or runs during the week. They ride comfortable and I can easily get around sidewalks and curbs. The state-of-the-art adjustable suspension system takes bumps in stride and the adjustable handlebar makes it so easy keep the stroller at a comfortable height no matter who is pushing.
There are a few more features that I have really grown to love while using this stroller. The storage under the seats is large and easily accommodates everything from extra jackets, to sack lunches and park gear. Behind each seat is a pouch with elastic around the top, everything in the pouches stay securely behind the seat. They are great for my wallet, keys, etc. while we are out and about. There are similar pouches inside the seats for my kids to use to hold their snacks, water bottles, and/or little treasures. They love these pockets and I love that can get the things they need independently.
This stroller features full upright seating so kids don't miss out on any of the sights or sounds around them, but one-hand recline adjustment lets you quickly lay the seat back with the simple squeeze of a button. The extra-large UPF 50+ canopies shield your children from sun and weather and feature large windows that allow you to keep an eye on your kids at all times. I love that the canopies have several levels so you can have full or minimal coverage.
For me, getting out of the house and experiencing the world through the eyes of my children is the best way to ground me and keep me feeling refreshed and motivated as a mother. It can be hard to carve out time for yourself, but doing so makes you a better person and, in turn, a better parent. After all, these little people really do deserve our very best, and through their eyes you might just see a whole new you!
What do you do to make time for yourself, and what gear do you use to do it?