It's that time of the year! Time to pull out your Christmas tree and start setting up your decorations. Did you know, 1 in 4 Americans will begin to deck the halls one month before the holiday? It's part of the magic of the holiday season to have your home decorated to keep your home feeling like Christmas! That's especially true here in Phoenix. Outdoors, it feels just like the desert it is. But stepping in doors and curling up on the couch by the Christmas tree reading a book or taking a nap makes it feel like winter and all the fun holiday feelings that come with it. Here are some tips to for decorating your Christmas tree.
I am a Sears Blogger. All opinions are my own.
Tips for Decorating Your Christmas Tree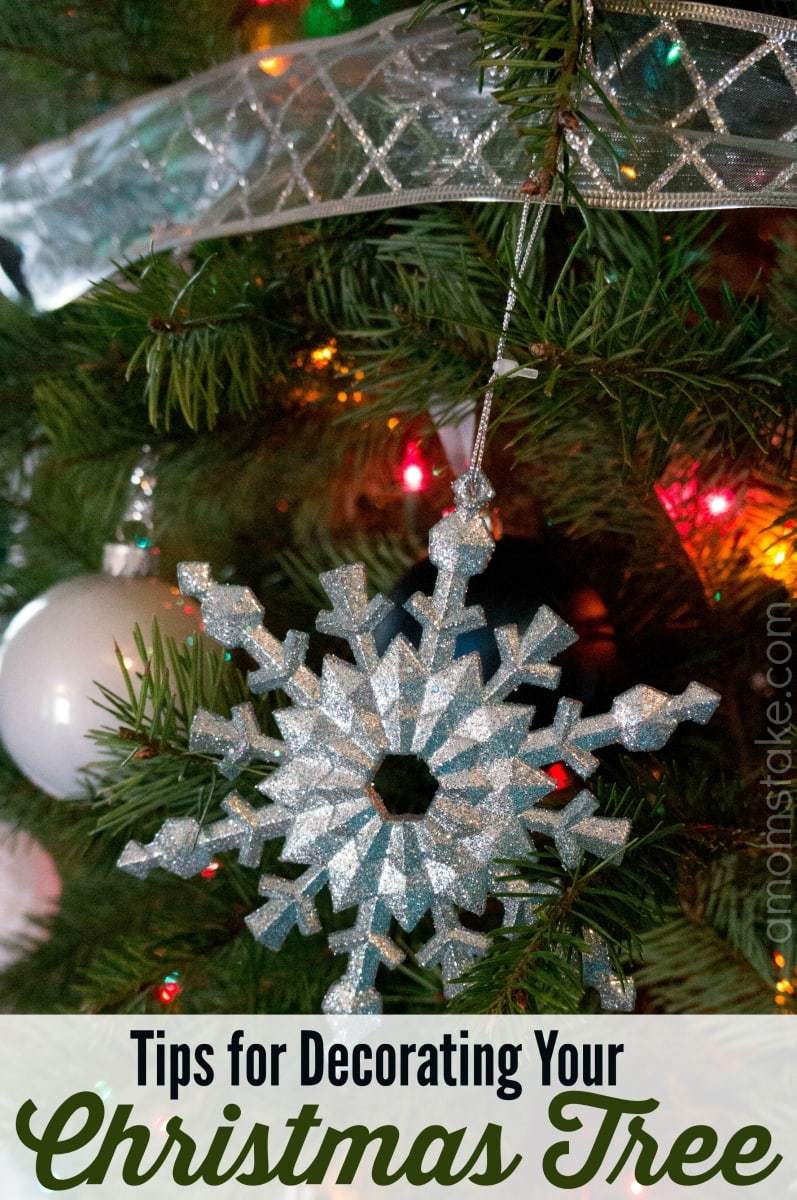 Pick a "Theme" – It's easier to decorate your tree and know what to shop for if you pick a theme before you begin. You can do a theme based off of colors or elements. My theme this year is Snowflakes with using white, silver, and blue for our tree. I picked up as many beautiful snowflake ornaments as I could find, too.
Coordinating Ornaments – When you have your theme, pick up several of the same ornament to help carry your look throughout your tree. Having the duplicate ornaments throughout really gives the tree a polished and professional look. We had lots of Snowflake ornaments to pick from while shopping at Sears this year, so we just picked up two of each of the snowflake ornaments which gave us enough to spread around the tree and carry the look throughout. Also look to match your colored ornament balls, picking up more than one set when needed to fill your tree.
Lights and More Lights – The most important element for your Christmas tree is lights! Don't skimp in this area. We used four 150 bulb strands on our 7.5′ tree. Most artificial trees use over 500 lights. Don't think one or two strands will cut it, you really want lots of lights as that adds the whole feel of the Christmas tree. Picking between white and colored lights is a big thing to consider, too. Generally white lights look more grown-up and pretty, but kids will nearly always prefer colored lights. Since we have a house full of little boys, we went with colored lights this year despite our theme focusing on blue and white for our tree which would have perfectly matched with white lights. Our tree is really to bring the magic of Christmas into our home for our boys, so we went with what we knew they would love.
Add Ribbon – Adding ribbon to your tree weaves in your color palette in between all those beautiful green branches. It's an easy way to add color and texture to your tree – easily adding interest.
Finishing Details – When the main parts of your tree are finished, don't forget to finish off your decorations with those final details. Add a tree skirt and topper or some other personalized touches.
Didn't our tree turn out lovely? I love the hints of blue throughout and the snowflakes seem to shimmer with our home lights turned down and just the Christmas lights shining.
This year, we shopped for our holiday decorations at Sears. They had a beautiful display of artificial trees already decorated that helped inspire our theme this year. I loved this tree with the silvers and golds together, it looks great and it's such a fun combination that you don't often see together. As I turned towards the aisle seeking some of the ornaments I saw displayed on their tree, I fell in love with all the gorgeous snowflake ornaments. I knew my little boys would be over the moon to hang the blue ones, especially, so we switched to a theme using white, silver and blue all focused around the snowflakes!
Sears has everything you're looking for this holiday season to dress up your home for the holidays. I shopped for all of my themed ornaments and ribbon at Sears this year and love how whole look came together.
Best Dressed Home Sweepstakes
Kmart and Sears launched a great sweepstakes this holiday season seeking the Best Dressed Home. They are on a mission to find out how people all across the states decorate for the holidays. Now through December 26th, you can visit http://bit.ly/BestDressedHomeSweeps and answer the easy poll questions and upload a photo of your home decked out for the holidays for a chance to win Shop Your Way points! 1 grand prize winner will win 1 million Shop Your Way points!! Plus, 60 people will instantly win $50 in Shop Your Way points. You can enter daily, so start snapping those pictures and share how you are decorating with the hashtag #BestDressedHome!
What are your tips for decorating your tree?