Looking for a cute treat for St. Patrick's day? These shamrock cupcakes are easy to make and look adorable, too. They have a fun rainbow inside and are topped with golden sprinkles and homemade chocolate shamrock toppers. These would make a perfect treat for a party or to take into the classroom for a St. Patty's day bash!
Shamrock Cupcakes + Toppers
Ingredients:
White cake mix
Vanilla frosting
Food dye
Cupcake liners
Candy melts
Sprinkles
How to Make Layered Rainbow Cupcakes:
Start by mixing up the cake mix according to the directions on the box. Separate out the batter and dye each portion the colors you want. Place by spoonfuls into layers in a muffin tin in cupcake liners. Bake your cupcakes as directed on box.
An easy way to frost a cupcake giving it the smooth texture of fondant without the taste is to dip them. To do this, take frosting and warm in microwave for roughly 20 seconds until slightly runny. Add food dye to get your desired color. Dip cupcakes into frosting and allow excess to drip off. This works better if cupcakes have been slightly chilled.
Add sprinkles before frosting dries. I found these fun golden sprinkles at Walmart in the baking aisle.
To make shamrocks, melt chocolate candy melts in a bowl. I found light green key lime green candy melts, which needed a bit more green to be a good shamrock color so I added a wax based food dye from a craft store in the candy making aisle. Or look for candy melts in the color you want. Don't add regular food dye to your chocolate candy melts, it will ruin your chocolate.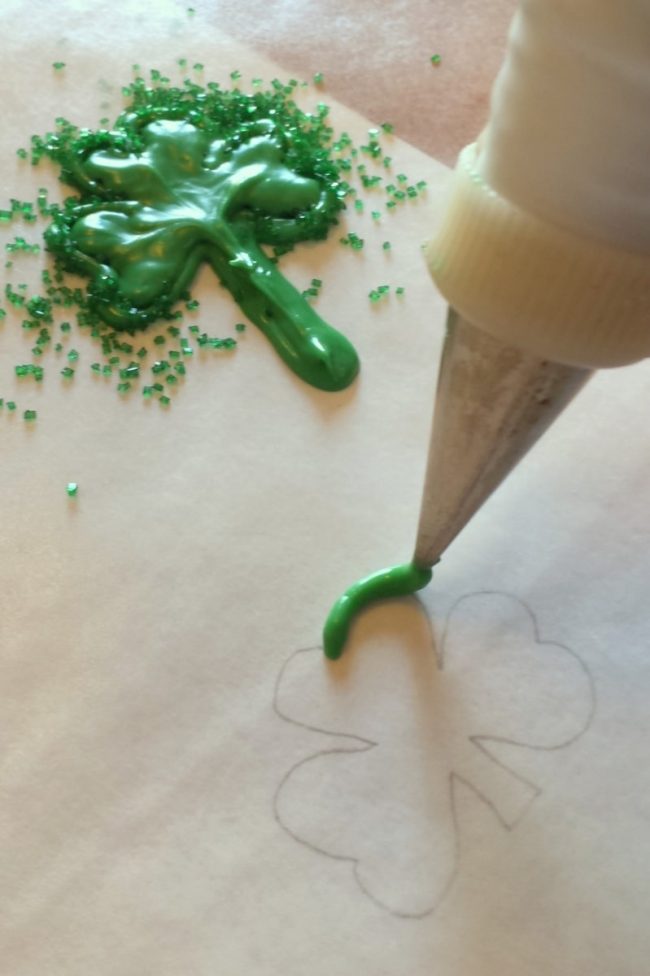 Spoon melted chocolate into a piping bag or ziploc with corner snipped. Place picture of shamrock under wax paper to use as a guide. Pipe chocolate around the edge first, then fill in the middle. Decorate with sprinkles as desired before chocolate dries. Place shamrock toppers in freezer for a minute to harden before placing in top of your shamrock cupcakes.
So there you have it, a few simple tricks to make your cupcakes easier to put together and simple shamrock toppers to go along with your colorful shamrock cupcakes. Where will you serve up these fun cupcakes?