I received a gift card to purchase Flatout bread and ingredients and a DIY Kids cooking kit in exchange for this post. The opinions expressed above are my own. Topic: Pinwheel party sandwiches, easy dinner recipes
Summer is here which means we are all looking for a light and easy dinner recipes that doesn't require any cooking to keep our homes cool. I'm excited to share this fun recipe my kids and I worked on together to create that would be perfect for a summer get together and is very kid friendly! To keep lunchtime fun and encourage my boys to eat up, we like to make our lunch look fun to eat. Switching it up by making pinwheel party sandwiches is a perfect way to do just that.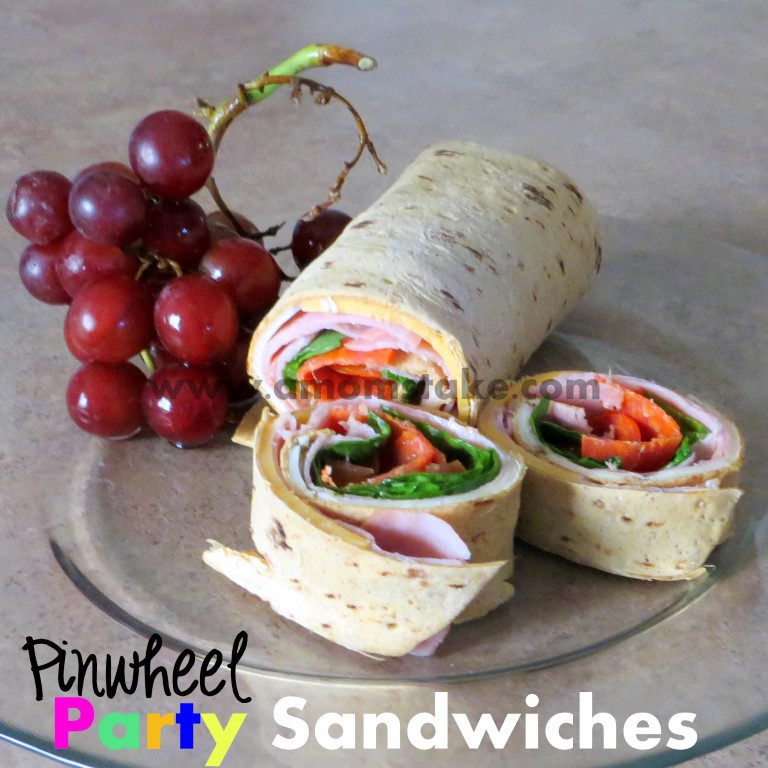 How to Make Pinwheel Party Sandwiches
Start by pulling out all the sandwich ingredients you plan to use. Prepare anything that needs to be cut such as the tomatoes, cheese, and your spinach or lettuce. Put all your ingredients together on a cutting board or tray so they are easy to see and reach. Then, your kids can help by making their own sandwich creations. Give your child a Flatout flatbread which is a healthy alternative to bread and works perfectly for making a pinwheel sandwich. Then, let them pick out whatever toppings they would like on their own sandwich.
When they have all of their toppings laid out on their flatbread, show them how to roll up the bread to create a wrap or burrito looking sandwich. Start at one edge and slowly roll up your sandwich until you reach the other side.
Your sandwich will now be shaped like a wrap and look a bit like a burrito. Then, let your children help you to cut your sandwich into pinwheels with a handheld pizza cutter. Be sure to use adult supervision as the pizza cuter still has a sharp edge and young children should not do this step without assistance. Cut through the wrap about every inch creating small, easy to handle pinwheel party sandwiches! Then, pair your lunch with your favorite summer fruit such as grapes, watermelon, or cantaloupe and you've got the perfect summer lunch!
Flatout Pinwheel Party Sandwiches Recipe

Flatout Pinwheel Party Sandwiches
Simple sandwiches that are healthly, light, and kid friendly!
Ingredients:
Flatout Flatbread
Ham or turkey lunch meat
Spinach or lettuce
Tomatoes
Cheese, sliced
Pepperoni, optional
Italian or Ranch dressing, optional
Directions:
Start with one Flatout flatbread.
Lay out four thin slices of cheese across the flatbread. We used 2 slices of cheddar and two slices of Monterrey jack.
Add 4-6 slices of lunch meat.
Then, pile spinach, tomatoes and pepperoni only to the first third or so of your flatbread. Top with a little bit of dressing, if you'd like. A lite Italian dressing or ranch works good.
Roll up your flatbread starting at the side where you added the bulk of your ingredients. Roll up your flatbread moving slowly to keep all your layers in place as you go.
Use a pizza cutter and slice off the ends to give you a fresh pretty roll. Then, make another cut about every inch.
We had a great time making our sandwiches together and my boys absolutely loved them! They thought they were so fun to eat and loved the flatbread! I really like Flatout's flatbread because it has half the calories and half the carbs compared to using two slices of traditional whole wheat bread giving me a way to sneak in healthy without it feeling boring or tasting bad. Plus, I love the taste of their flatbread! Flatout Flatbread is now available at Sam's Club! They are available in a 2-pack for $4.88 and you can choose from Flatout Light Original Wrap or Flatout Multigrain Wraps.
Here's another great recipe for using Flatbread!