Scholastic offers a range of fun and educational games that are great for kids! Let your kids enjoy some entertainment while sneaking in learning with their fun! Here are a few of the game titles they have available.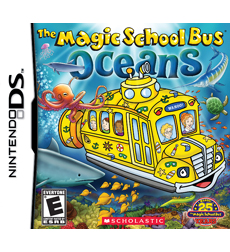 The Magic School Bus: Oceans lets your child learn science facts about the ocean while having fun! Play the seven games with a total of nearly 200 science interactions! As you play, you'll earn points that will unlock new ocean areas that can be explored. Six ocean levels are included and you'll learn about over 100 sea animals throughout your gameplay! This game was way too hard for my 4 year old and still somewhat hard for my 6 year old. I wish the games included would have been geared towards a slightly younger age as they are at the perfect age for the theme of the game. Regardless, my boys still loved trying out the games and learning about the ocean animals featured. Their favorite mini game was a sorting game where they had to look for animals with specific features such as "fins" or "spots". The Magic School Bus: Oceans is geared towards children ages 7+ and is rated E for Everyone.
Build and create your own theme park in My Amusement Park! Choose which rides to add to your park including favorites like a Pirate Ship, Super Coaster, Snack Shops, and more. Earn money to build more rides by playing eight logic and puzzle games. Gameplay includes building your park, fixing rides, adding landscaping and fulfilling orders, and earning money to grow your park. Both of my boys absolutely love My Amusement Park! The game is simple enough that they can understand how to navigate throughout the game and build new park features without it being boring. They love completing the puzzles to build the different attractions. I enjoyed watching my 6 year old play the parking mini-game that has you completing a logic puzzle to get a specific stuck car out of the parking lot. My Amusement Park is geared for children ages 5-8 and is rated E for Everyone.
Digging for Dinosaurs lets your child explore the earth in search of 21 different dinosaurs including a Brachiosaurus, Tyrannosaurus Rex, and Microraptor. Use three different tools to dig and uncover the bones and then complete puzzles adding the bones to the dinosaur's skeleton. Along the way you'll learn fun facts and enjoy eight different mini-games themed around surviving as a dinosaur such as hunting for food and protecting your eggs. The game includes three built-in levels of gameplay to provide age-appropriate challenges. My kids were really drawn to the dinosaur theme of this game and had fun digging and searching for the dinosaur bones. However, some of the mini-games were a bit hard for my kids. The digging game also seemed a bit simple and repetitive and it would have been nice to see more variety in that game as that is the bulk of the exploration. Digging for Dinosaurs is geared for ages 5-8 and is rated E for Everyone.
You can find these, and other fun and educational kids games, available through Scholastic's Online Store and your favorite local retailer. Look for these titles available for Nintendo DS and Leapster Explorer gaming systems.
Disclosure: I received copies of the games mentioned above in exchange for my honest review. I was not compensated in any other manner. The opinions expressed above are my own and any claims should be verified on the sponsor's site.