Compensation was provided by Diamond of California via Glam Media. The opinions expressed herein are those of the author and are not indicative of the opinions or positions of Diamond of California
Do you have favorite holiday recipes you make every holiday season? I love holiday baking and every year we are sure to make one of my families favorite treats – Cherry Peanut Butter Balls! This recipe was passed down from my grandma. I remember growing up that each year my siblings and I would help my grandma to make this recipe as well as some other favorites like sugar cookies. It is an easy recipe to whip up, though the chocolate dipping can take a bit of time and practice. This recipe is also very fun to make with your kids as they love rolling the dough into balls.

Cherry Peanut Butter Balls
Ingredients:
1 cup Diamond of California Walnuts, finely diced
2 cups Powdered Sugar
1 cup Coconut
3/4 cup Peanut Butter
4 Tablespoons melted Butter
12 Marshino Cherries, finely diced
2-3 tsp Marshino Cherry juice (from jar)
12 oz of Semi-Sweet Chocolate
3.5 teaspoons melted Parafin Wax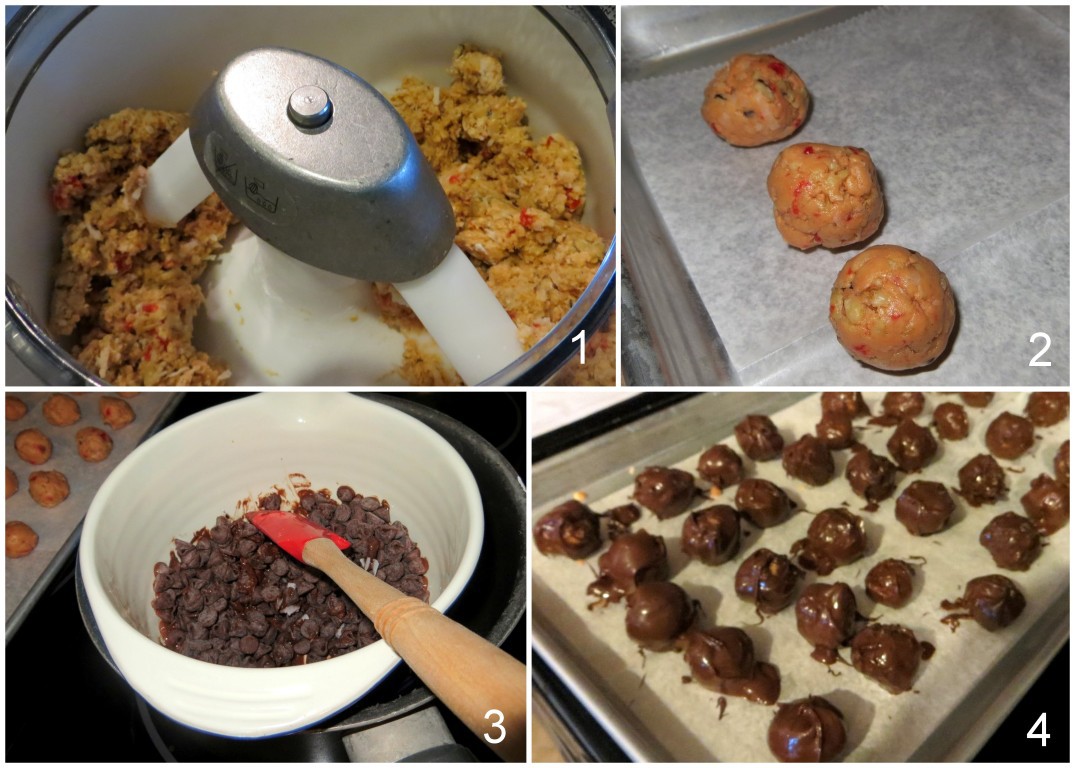 Directions:
Combine Diamond of California Walnuts, Powdered Sugar, Coconut, Peanut Butter, Butter, and Cherries. Add 2-3 tsp of Marshino Cherry juice as needed until the dough holds together to be able to form balls.
Roll the dough into approximately 1″ balls and place on a baking sheet on top of a sheet of wax paper.
Melt chocolate chips and parafin wax using the double boiler method. Water should not exceed a low heat setting. Do not allow any water to get into your bowl of chocolate or your chocolate will turn grainy and won't melt.
Dip your balls into the chocolate and then return to your baking sheet. Tongs work well to avoid too much chocolate per ball but you can also use a spoon. Cool Cherry Peanut Butter Balls in the fridge until chocolate hardens. Then, enjoy!
Yummy! My family loves these treats so much that they rarely last long! What's your families favorite traditional Holiday Treat? Come see more of my easy recipes, like this recipe for Classic No Bake cookies!
Disclosure: Compensation was provided by Diamond of California via Glam Media. The opinions expressed herein are those of the author and are not indicative of the opinions or positions of Diamond of California