This pineapple relish will be the perfect garnish for all your favorite recipes! Serve it on top of brats, hamburgers, chicken, steak, or fish! Yummy side dish to add to your picnic or dinner recipe!
If you're looking to make something special for dad this year, look no further than Bratwurst with pineapple relish garnish! It will fill his craving for meat and be a dinner he'll remember. You don't even have to head to the grill to pull off this amazing meal.
This post sponsored by Johnsonville Sizzling Sausage Grill, opinions are my own.
The Perfect Bratwursts with Pineapple Relish Garnish
My husband is incredibly good at spoiling me on Mother's Day. He'll bring me breakfast in bed and dote on me all day long and makes a special effort to take care of all the little things that are needed during the day to give me a break.
Every year, I try to return the favor with Father's Day rolls around, and spoil him right back. It's easy enough to take over all the household responsibilities and give him a "day off." But one area I know I always fall short is preparing a dinner is just for him.
My husband loves meats and anything grilled, so this year, with the help of Johnsonville, I'm ready to spoil dad with all the tastes of a yummy grilled meal without needed to use the grill. I'm not very comfortable with our grill, but Johnsonville Sizzling Sausage Grill is changing all of that.
This indoor grill uses an electrical outlet and is perfectly designed to cook brats and sausages quickly, easily, and without any fuss. Just load in your bratwursts and close the lid, it locks closed to perfectly cook the links on all sides and avoid any splatters or mess. The grill will cook five sausages at once and they cook in less than 15 minutes and alert you when they're fully cooked with the internal sensor.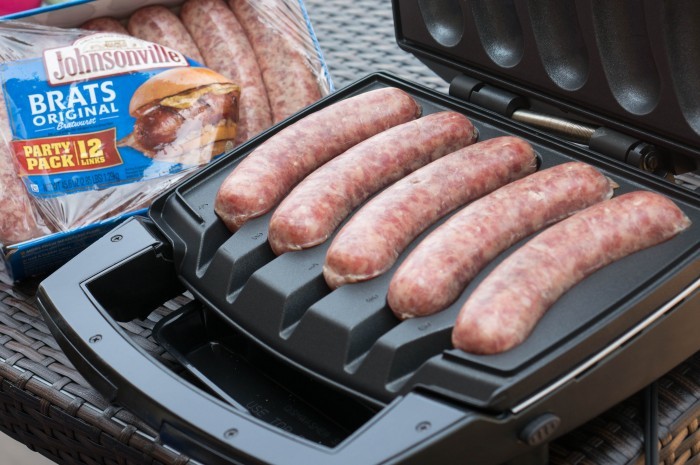 The Sizzling Sausage Grill would be a perfect gift for Father's Day! Break it out that first day to make Bratwursts with a pineapple relish meal for dad, and then he'll be able to use his new indoor grill whenever the occasion strikes.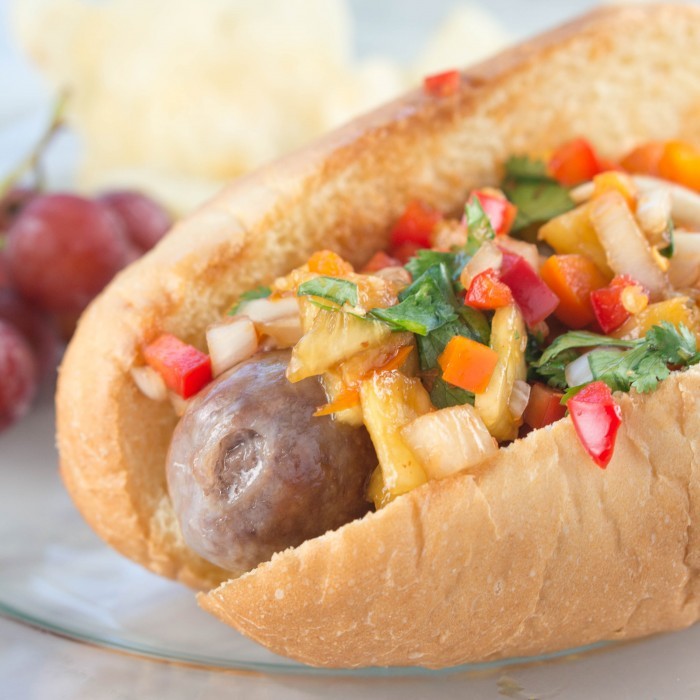 Once you have your grill, it's as easy as setting your brats in to cook and grill for you while you make our yummy pineapple garnish to go on top. The relish will take you about 15 minutes prep, so your whole meal will be ready to serve in just 15 minutes!
You'll also want to grab Johnsonville Sauasage Rolls, they are buns that are large enough to fit your brats or sausages. We added some fresh grapes and potato chips to the side to finish off this summer meal, but you can add whatever sides he likes best!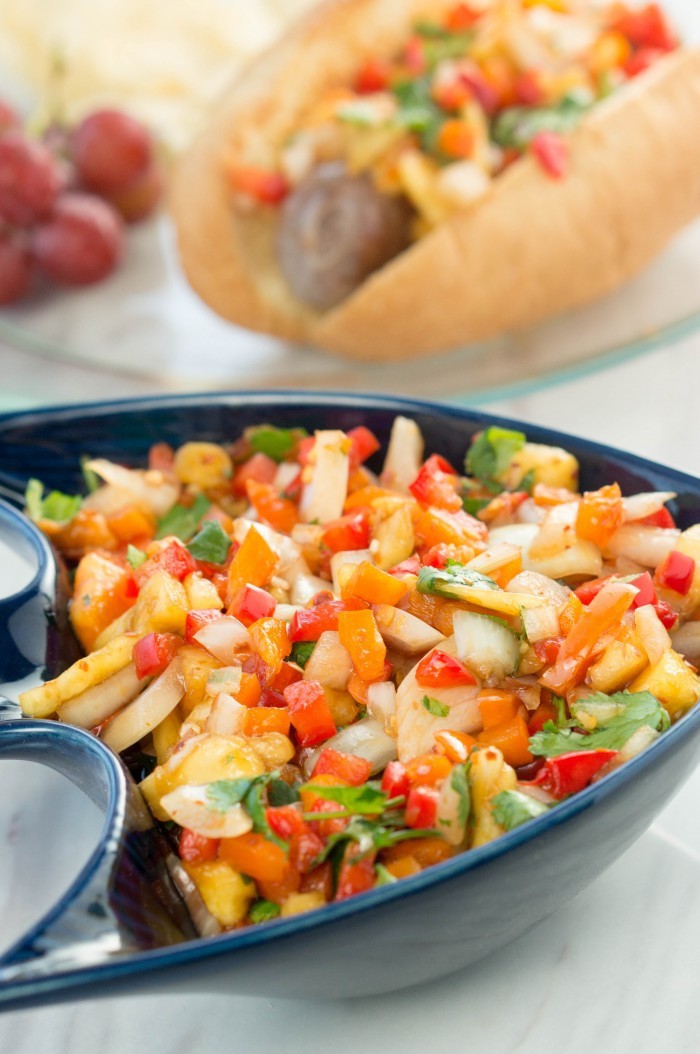 How to Make This Pineapple Garnish
Watch us make this recipe in this short less than a minute video clip, or keep scrolling to grab and print the recipe.
Pineapple Relish Recipe
Yield: 4 cups
Pineapple Relish
This pineapple relish will be the perfect garnish for all your favorite recipes! Serve it on top of brats, hamburgers, chicken, steak, or fish! Yummy side dish to add to your picnic or dinner recipe!
Ingredients
1 pineapple
1 red bell pepper
1 orange bell pepper
1 small onion
1/2 bushel cilantro
1/4 cup rice vinegar
1/8 cup soy sauce
1/3 cup hot sauce
1/2 cup sugar
Juice from 1 lime
Crushed red pepper, ground (to taste)
Instructions
Finely dice pineapple, bell peppers, and onion and add to a bowl.
Coarsely chop cilantro, add to your bowl.
Add vinegar, soy sauce, hot sauce and sugar.
Juice one lime and add it to the bowl.
Crush ground pepper with a mortar and pestal, than add it to your pineapple relish.
Mix until well combined. Store in the fridge until ready to serve. Use as a relish to top your favorite meats.
Nutrition Information:
Yield:
16
Serving Size:
1/4 cup
Amount Per Serving:
Calories:

38
Total Fat:

0g
Saturated Fat:

0g
Trans Fat:

0g
Unsaturated Fat:

0g
Cholesterol:

0mg
Sodium:

230mg
Carbohydrates:

9g
Fiber:

0g
Sugar:

8g
Protein:

0g
If you loved this post, bookmark it on Facebook or Pinterest to save it for later! That way, you'll be able to easily find it each year for Father's Day!

What other recipes would you use this pineapple relish as a garnish for?