This is a sponsored post written by me on behalf of Renew Life Formulas. All opinions are 100% mine.
This past summer, we went to an extremely relaxing all-inclusive resort and hung out on the beach sipping virgin Pina Coladas. It was the most relaxing vacation I've ever been on. So, when life starts to get hectic, there's nothing that takes me back quite like a smooth tropical drink! This Pina Colada Smoothie recipe is one everyone in the home can enjoy!
Pina Colada Smoothie Recipe
Ingredients:
Directions:
Add your crushed ice, pineapple chunks, Greek yogurt, and cream of coconut to the blender. Blend until just blended to keep the smoothie consistency thick.
Now, if you're looking to drop pounds and live a healthier lifestyle for the new year, you can up your smoothie by adding Skinny Gut nutritional supplement! Their Renew Life Skinny Gut Ultimate Shakes helps to balance the good and bad bacteria in your digestive track while also helping to curb your appetite and cravings. It's loaded with protein, fiber, and probiotics to give you a healthy kick to your day.* It has a soluble formula so you can mix the Skinny Gut powder right into beverages or mix with soft foods. It will add a slight vanilla flavor to your foods.
I added in 1/3 scoop of Skinny Gut and then blended the smoothie again for just a few seconds until well blended. Using just 1/3 of a scoop was enough to give me a good kick towards my nutrition goals without adjusting the taste of the smoothie too much. This way, I can spread out the recommended daily scoop across the three main meals of each day.
This Pina Colada smoothie took me right back to feeling like I was at the beach, relaxing in the sun. Plus, I felt like I was doing something good for my digestive system, while enjoying the smoothie. Being 2.5 months postpartum, I'll take all the help I can get to say goodbye to my gut in 2015!You can also try the Renew Life Skinny Gut Chocolate Shake to mix into other recipes and foods!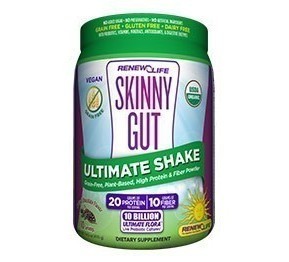 What are you doing to improve your health and wellness for the new year?
*These statements have not been evaluated by the FDA. These products are not intended to diagnose, treat, cure or prevent any disease.