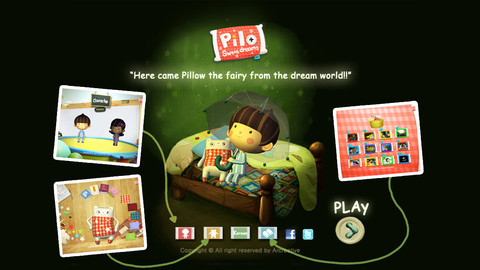 Introducing the Pilo series of 3D fairytale educational app books! The first storybook in the series, Pilo1 – The Pillow Fairy, brings you an imaginative world where Pilo, a warm pillow doll, comes to live in the characters dreams each night. Follow along with the friends in this 3D dream world packed with interactive effects that help increase an interest in learning. Choose between a boy or girl character and decorate your Pilo character as well. The story can be played in English, Korean or Chinese.
"Pilo, a pillow fairy, comes from the dream world."
"Daddy~~ I don't want to sleep!"
"The story starts in the room of Tommy, a kid who doesn't want to go to bed. When Tommy falls asleep soundly, "Pilo," a pillow fairy who came from the dream world, comes alive. Pilo is a special friend that leads Tommy into the dream world when he falls asleep but which remains a pillow the rest of the time. There is a big dream tree growing in the dream world. There are dream-tree friends living here. Today, as usual, Tommy and Pilo play with dream-tree friends happily, making precious things."
Watch this short Video Trailer on Pilo1 – The Pillow Fairy Storybook App for an inside peek!
The Pilo – The Pillow Fairy app is available for FREE in the iTunes marketplace and can be found under the books category. There is also an optional full paid version available for just $2.99. Look for additional Pilo storybooks also available!
Disclosure: This is a sponsored post. I will be compensated for my time and efforts on this post.