Has your family ever played with perler beads? They are so much fun and the options are endless. I'm always trying to think up a new perler bead idea we can use! Usually, you'll start by making perler bead keychains. Those are fun and great, but they honestly don't last very long as a keychain.
We made a really cute eggs and toast Perler Bead pattern over here. It's such a cute project, but after many, many keychains – we were ready for something totally new!
Enter — the Perler Bead Playset!! You could absolutely use our pattern to make a mini kitchen/cooking playset – how darling would that be!
Affiliate links are used in this post.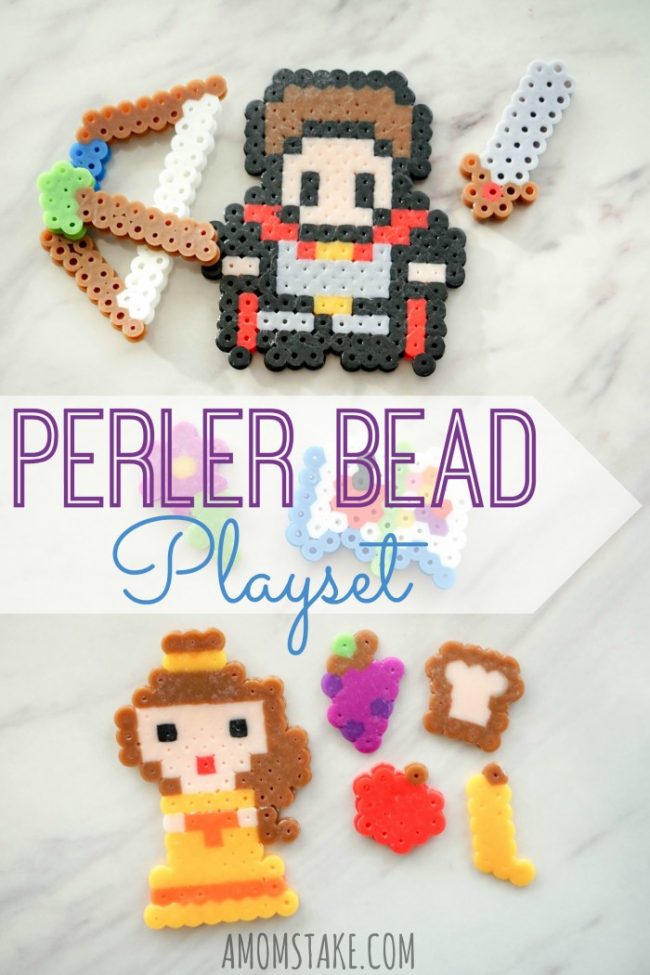 Perler Bead Idea:
How to Make a Perler Beads Playset
Perler Bead Supplies:
Ideas / Patterns!
Ironing Paper OR Wax Paper
Iron
The supplies you'll need for making unique designs with perler beads are relatively few. You can pick up a perler bead starter kit, and it will come with a wide variety of colors to get you started plus the perler pegboards and ironing paper. Then, you'll just need a little creativity or some online research to find patterns!
Since the first character I had in mind was an epic solider that looked like he came from an old RPG video game, I knew I was going to need black, grey, peach, brown, and red – at minimum!
Making Your Perler Bead Idea Come to Life:
1. Create a Plan – Begin by coming up with your perler bead idea. Do you want to make a play kitchen set, like the one we started with our darling egg and toast perler bead pattern? Or maybe you want to make a fairytale scene.
I wanted a hero my boys would love plus a princess to teach them chivalry. I also loved all the ideas that came immediately to mind to add to the theme, so we were off and ready to start! Our perler bead playset idea included:
Belle
RPG Hero
Sword
Bow and Arrow
Flower
Book
Play food — including grapes, banana, slice of bread, apple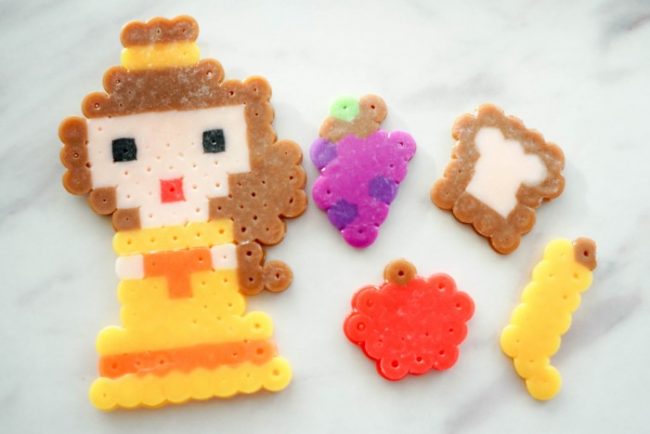 2. Finding Patterns – You can look online for hundreds of free patterns. But don't feel limited by just patterns. You can easily come up with your own patterns by looking at drawings of your favorite characters or playing around with the perler beads coming up with your own completely unique designs!
None of my play food or other accessories came from patterns, I just thought up some ideas and went with it! A big part of the process is having fun and letting your creativity guide you! Now, one of my very favorite accessories is the book! I made it a "magic" book with a "bomb" spell and a "firework" spell complete with a ribbon bookmark. The options truly are endless.
3. Melt Your Perler Beads – When you have finished creating a design, you'll use a sheet of iron paper or just grab a piece of wax or parchment paper from your kitchen if you don't have any of the other. Wax paper can leave little white "fuzzy" residue on your perler beads if you've used it a bunch of times and it's starting to wear down. Just a heads up. That's what you see on my Belle character above. It still works great and can be a lifesaver in a pinch.
You'll use either a 3 or a 4 setting on your Iron for either Nylon fabrics. You can always start a low setting and work your way up to a little hotter.
Be careful to not melt your Perler pegboards! Those are plastic, too, and can easily melt if you apply too much pressure while melting your perler beads or simply melt them down too much. If you end up melting your pegboard, it can be difficult to get the perler beads off!
4. Ironing Tip for Melting Perler Beads
I like to just let my beads with about :10-:15 seconds of heat. I don't apply a lot of pressure, but move my iron in a circular pattern. Most directions will tell you to heat the beads longer than that. I want them just melted enough to come off the pegboard.
Then, I flip over the pegboard and ironing sheet and remove the pegboard. Then, I'll fold over the ironing sheet and iron the backside of the design until it's good and melted.
Finally, I'll flip over the design and finish melting the front side.
I've had several ruined pegboards from early in my ironing process, and this really helps for not melting the pegboards and making the designs nice and melted down so they're less likely to break!
5. Repeat the Process! After making just one design, you're now a pro! Continue making other designs and adding to your perler bead idea bucket until you have an entire playset!
I store these cute little perler bead playset characters and accessories in a ziploc bag and they are the perfect, totally silent, on-the-go activity! Our favorite place to play with them in at church and in waiting room!!
I can't wait to see your own perler bead ideas come to life! Share what you'll make in the comments below!