Mother's Day is a time to spoil that special lady in your life (or even treat yourself). Give her something as special as she is, or finally get that something-something you've always wanted!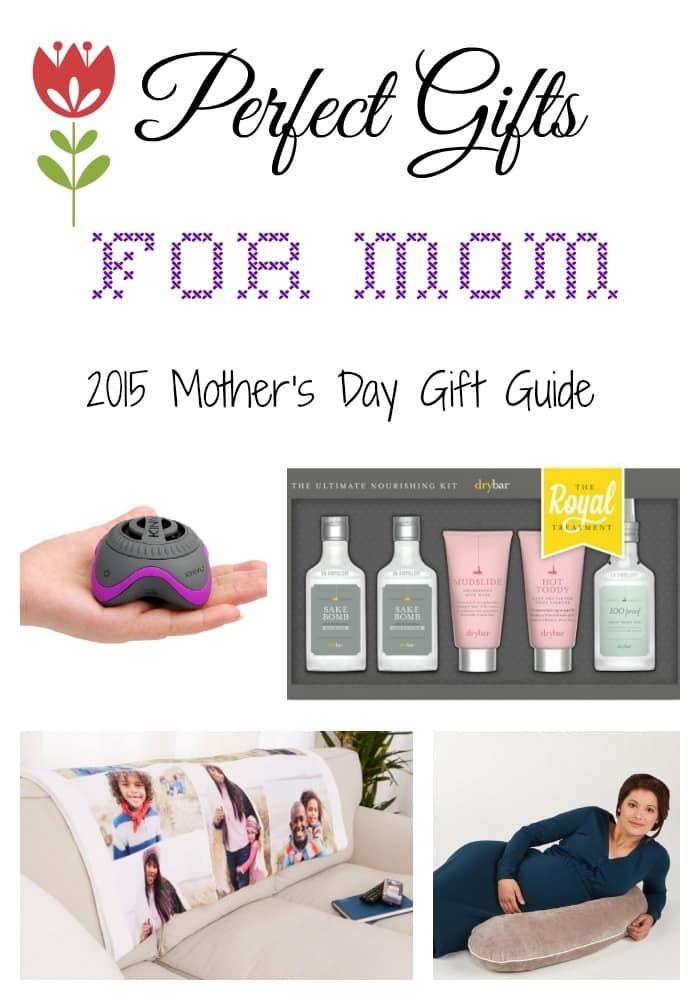 We received a variety of samples for inclusion in this feature. All opinions are our own.
Every mom deserves to be pampered. I know so many women would choose to have a mani/pedi each week, but I would totally choose to have someone else blow-dry my hair. That might sound silly to some, but I honestly dread styling my hair. Oh how I wish I could always pay someone to do it for me! If you want to spoil your mom, book her an appointment at your local Drybar location. No cuts, no colors, just blowouts. They are the best at what they do. Now, you can extend the magic and bring their signature tools of the trade home! Grab your favorite lady a Royal Treatment Gift Set. You will receive some of their most popular products including Sake Bomb Shampoo and Conditioner, Mudslide Nursing Hair Mask, Hot Toddy Heat and Uv Protectant, and 100 Proof Treatment oil. $67 worth of your favorites for only $49. Don't forget Buttercup! A Drybar blowout wouldn't be the same without their signature blowdryer. Powerful, lightweight, and Nanolonic, your mom will feel spoiled rotten every time she styles her hair. Pamper your mom this Mother's Day! You can find more here.
The BeliBea is a gift that every nursing mother can truly appreciate. Focusing on convenience and comfort, the BeliBea provides mothers a dual-design bra perfect for nursing and pumping. In all honesty, the BeliBea is unlike any nursing bra I've ever owned. The soft, elastic fabric provides a soft and seamless fit. Best of all, when I choose to pump instead of nurse, the BeliBea also holds the pumping bottles in place giving me free hands while pumping. Being a busy mom with a toddler and newborn, free hands is something I can truly appreciate. What more could a new mother ask for? At only $49.95, the BeliBea Nursing Bra is truly a must this Mother's Day.
The Kinivo ZX100 Mini Portable Speaker is the perfect gift for any mother on-the-go. Easily transportable, the Kinivo speaker's lightweight design allows you to bring music to any destination. Whether you keep it in your car, purse, pocket, backpack, or on the kitchen counter, this speaker delivers 360 degrees of crystal clear sound. Available in many fun colors, there is a speaker perfect for any woman's taste: purple, green, yellow, red, and blue. The Kinivo's rechargeable and long-lasting battery provides up to 6 hours of continuous music. Connected to almost any gadget with a 3.5 mm connector, you can share you favorite tunes with everyone around you. At only $19, you have to check out the Kinivo ZX100 Mini Portable Speaker on Kinivo's website and on Amazon.
Moms will love a personalized product with pictures of all their favorite people! Collage.com creates custom collages that are automatically arranged for you and then can be customized to have your photos in any placement and size that you prefer. We created a photo collage blanket with about 50 pictures and it was simple to drag around the pictures to where we wanted them and resize some bigger and others smaller until we had just the look we wanted. The blanket turned out absolutely beautiful! You can also create photo albums, canvas prints, pillows, phone/tablet cases, and many other options to find the perfect, customized, gift for mom this year! Visit Collage.com to get started!
Collage.com is offering a Free 8″ x 10″ wrapped photo canvas (a $49.99 value) for FREE, just pay shipping and handling! (Offer limited to the first 1,000 redemption, Expires 5/15/15). Design your own canvas and add it to your cart, then use the promotional code: MOMSTAKECANVAS and it will take off the price of the product, just pay shipping!
Give mom an easy, and flexible way, to protect her family. The Oco Camera makes it easy to keep an extra eye around the home. All Oco needs is a power outlet and Wifi, so it can be place just about anywhere. Use it to monitor a sleeping baby, keep an eye on the front door, or watch a pet while you're out of the home. Another neat feature is the two way talk feature that lets you communicate to your pet or loved. The live stream can be accessed by up to 16 people from a smartphone or tablet with no additional charge. You can even set up alerts when motion or sound are detected. An additional subscription can be purchased to keep your video footage stored in the cloud so it can be accessed, even if the camera is lost or stolen. Visit GetOco.com to see all the features!
For the mom to be, celebrating Mother's Day can be a little hard…you want nothing more than to hold that little one in your arms. Spend those moments in comfort with Candide Multi-Relax 3-in-1 Multifunctional Maternity Pillow. Super soft but supportive, the Candide Maternity Pillow is easily molded into whatever position is right for keeping mom comfortable. With a removable and washable cover, it's perfect for before baby…and after! When baby arrives, the Candide can be used as a nursing pillow and support pillow for baby, with a handle support pant. The Candide Multi-Relax 3-in-1 Multifunctional Maternity Pillow is 3 pillows in one! The Candide is available at Amazon starting at $59.99.

Moms love a yummy treat so show your love by giving Walkers Shortbread. Walkers Shortbread is delicately sweet and buttery, its perfectly paired with a morning cup of cocoa or coffee. Walkers Shortbread is literally my favorite treat in the world! Walkers Shortbread is as Scottish and you can get, using the same recipe from 1898. Walkers Shortbread is available online or at grocery stores. Walkers also has a gluten free version of it's rounds!
Moms are not only hard workers at home, but they are also hard working at their careers. For the nurses and teachers mothers out there, they are also celebrating Teacher Appreciation and Nurses Week! Thirty-One Gifts has decided to celebrate these hardworking moms with a special owl embroidery available on their amazing totes. Available until May 31st, you can let everyone know who you give a "hoot" about. Customize a functional and stylish tote with a predetermined phrase or a personalization for only $5. Thirty-One Gifts has tons of other great gift ideas for any mom!
What are you getting Mom this year?