Right after having my first baby, I felt completely overwhelmed every time I took my baby out in public. I never really knew what to pack, and always ended up forgetting something; let's just say I was pretty much 30 minutes late everywhere I went.
By the time baby #2 came along, I learned how to compact my diaper bag into fewer realistic items. The best trick I've found is keeping everything in my newborn diaper bag and replenishing the depleted supplies after running my errands – this way, my diaper bag is always ready to go. Want to make sure you're packing the essentials without going overboard? Take a look at this checklist.
I received samples and compensation in exchange for this post. All opinions are my own.
What's in my bag? A Newborn Diaper Bag Checklist
Diaper Bag: When choosing a diaper bag, I always go for diaper bags that can be worn as backpacks. This frees up my hands so I can also carry a carseat, one of my other kids, etc.
Hand Sanitizer: I always keep a bottle of hand sanitizer attached to my diaper bag for easy access.
Wallet: This may be a no brainer, but I can't tell you how many times I've forgotten my wallet.
Snack: When I'm nursing, I find that I get hungry very easily. As in I'm always hungry! I like to pack a granola bar or something I can snack on when I start to feel weak.
Nursing Pads: You can't control when your milk is going to come in. And if I've learned anything, it's better to be prepared than to be sorry. That's why I always like packing an extra pair of nursing pads.
If you're looking for awesome nursing pads, I'd recommend checking out these Mommy Knows Best Organic Bamboo Nursing Pads. Unlike disposable pads, these nursing pads are extremely soft and don't irritate your skin. Plus, you can quickly wash, dry, and reuse them whenever you want! They are the perfect shape that fits right inside of your bra, which limits the pads from sliding around.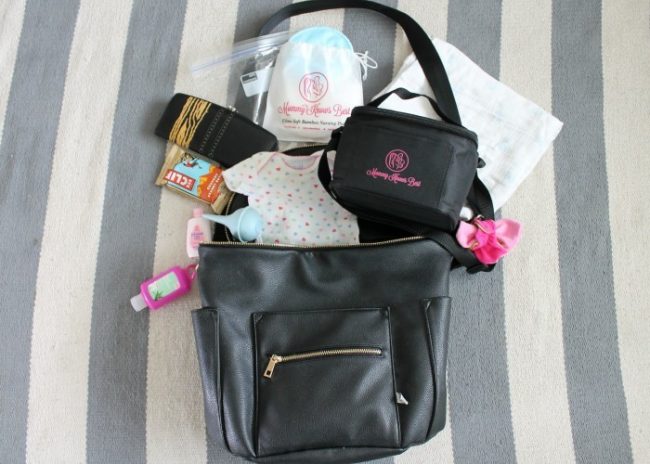 Ziplock Bag: In the event that your baby has a blowout or spits up all over their clothes, put the soiled item in a ziplock bag. This way it doesn't stink up your diaper bag and keeps the other items in your diaper bag clean. This can also be used for wet/stinky diapers.
Onsie: I never go anywhere without packing an extra onsie. You never know what's going to happen when you're out in public!
Booties: I hate it when my babies get cold feet. To prevent this, I like to pack an extra packs of socks or booties to keep their feet warm.
Swaddle Blanket: I love using my swaddle blankets for nursing, as a carseat cover, burp cloth, for tummy time, etc. The best part about using swaddles is that they fold up nicely and don't weigh a lot. Therefore, they fit perfectly in my diaper bag!
Baby Lotion
Bulb Suction
Bottle Cooler: When I know that I'm going to be gone for long periods of time, I like to pump a bottle beforehand so that it's easier to feed my baby while in public. Because I don't want my milk to go bad, this Mommy Knows Best Cooler is a must for my diaper bag.
I love that this Mommy Knows Best insulated cooler keeps my breastmilk fresh, longer. It's the perfect size that fits right in my diaper bag, without taking up too much room. Plus, I can fit up to 6 bottles in my cooler. This is perfect for traveling or just on-the-go.
Other Items You Might Want to Add to a Newborn's Diaper Bag
Pacifier: Neither of my babies ever took binkies, but if they did, I'd pack at least one.
Gas Drops: If you have a gassy baby, you may want to remember to slip these in.
Belly Band: If your back needs a little extra support, I'd definitely pack a belly band along with me on my outings. If you're looking for the perfect belly band, I'd recommend checking out this Mommy Knows Best Maternity Band.
Perfect for prenatal or postnatal support, this Mommy Knows Best Belly Binder provides excellent support for both your stomach and back. I love that it's super light and breathable. This really comes in handy during those first few weeks of your baby's life as your body is recovering!
This video pretty much sums up all the essentials I'd highly recommend packing for your newborn:
What else would you add to this newborn diaper bag checklist?
Packing for a newborn baby can be a bit tricky and overwhelming. Hopefully this list helps narrow down some items that will be useful. Be sure to visit Mommy Knows Best for more awesome mommy products to put in your diaper bag!
Do you have anything you'd add to the list?