IKEA has a vision to create a better everyday life for people. They offer well-designed and functional items for the home at prices very low and affordable to help achieve this vision.
They also feel responsible as a company and to their consumers to take important measures with their company. They have taken steps like switching out all their light bulbs to energy efficient ones. They are also no longer selling Incandescent light bulbs, being the first major retailer to ever do so. The have also begun to use Solar and Geothermal Energy in their stores!
I was able to receive a IKEA HEMNES Dresser review sample in Black-Brown. We went into IKEA to pick it up and of course had to pick up some other essentials while we were there!
We picked up some Magazine Files that make my family room book shelf SO much more organized! I also had my husband pick up another stool for our MAMMUT Kid's Table and a utensil bowl that I hung by my door for my husband to drop all his keys, wallet, and miscellaneous small items that always get left around the house.
Ikea Hemnes Dresser Review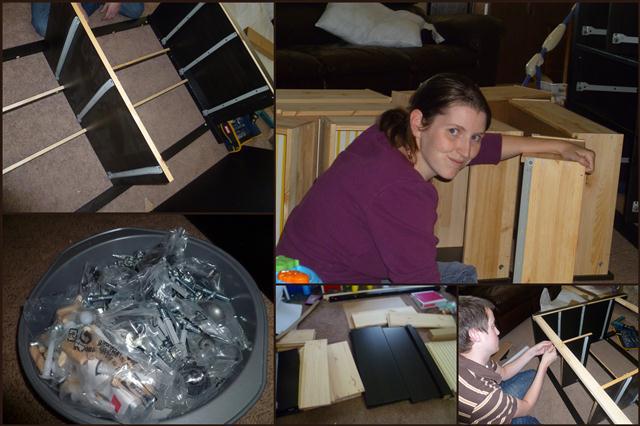 We set up the dresser the next day and it took probably about 3 "man hours" to put it together as we worked on it for about an hour together and then I did all the drawers myself for about an hour. It was actually really easy to put together and the directions were easy to understand, there were just a lot of pieces and parts to the dresser to have to assemble.
The HEMNES 8-drawer dresser fits all the clothing for my 2 young boys really well! Each boy gets one side of the dresser and 4 drawers. One drawer for each: Pants, Shirts, Pajamas, and a Socks and Underwear drawer.
The drawers slide out really far to offer a lot of storage space and the bottom drawer is VERY deep. I love the smaller top drawers because it makes it really easy to keep things separate and organized so I don't have to dig between pajamas to find a matching pair of socks!
I really love this dresser and think it is a perfect fit for children sharing a room as well as for adults.
HEMNES 8-drawer dresser retails for $299. It is 63 3/4″ Wide, 20 1/8″ Deep, and 38 1/4″ High. You can buy it online, though a shipping charge will apply, or you can pick up this dresser at your local IKEA.
Disclosure: I received an IKEA HEMNES dresser review sample, 8 drawer for free in order to try the product and form an opinion for this review. I was not compensated in any other manner. The opinions expressed above are my own and any claims should be verified on the sponsor's site. Thank you to the sponsor for allowing me to review their products!