Getting started with canvas prints might be intimidating. You may ask yourself questions such as: How do you hang canvas prints? What sizes should I pick? Do I need to do anything special with canvas artwork?
Today, we're going to help you get started with canvas prints with this helpful guide on how to arrange and hang canvas! It's easier than you might think.
This post is sponsored by CanvasDiscount.com. All opinions are our own.
How to Hang Canvas Prints
Gather Supplies:
Tape Measure
Level
T-Square
Drill
Screws
Pencil
Step 1: Measure your space.
For my project, I wanted to create a statement piece over our guest bedroom queen sized bed. We measured the width of the headboard and then the height we had available.
Step 2: Measure your canvas prints.
After we knew our available space, we measured each canvas individually. You'll need to know both the overall size of the canvas as well as the measurement to inside the frame if hanging directly from the frame or to your hanging kit, depending on what you will be using to mount the pictures to the wall.
Step 3: Layout your canvas prints to create a layout you love.
You may have already configured your prints before you purchased them and have a plan in mind. If not, make sure you do this now! Lay them out together on the floor or on top of a bed or table to plan the arrangement.
I ordered prints that fit each other canvas' measurements so they would fit just perfectly together. I started with a tall 24″x30″ statement picture. Since it was 24″ wide, I wanted my other pictures to also be 24″ wide to feel very cohesive.
I then ordered one landscape print that was 12″x24″. And sized my last two canvases to be 12″ wide to fit nicely over my landscape canvas and 16″ tall to fill the rest of the 30″ vertical space nicely.
Step 4: Measure twice, hang once.
When you have all of your measurements for your wall space, canvas size, and mounting spots, you can then start to measure and mark up your wall.
You'll want to measure over and down and a t-square can be very helpful in doing both of those measurements in one step! Just line the t-square against the ceiling or your headboard or any other anchor point. You can then measure over the distance from the edge you need to go and down along the edge of the t-square to make your mark. Just use a pencil to mark your point.
You will also use your level during this step to double check your marks are level if making more than one hole to mount your Canvas prints.
It's always best to double check your measurements. One way to do this is to hold up your canvas print to your mark and make sure it looks correct visually. This is a great way to double check spacing and make sure you're not too high, low, or to close to already mounted canvas prints.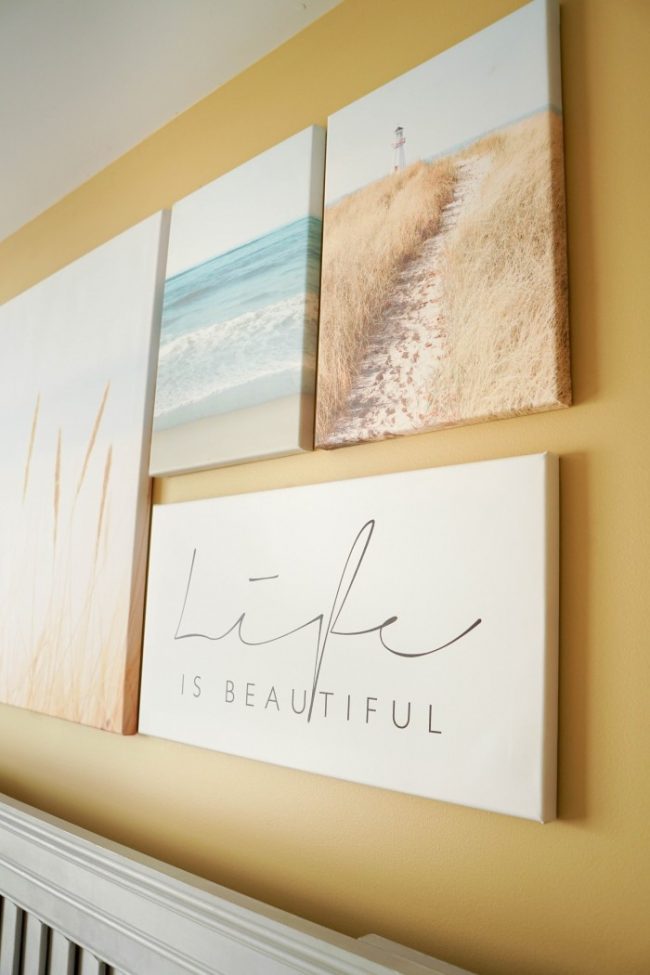 Step 5: Continue hanging your canvas prints.
If you are hanging more than one canvas prints in the same area, you'll need to be careful with your measurements and calculations to have the prints spaced just right.
After you've made a simple pencil mark, holding up the canvas to double check can be extra helpful to make sure you are not overlapping or too close to your other canvas prints.
When you're finished, just step back and admire your work!
Affordable Canvas Prints
with CanvasDiscount.com
When we were looking for art for our guest bedroom, we searched all over online. But art is very, very expensive! You'll often pay more than $100 per canvas artwork.
For a much more budget-friendly approach, we decided to search etsy for custom artwork we loved for the space. Ordering digital prints can be very affordable. Then, with the appropriate digital printing rights, we turned to CanvasDiscount.com.
They are the #1 Best Rated US Canvas Shop on TRUSTPILOT and have sold over 5 million products! With that much experience, you know you will be ordering through a site you can trust.
CanvasDiscount.com uses high quality canvas and prints using solvent-free HP latex inks for the best quality canvas. The canvas prints are made right here in the USA and are ready to ship within 24-hours! Plus, CanvasDiscount.com back all their orders with a 100% Money-back guarantee!
I was so impressed with how easy the ordering process was. Our new Canvas prints arrived in just a couple of days. They were very well packaged to be protected during shipping and we didn't have any problems or concerns with any of our new canvas prints.
Our total for all 4 canvas prints was just $135, shipped! For the size, quality, and speed of delivery, they can't be beat!
You can start with their canvas wall display options for an instant arrangement made for you! Or, don't be afraid to play around with your measurements and pick complimentary sizes that will work for your space.
You can pick a series of the same sized prints or arrange a set of canvas prints that will line up all the photos nicely beside each other for a more custom look.
Free 8″x8″ Canvas from CanvasDiscount.com
To get started with your own perfect canvas arrangements, CanvasDiscount.com has offered all of my readers a FREE 8″x8″ canvas print.
To redeem this offer, you'll just upload a favorite picture and select the 8″x8″ canvas size. Then, enter the promotional code: AMOMSTAKE during checkout. You'll just pay shipping.
Add this free canvas print offer while creating a perfect wall arrangement or choose to get started with this free offer and make a personalized gift for a loved one.
Visit CanvasDiscount.com to claim your free canvas print!