Halloween has been the subject of every conversation in our home the past few weeks. My oldest started school this year, so all we have heard about is how much Halloween fun they are having in their classroom. Younger sister was starting to feel a little left out, so we decided to plan a preschool Halloween brunch for her friends! This party was so easy to pull together and we all had a blast. Come check it out.
I received samples and compensation for this post, all ideas and opinions are my own.
First things first, invite all your friends and remind them to wear their costumes!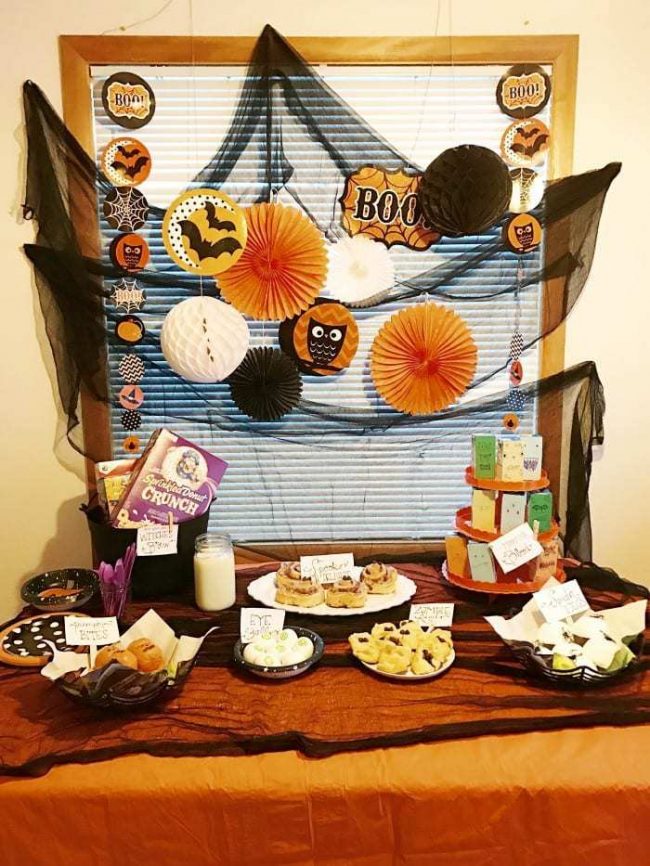 Next, decide on food. This is so much fun. Grab some of your favorite brunch items and give them spooky names, here is what we served:
Pumpkin Bites– Using a marker draw some fun jack-o-lantern faces on the outside of some Cuties. It is a healthy treat that all kids love!
Zombie Heads– These little lemon cream cheese and blackberry filled pastries are really yummy and easy to make with your kids. Check out the recipe right here.
Eye Balls– After hard boiling your eggs, use some markers to draw spooky eyeballs on the shell.
Spider Eggs– This eery bowl is full of Hostess Snowballs, but you could also use powdered doughnut holes. Add some plastic spiders and your kids will really be spooked.
Mix Your Own Witches Brew– Cold cereal is always a hit at our house. To really get festive, it would be perfect to include Count Chocula or the other Halloween cereals, but I couldn't find any this year! My daughter was really excited to pick whatever cereal she wanted, and she even mixed her choices together.
Spook's Delight– Using refrigerated cinnamon roll dough, shape them into ghost shapes before baking. After the cinnamon rolls cool, add chocolate chips for eyes!
Monster Blood– Use colorful paper to cover the front of juice boxes and draw fun monster faces on them! I used a cupcake stand to display them on the table.
Now that you have all the tasty food figured out, what is really going to take your party over the top is to grab your supplies and decorations! Why have a party when you can have a Party City party? Right!? They make it so easy to really take your decor to the next level. I loved using their  Modern Halloween Decorating Kit to create a spooky but fun party table. They have so many amazing options available and everything matches, making your job really easy.
A dapper Life-Size Posable Skeleton sets the tone for your spooky fun as he greets your guests at the door. My kids love to dress him up during the week, he is my favorite piece of decor.
After guests fill their plates and bowls with yummy treats you can all eat and hang out. We chose to watch a halloween movie and read some halloween stories.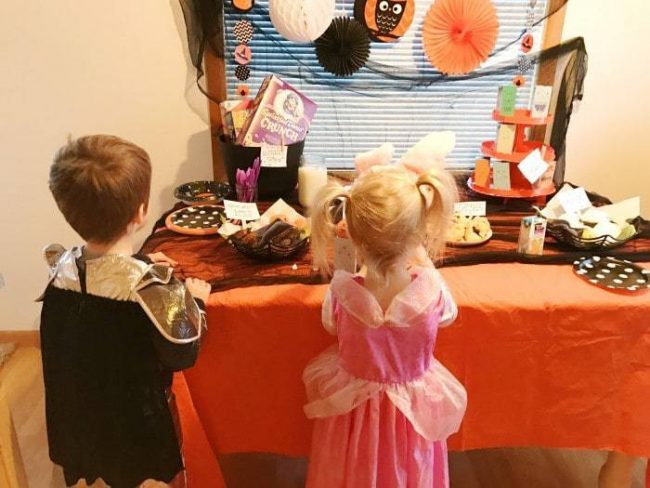 We had so much fun celebrating Halloween at home while older siblings celebrated at school. I love taking the opportunity to create fun memories for my kids as they grow. Party City makes it so easy to keep the celebration happy, festive, and easy.
What kind of treats would you serve at your Halloween brunch?