The holidays are nearly here! One fun and easy way to start to get into the holiday spirit is by creating fun holiday themed lunches for your kids! My boys always love it when they open up their lunchbox and see a fun themed surprise and Christmas lunch box jokes or sweet note from mom inside!
Here's a cute holiday lunchbox idea to get you started and some cute holiday lunchbox jokes, too, you can include in your child's lunches this year.
I created this simple lunchbox with just a few key ingredients and with Rudolph as my inspiration! I always like to add a small cut piece of tissue paper to my lunchboxes as it adds so much color and fun to the lunch! This time, I used a sparkly red tissue paper I already had on hand.
Now, make a PB&J sandwich, or whatever type of sandwich your children prefer. Use a circle cookie cutter or grab a tupperware container or cup to use as your cuter and cut out a round head. Top the sandwich with two chocolate chips or raisins for eyes and a raspberry to create Rudolph's red nose. Add four pretzels, two stacked on each side, to create antlers.
I finished off the lunch by making melon balls with cantaloupe and watermelon using a small cookie scoop. They resemble little round ornaments in the lunchbox and give a lot of color and a healthy kick to the lunchbox. Finally, I tossed in a small salad and small tomatoes which give the lunch a beautiful pop of red and green to keep with the holiday theme.
Finally, I added a fun holiday lunchbox joke note for my son. He'll love sharing the joke with everyone at his lunch table and it's sure to brighten his day at school! This particular joke is one of my personal favorites for the holidays: "Why did the Elf go to school?"
"to learn his ELFabet!"
Adding a joke to the lunchbox was a breeze. I used a permanent marker and just wrote up the joke and a little note from mom!
Here are some easy holiday lunchbox jokes you can write up and add to your child's lunchbox this year:
8 Holiday Jokes for Kids' Lunch Box!
What's a parent's favorite Christmas carol?
Silent Night!
What do you call people who are afraid of Santa Claus?
Claustrophobic!
Why did the elf go to school?
To learn his ELF-abet
Why is it always cold on Christmas?
Because it's in Decemberrrrrrr!
What did the Gingerbread Man put on his bed?
Cookie sheets!
Knock Knock
Who's there?
Mary
Mary who?
Mary Christmas
What kind of ball doesn't bounce?
A snowball
What do snowmen eat for breakfast?
Frosted flakes
Lunchbox Holiday Jokes Printable
The easy way to use this holiday jokes PDF free printables is to just click the image or link below. This will open up the file in a new window in a PDF viewer. You can easily from there just save or print the file.
You can select "borderless" printing as the borders are already worked into the image and this will make the jokes as large as possible on the page (plus no extra white borders to need to clip off the sides).
Once printed, simply cut out the 8 different jokes and put on in your child's lunch box during the month of December on the days leading up to winter break! You can use a paper cutter if you'd like, but it's also super easy to just grab a pair of scissors as the light gray line will guide you and it's no big deal if you are slightly off!
I know these printable jokes are just a little thing, but they really can bring so much holiday cheer, fun, and excitement to your child's day! Who doesn't like a funny joke and to share a good laugh with friends?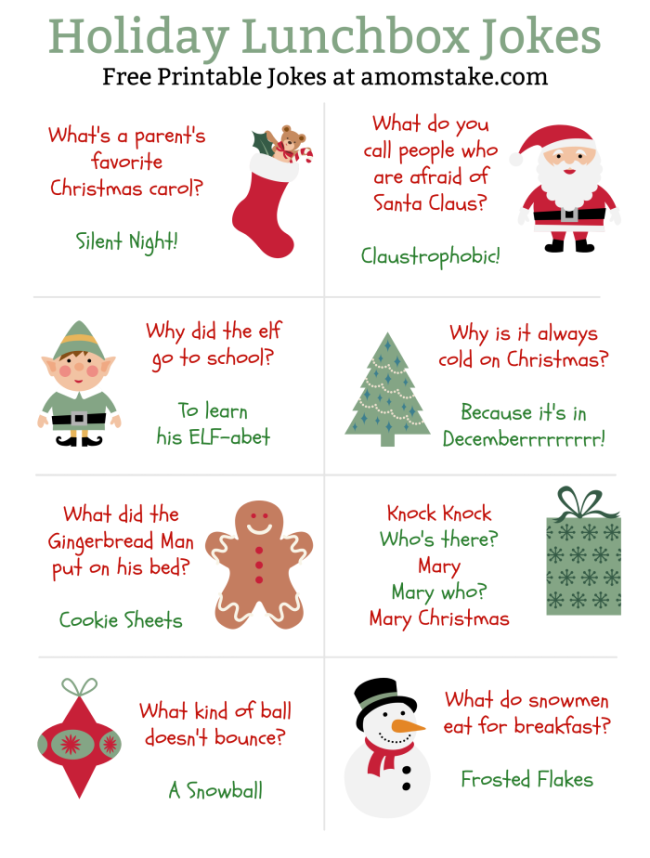 For more fun jokes, see our printable Get Well Jokes for Kids that are a perfect pick-me-up when they're home for a sick day!
I'm nominating all my fellow mom of toddlers to try out this fun lunchbox with your kids this holiday season! Who will be joining in with me to make lunchtime merry?
Which idea will you try first?