Halloween is here! Can you believe it? I feel like 2016 just started and yet, here we are. I love celebrating Halloween. I think the decorations and costumes are so much fun. I try to stay away from things that are too scary or gory, they just aren't really my style. Plus, I have little kids so we like to stick with witches and ghosts and creepy crawlies.
This year one of my son's friends is really into zombies. When we decided to throw a Halloween Brunch this year my son asked that we have zombie themed treat. These Zombie Head pastries are delicious, simple to make, filled with fluffy lemon cream cheese and blackberry filling, and they are family friendly.
To Start you need the following:
2 cans Refrigerated Crescent Dough
1 3oz package Cream Cheese Softened
1 Tablespoon Lemon Juice
2 Teaspoons Lemon Zest
1/4 Cup Sugar
Blackberry Jam (any berry will work)
Chocolate Chips or Eye Ball Sprinkles
Now you are ready to put these creepy guys together.
Preheat your oven to 375 degrees.
Mix cream cheese, sugar, lemon juice, and lemon Zest. Set aside.
Unroll your crescent dough.  Using a knife or kitchen sheers, cut strips into the dough like shown:
You don't have to be exact.
Spoon some of your cream cheese mixture and jam into the middle of the dough. The more filling, the more oozey your zombie faces will be. Too much and you will just have a mess on your hands! A good rule is when you wrap your zombie the filling should be contained.
Wrap the strips of dough over your filling, making sure to leave a gap for eyes. You can mold them to look like faces as much or a little as you want.
Bake for 10-12 minutes or until golden brown.
After they are slightly cooled add your eyes. The chocolate chips will melt a little and stick in place.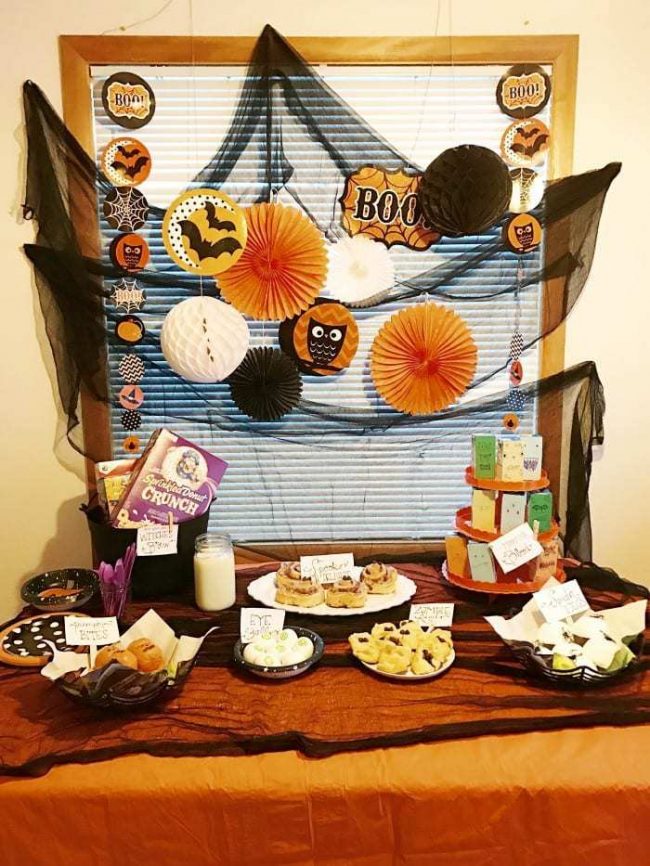 Add them to your spooky tablescape and your guests will love to gobble up these tasty pastry treats. Looking for more creepy treat ideas? Check out the rest of this Halloween Brunch.