I received samples and compensation for this post. All opinions are my own.
Getting the family outside to play and explore together is perfect way to bond and burn energy. I remember spending countless hours outdoors as a kid growing up. But these days, it's increasingly harder to let our kids play outside without us nearby, and our world is a busy place. In fact, "54% of moms say their kids spend more time playing in front of a screen than playing outside," (Nature's Path Survey of moms with children under 13).
Nature's Path EnviroKidz recently launched an Ecokeepers exploration-based activity that fuels kid's natural curiosity about nature and discovery. The program relies on a traditional activity passport that kids can follow along with and fill-in as you go as well as a modern-day treasure hunt using a smartphone's GPS to search for geocaches nearby.
There is a free e-version available for parents to download and use on the Ecokeepers site. This new program is also available free to schools and camps. It's a great way to get kids hands on with nature and exploring the outdoors.
"Ecokeepers not only gets kids outside, but also makes it easy for schools to make outdoor time educational as well as fun," said McCready, "And, it provides the framework for exploration, adventure and creativity that kids don't always get with the structured play that fills up much of their schedules these days."
By planning outdoor family activities we can do together, we're able to get outside and plan an adventure. Taking the time to get out of the house and do something fun together really helps our family create those memories we'll look back on and treasure for years and years to come. Grab your free activity kit, and then head out the door try any of these fun, completely free, activities to do as a family!
20 Free Outdoor Family Activities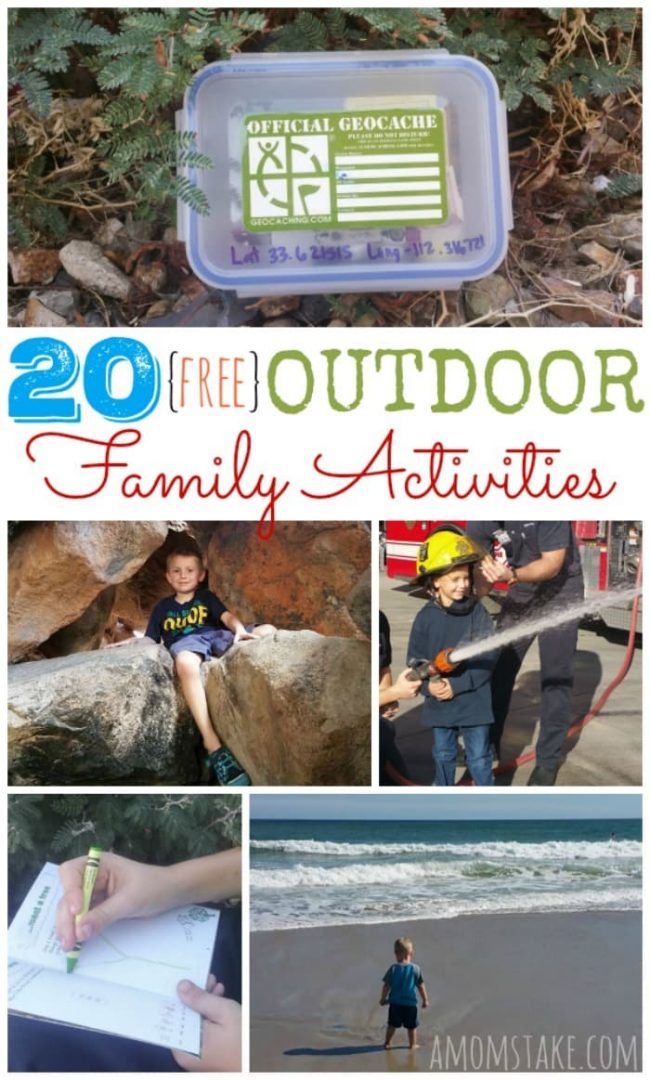 1. Geocaching – Just like a modern day treasure hunt, your family can follow the clues to look for local geocache spots hidden all around town. If you're up for the task, you could even decide on the perfection location and set up your own geocache spot!
We set out to put a new geocache location in our local community. It was really fun to search our home for trinkets to add into the box and then set out for the perfect location. My boys helped with every step from naming our geocache, scouting out a location, and filling out the logbook.
Grab the free Geocache app through your smartphone's app store or through geocaching.com to get started on your own family adventures. Geocaching is a completely free way to enjoy time outside on an adventure right in your own neighborhood and community!
2. Family Bike Ride – Pack littler children up on a jogging stroller or a bike attachment and let the bigger kids ride along side. Start with bike roads to your neighborhood park and then venture to other locations nearby!
3. Play at a River / Lake – Plan to swim, practice snorkeling, play in an in intertube, or jump off the dock!
4. Fishing – Grab some poles and bait and head out for a quiet afternoon with lots of time to talk. Hopefully, you'll have a burst of excitement, too, as someone in your crew catches a fish on their line!
5. Sidewalk Chalk Art – Try your hand at a drawing prompt, like "Who can draw the fiercest dragon" or "Color the prettiest castle". Or, play a round of pictionary with sidewalk chalk!
6. Hiking – Find a family friendly trail near by. Start with hikes under a mile, especially if you have infants or toddlers.
7. Sports – Pull out the soccer ball or hockey sticks and run around the cul-de-sac with a healthy dose of competition. Kids against parents is always fun, especially when the children out number you.
8. Play Catch – Toss around a baseball or even grab a big beach ball and play games of catch and keep away.
9. Picnic in the Park – Pack up your dinner plans and take them with you to the park. The fresh air and night out will be a fun change up for the whole family.
10. Do Genealogy – Take the kids for a drive to see where you grew up or where your family story began. Tell stories of your ancestors or visit elderly grandparents to record those precious stories before their lost. Or, start preserving your own stories with a family journal.
11. Stargazing – Let the kids stay up an extra half our past their bedtime one weekend night and lay out blankets to gaze out at the stars.
12. Tour a Fire Station – Many fire stations love giving tours to the community. Reach out to your local station, or other public services around you, and ask about tours. You can also check for tours at other community buildings.
13. Visit the Library – Head to your local library and take the time to find a book to read aloud together as a family. Or, spend a half an hour tucked in a corner flipping through non-fiction books together learning something new.
14. Serve Together – Doing good can help the whole family keep an attitude of gratitude for all the things that your family does have. It's a simple way to keep entitlement at bay and raise kind children.
15. Start a Garden Together – Plant seeds and watch the grow. You can plant their favorite veggies or new varieties to help them try new flavors.
16. Learn a Hobby – Try your hand at knitting or rock climbing or stamp collecting or frisbee golf — whatever interests your crew, don't be afraid to give it a try! You may need to commit to a few attempts for your new hobby to become a success.
17. Visit the Elderly – Head to a senior center to offer companionship to lonely elderly who don't often get visitors. It's an easy, and surprisingly fun way to lift your mood, and theirs too!
18. Set up a Tent in the Backyard – Pull out your tent and camping gear and have a backyard camp out! Don't hesitate to spend the night out in the tent, if you're up for it!
19. Make a Relay Race – Set up a series of challenges or even an obstacle course and then set the stopwatch and have fun seeing who can make it through the challenge with the fastest time!
20. Explore Nature – Take the time to slow your pace and pay attention to the beautiful world around you. That could mean visiting a local beach, exploring a nature preserve, or taking a scavenger hunt through your local park.
While we are out exploring, it's important to take along snacks to keep my active boys fueled and content. Nothing ruins the family fun faster than a hungry, cranky kid (or parent).
EnviroKidz released new peanut-free, gluten-free, organic, and non-GMO granola and rice bars help keep my always hungry boys happy and ready for the next adventure! I love that with this great after school snack, I don't have to worry about allergies or other concerns, just a yummy Peanut Free Bar they can enjoy!
Take the opportunity to get outdoors with your kids and plan your next family adventure! I can't wait to hear about all the fun you have together.