Every time I welcome a new baby into this world, I'm always amazed at all of the new baby gadgets on the market. I love finding fun, new products that make my life as a mom easier and more fashionable.
I joke with my husband that my kids are way more fashionable than I ever will be. Why are little babies/kids so much fun to dress? If you're like me and love keeping up on fun new mom, baby, and toddler must-haves, this post is for you!
We received a variety of samples for inclusion in this round-up. Affiliate links are used below. All opinions are our own.
New Mom
Personalized jewelry is always my most favorite gift to give new mothers. I love finding unique and beautiful pieces that I can have engraved with their new little one's initials. My new favorite personalized necklace comes from oNecklace.
This gold beauty has the initials of each of my children. Every time I wear this Engraved Hanging Bar Necklace, I am reminded how lucky I am to be their mom. oNecklace also has a variety of other engraved jewelry including bar necklaces, disc necklaces, rings, bracelets, and key chains. What fun, memorable, and fashionable jewelry for every occasion.
I don't know why it took until I had my third baby to get myself a robe. Having a robe as a new mother has changed my life. It's perfect for nursing, lounging, and sleeping. Have you ever seen a cuter print than this Grace Ladies Robe from Queen Maddyn?
Perfect for new mothers, Queen Maddyn offers a variety of robes, baby night gowns, and cute swaddles perfect for every occasion. The material is SO soft, and the prints are so fashionable. A few of my other personal favorites include Queen Maddyn's Soft Grey Knotted Gown and Rhett Swaddle. Treat yourself and order some Queen Maddyn!
For Baby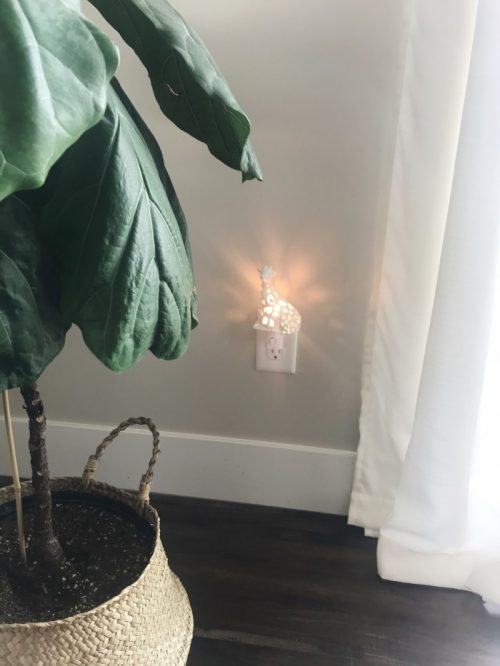 Every nursery needs a cute nightlight to make those nighttime feedings easier. I find that if I don't turn on the overhead lights when I feed my babies during the night, the more likely they are to dream feed. Cute, functional, and handmade, Lily's Lights nightlight will make the perfect addition to your nursery.
Available in a variety of designs such as an elephant, giraffe, and butterfly, your little one will sleep more peacefully with their Lily's Lights illumination their room. I love that this White Giraffe Night Light provides both light and decor. The first time my daughter saw the way the light shined through this nightlight she couldn't get over the beauty – and neither could I. Use code MOMS10 for 10% off your order.
My sister-in-law first introduced me to The Ollie Swaddle a few years back. I remember thinking that it was such a cool design! A swaddle that can totally grow WITH your baby!
Perfect for every stage, The Ollie Swaddle will help your baby feel comfort and warmth as it grows with your child. Because the bottom of the swaddle is long, you have the ability to tie it at the appropriate length as your child grows; this also makes diaper changes a breeze. If you're looking for the perfect onesie, The Ollie Dailies offer clothing pieces that keep your little one cool, dry, and comfortable. Recently introduced to the market, The Dailies + everyone's favorite Ollie Swaddle is the perfect combination for your little one.
Decorating the nursery is one of my favorite parts of welcoming a new baby! However, knowing where to start can be a bit of a headache. Thankfully, Designooks makes decorating your nursery a breeze with everything you need in one bundle.
Designooks creates unique and fun decor pieces to help you decorate your child's room. Simply pick a theme and they'll send you a box full of fun design pieces that all coordinate together. Some of their design themes include heart, forest, jungle, and rainbow nurseries. My personal favorite would have to be this heart room complete with pieces like wooden shelves, heart decals, a cute garland, wooden blocks, and that precious doll. I also love that these design pieces can grown with your child as they grow up. Talk about design made easy!
Toddler Picks
Great for helping prepare young toddlers for preschool, the Animal Island AILA Sit & Play makes learning fun. This hands-free education system comes with a variety of fun programs that help teach children things like numbers, colors, letters, art, and storytelling.
I love that once you purchase the AILA Sit & Play, there are no additional costs or adds. All lessons come pre-loaded. Plus, the Sit & Play has a parent dashboard helping parents keep track of their child's screen time and activities. What a fun way to captivate attention, learn new skills, and have fun; especially during these quarantine months!
Mealtimes with my toddler just got so much easier with Mushie feeding products! Not only do they offer toddlers durable silverware, plates, and bowls, but their silicone bibs are game changers!
I love that I can simply wipe down my Vanilla Confetti Mushie bib after my daughter finishes her meal; this means I'm not washing 3 bibs a day! Plus, they're extremely durable and catch what food doesn't make it in her mouth. She's figured out that if she's wants a few more bites of food, she can eat whatever she caught in her bib during mealtime. Check out Mushie's variety of colors and products – you'll love them just as much as I do!
I absolutely love when my little girl brings me a book, curls up on my lap, and reads along. There's so much knowledge that can come from reading during those early years. BabyLit Books are some of my absolute favorite Children's books.
I love how BabyLit Books take classic tales and tells the story in a way that young readers understand. I love the illustrations and colors that go along with every page. My little girl is currently obsessed with princesses so Cinderella is a favorite. With so many titles available, there's a BabyLit Book for every little reader.
There is nothing that makes my little girl happier than putting on a fancy dress. If you're looking for the perfect dress for that special occasion, Mama Luma dresses are a must.
Flowing, fashionable, and fancy are three of my daughter's favorite words. You can't help but use those words to describe this Chiffon Alessandra Dress. This is the kind of dress that is so well made that she can keep it and pass it down to her own daughter. A few of my other favorite finds include the Flared Santorini Dress and this Casual Stripes Charlotte Outfit. Your little girl will feel absolutely beautiful dressed in her Mama Luma Dress.
Which of these new mom, baby, and toddler picks is your favorite?