Do you have any favorite Halloween traditions with your family? One of our favorites is the Halloween "Boo" chain where you share a treat and ask them to pass it along and share a ghost on their door to spread the cheer to a variety of homes!
This is so fun to do in a neighborhood, circle of friends, or within a church group – or whatever circles you're in. To get started, just make up some fun, tasty Halloween treats that are perfect "Boo" treats.
22 Treats to "Boo" Your Friends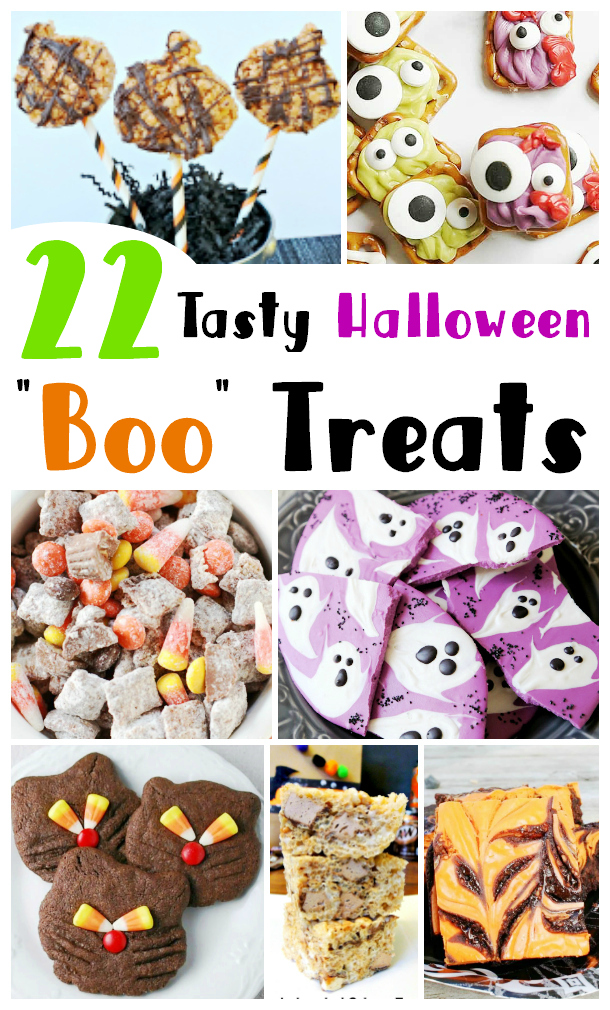 Chocolate Halloween Cravings
1. Graveyard Brownies – Tastes Better From Scratch
Need something so easy to put together in a pinch? This twist on classic brownies will be just the ticket.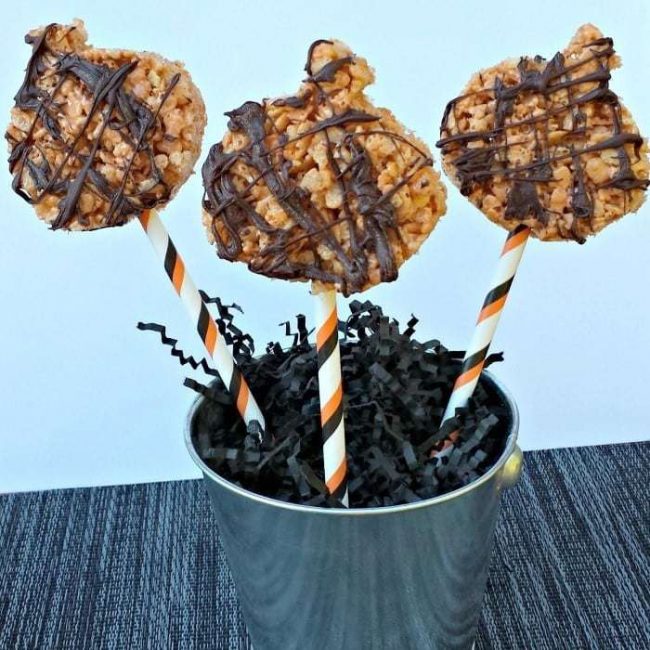 2. Pumpkin Pops Rice Crispy Treats – A Mom's Take
Try this fun twist on a classic rice crispy treat with pumpkin flavoring and shapes and an enticing chocolate topping!
3. Monster Fudge – Crafty Morning
Gorgeous layered fudge that's got everything you're looking for in a Halloweoen treat.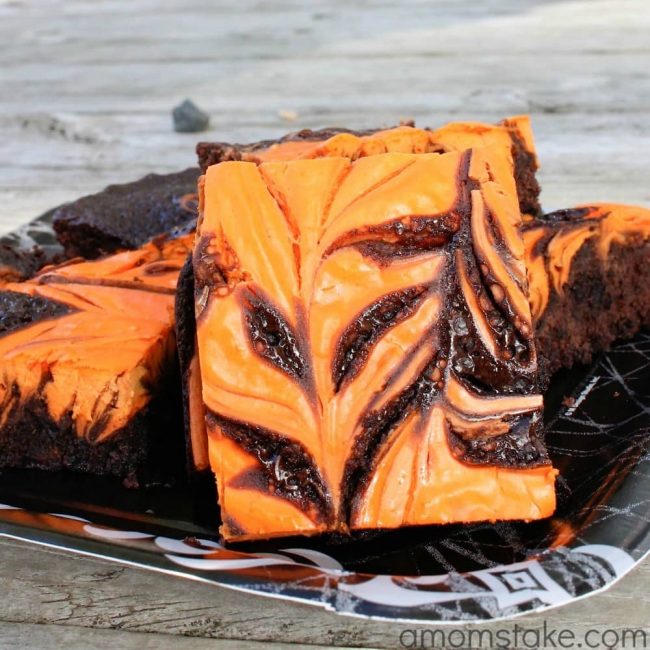 4. Halloween Cream Cheese Swirled Brownies – A Mom's Take
The deep orange and chocolate swirls in these cream cheese brownies will be a welcome treat for anyone!
5. Chocolate Cherry Hand Pies – House of Nash Eats
Make these mini pies in the cutest Halloween cutout shapes that are sure to please!
Bite-Sized Halloween Treats
6. Copycat Take 5 Pretzel Bites – Simple Sweet Recipes
Make a favorite homemade candy bar, like this easy version of a Take 5 candy bar in shareable pretzel bites!
7. Halloween Pretzels – The Decorated Cookie
Make these adorable mini monsters on a pretzel square for a fun Halloween treat!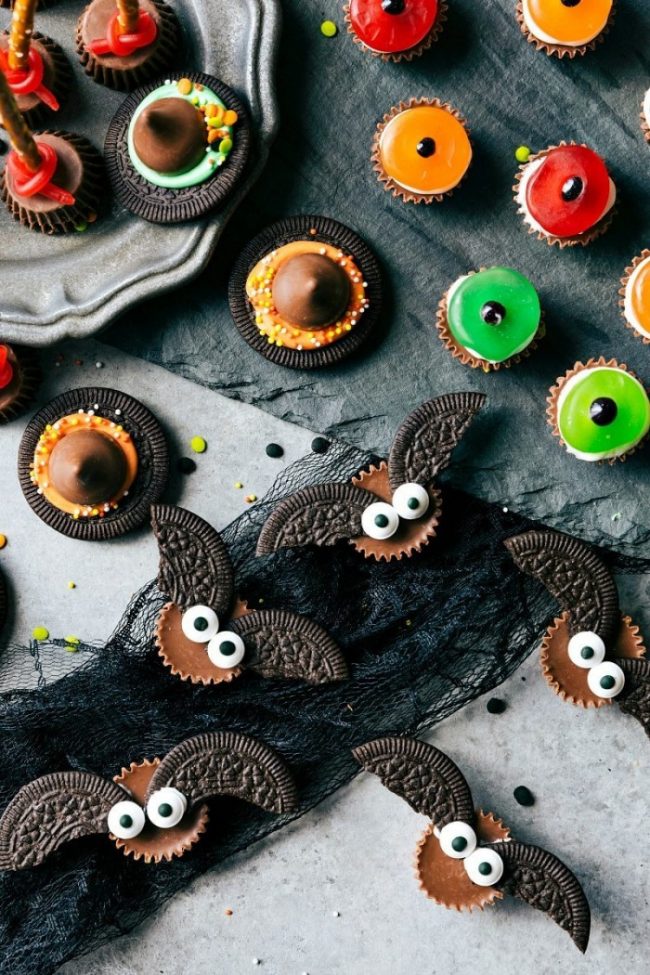 8. Four Ingredient Halloween Treats – Chelsea's Messy Apron
So many cute ideas here – a witch's broom, creepy eyeball, witch's hat and more all in perfect bite-sized portions.
9. Baked Pumpkin Donut Holes – A Mom's Take
These pumpkin donut holes will be totally craveable! Make a batch to share with your family and for your goody treats plate.
Halloween Cookies to Share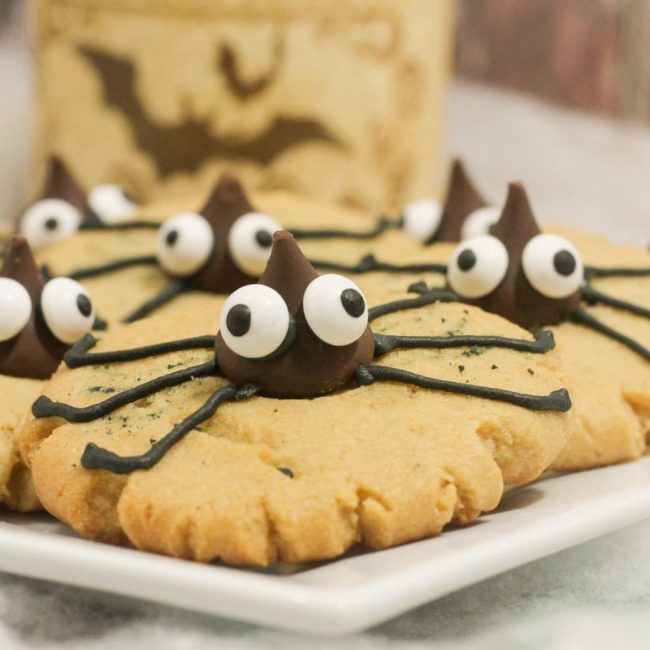 10. Peanut Butter Spider Cookies – A Mom's Take
Everyone will adore these "kiss" cookies shaped as spiders for a spooky Halloween cookie!
11. Mummy Whoopie Pies – Adventures of Mel
These classic whoopie pies are getting a whole new look with a clever wrapped mummy design!
12. White Chocolate Shortbread Ghosts – Mom Foodie
These darling ghost cookies are easy to make as a traditional shortbread cookie base.
13. Witch Hats & Brooms Cookies – A Mom's Take
Follow this step-by-step guide for the cutest frosted Witch Hat & Broom cookies!
14. Halloween Oreos – The Baker Upstairs
These dipped and decorated Halloween Oreos couldn't be cuter!
15. Black Cat Cookies – Creations by Kara
Oh how cute are these black cats with whiskers and all!
16. Dark Chocolate Halloween Cookies – Simply Happy Foodie
These dark-as-night Halloween Cookies will be a show stopper on your goodies plate!
More Halloween Sweets
17. Glazed Candy Popcoron – Simple Sweet Recipes
Use up your leftover Halloween candy in this fun popcorn concoction using whatever you have on hand!
18. Peanut Butter Monster Munch – Wholefully
This fully loaded popcorn munch will give you a good bite of crunch.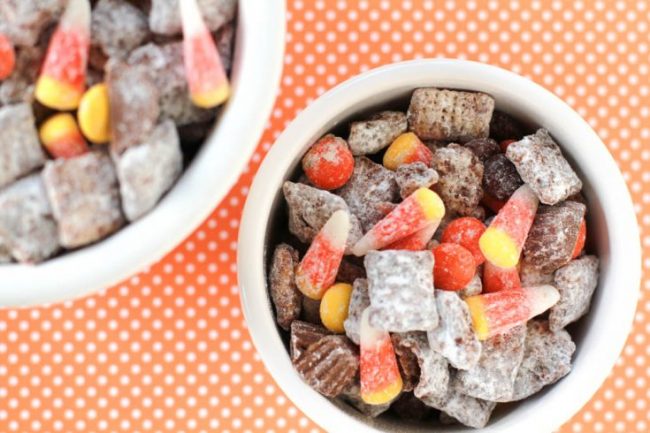 19. Halloween Muddy Buddies – Simply Being Mommy
Muddy Buddies doesn't have to be just for Thanksgiving and Christmas, make it perfect for the season with some Halloween Candy Corn in the mix.
20. Ghost Popcorn Balls – The First Year Blog
These melted ghost popcorn balls are totally adorbs!
21. Ghost Chocolate Bark – Mom Foodie
This colorful Halloween Ghost bark is so darling it will brighten up any treats plate!
22. Rice Krispie Treat Pumpkins – One Little Project
Rice Krispie Treats are always a favorite! Shape them into these darling pumpkin shapes and they're perfect for fall.
Printable Boo'ed Flyer
To finish off your BOO treat plates, all you'll need is a ghost We've been BOO'ed printable! Just print out one for each home you've made a goody plate for and include it with your treat plate.
Then, you'll deliver the plates with a ding-dong doorbell ditch to keep the holiday fun and extra spooky. This makes it an anonymous gift that keeps your recipients guessing. Print the Boo Flyer here.
Which of these Halloween Treats will you add to your Boo Treat Plates?