Getting ready for a fun day at the pool can having you racing around the house making sure you packed absolutely everything you need. There's nothing worse that getting all the way to the pool only to realize you forgot something crucial to your day of play.
With this pool day packing guide and printable list you'll be prepared for all your pool days to come. Print out a copy and stash it in your pool bag to easily refer to when summer comes calling.
I'm also sharing secrets to make your pool day easier and more successful while you're packing, hauling gear, and enjoying your pool day.
This post is sponsored by CaliCase. All opinions are my own.
Tips for Packing for a Pool Day
1. Suit up and sunscreen before you leave the house.
Sunscreen is supposed to be applied with time for it to settle into the skin before jumping right into the water. I've also found my kids are notoriously impatient and can't wait to dive right in and play.
Getting ready before we leave the house helps my children be motivated to help in any pool day prep like getting into their swimsuit and helping to grab towels. Having everyone in their swimsuits and sunscreen ready before you even leave the house means you won't end up with meltdowns as you're hauling gear into the pool. Plus — it means less to carry!
2. Only haul the basics, leave the extras in the car.
We used to bring all our towels and extra supplies to the pool with us. But we quickly realized for the our family it worked much better to have two pool bags. One with all the extras like towels and snacks for the drive home.
We still will bring in one or two towels, for drying eyes, but the rest of the towels stay actually dry until it's time to go by keeping them in the car.
My kids dry off and then climb into the car and sit on a towel or wrap it over them. Then, they'll get handed a snack and everyone's happy. This also helps encourage my kids to be okay with leaving the pool as they know there's a snack waiting for them as swimming wears you out!
3. Let the kids help haul.
If you're kids aren't helping you bring in (and out) the pool gear you're doing them a disservice. Kids are very capable and it not only helps you but helps them grow into self reliant adults!
I usually put on life jackets for the littlest swimmers and they'll wear that in to the pool. Little helpers can also carry a small bucket of toys easily. My grade school kids help carry the pool bag or are responsible for the pool key card or keys or the cash for admission and they love that job! Older kids can help haul any beach chairs if your pool doesn't provide seating or inflatable intertubes and floaties.
4. Check pool rules on what you can bring in.
Before you head out the door, check the rules for your local pool. Rules will vary in what you're able to bring in. You may or may not be able to bring in your own floaties or toys, for example. Many pools also have specific rules around food that's allowed.
If you're swimming at a friend's house, make sure you ask and are mindful of their space. Knowing ahead of time will curb any disappointment and a trip back to the car to return certain items.
5. Use a Protective phone case take pics.
I have next to no pictures from the many, many pool days we've had as a family. It's hard to capture all the fun your family is having splashing and playing in the pool when your phone is tucked away in the bottom of your pool bag.
CaliCase is a perfect solution that you'll use for all your summer days at the pool, lake, beach, and then pull out again when skiing season begins. Not only does it securely protect your phone from water damage, it makes your phone easy to access while in the pool! It includes a lanyard that makes it easy to have your phone ready for the action.
6. Keep a swim bag ready with suits.
My favorite go-to tip for speeding up pool day prep is keeping all of the kids swimsuits and other essentials like goggles and sunscreen in our swim bag that I store in our laundry room all summer long.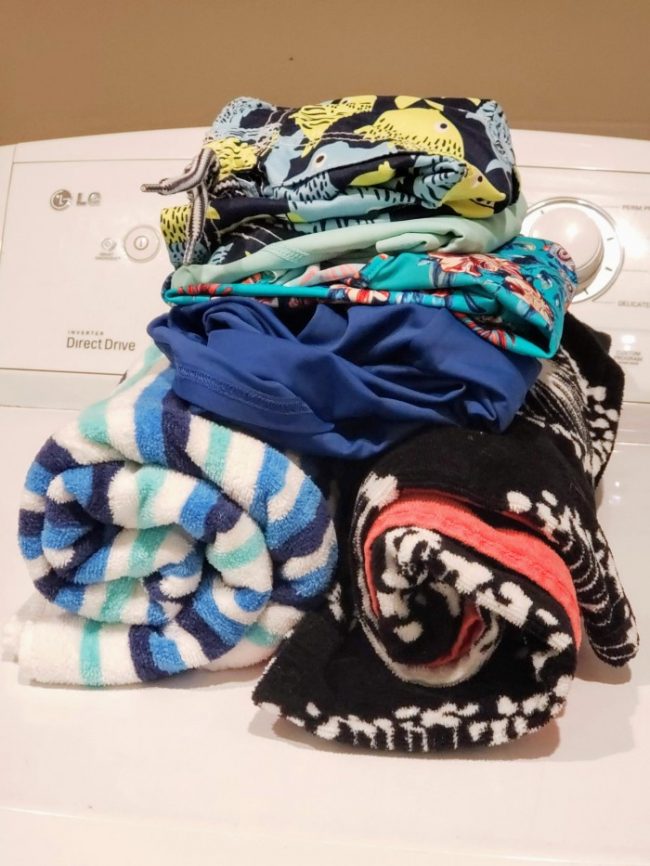 When we're ready to swim, it removes all the running around the house looking for suits and makes it a cinch to stash everything right back into the swim bag when they're clean, dry, and ready to be put away.
7. Buy Sunscreen with a Pump.
Another time saver for applying sunscreen on your family is purchasing a sunscreen that uses a pump, not a flip open lid. There are of course alternatives like spray sunscreen and solid bars, but I prefer a really good solid coating of liquid sunscreen for our main application. I do keep spray sunscreen in our swim bag for reapplying with ease.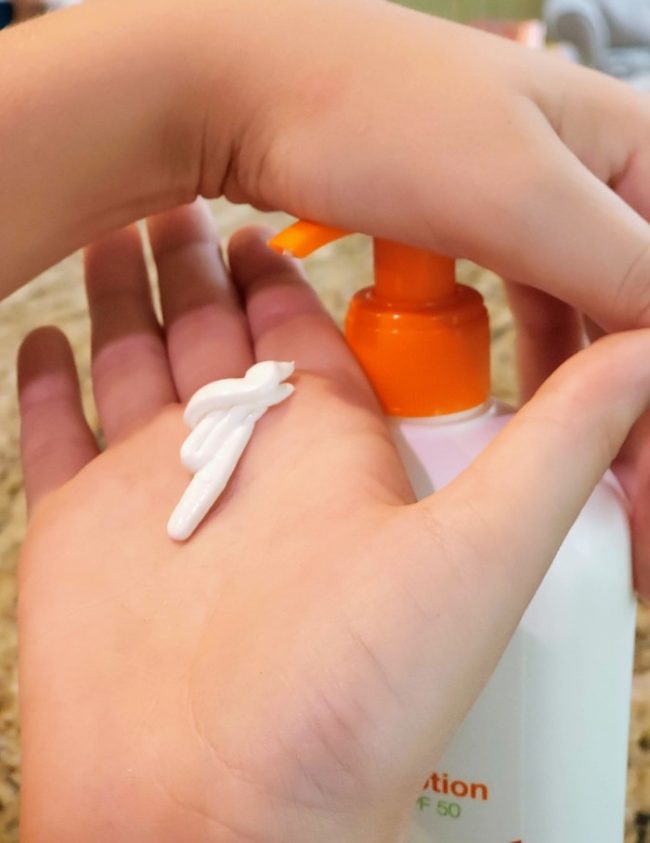 With sunscreen using a pump applicator it is much easier for my kids to apply the right amount (and not endless gobs) of sunscreen. They'll pump just one time and then apply sunscreen to their legs and arms. I'll then spot check them and apply to faces, upper back, and necks to make sure the more burn-prone areas are well covered.
I find kids about 5 and up can absolutely help by applying sunscreen to themselves! Young children will of course need more help and kids under age 5 can start practicing earlier, but parents will want to go over all the areas to make sure they're well protected from the sun.
Keep Your Phone Safe
with CaliCase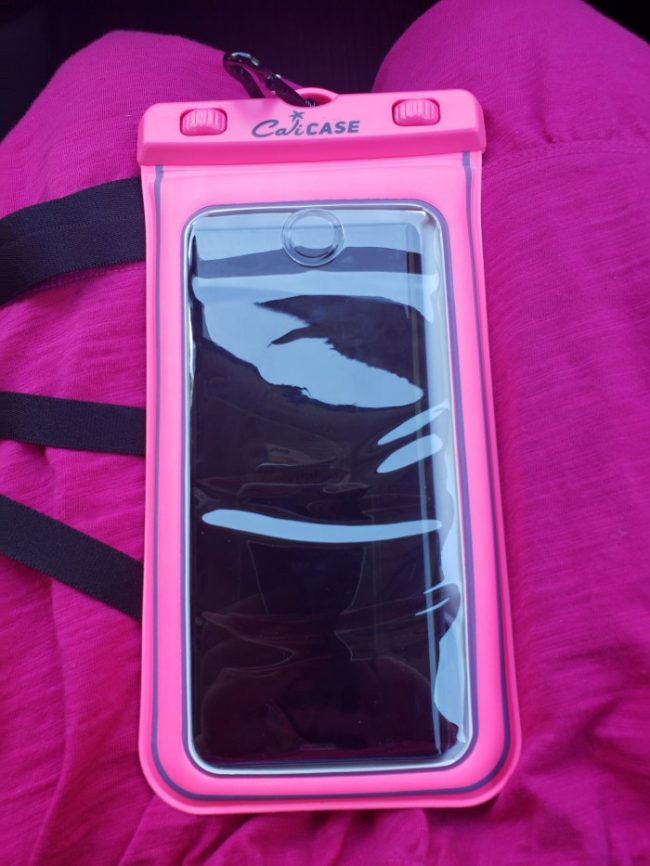 CaliCase makes it a cinch to bring a phone along with you on all your water adventures! It has a dual locking wheels that won't accidentally open and really seal your phone inside to keep it protected. I did need to remove my phone case for it to fit within the CaliCase, but then it slipped it easily and lined up with the back window for taking pictures.
A little hint that helped us with photo taking is to make sure you change your phone's sensitivity settings to indicate the use of a protective case!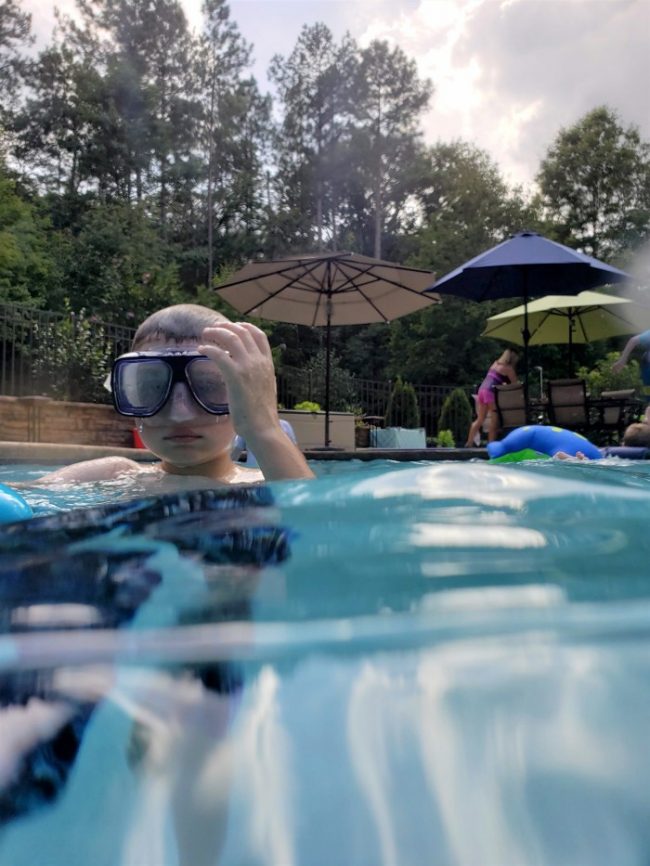 We had so much fun taking pictures (and videos) at our most recent pool day. It added an additional way to play while at the pool. My boys loved showing off their moves and getting their pictures taken.
Not only can it capture all those precious moments of your kids playing at the pool, you can take it up a notch with impressive underwater shots. How many times have your kids asked you to watch them dive to the bottom of the pool or check out their splash. Now you can take it all in — and preserve the memory, too!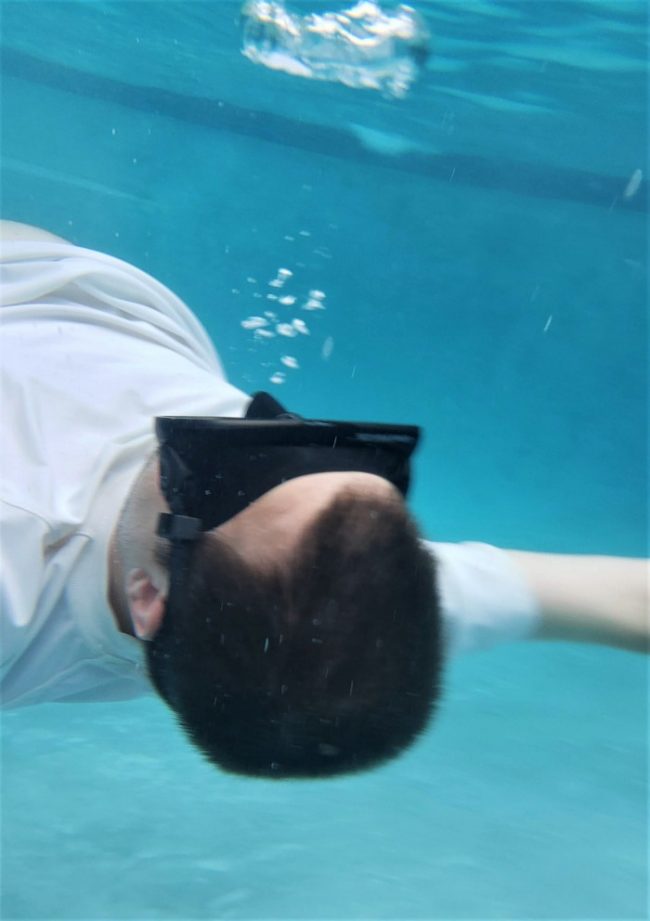 The CaliCase has dual layers of protection to keep your phone safe and secure while you play. It will do more than just protect your phone from water but keep it safe from sand, chlorine and chemicals, and the grease of sunscreen while you play.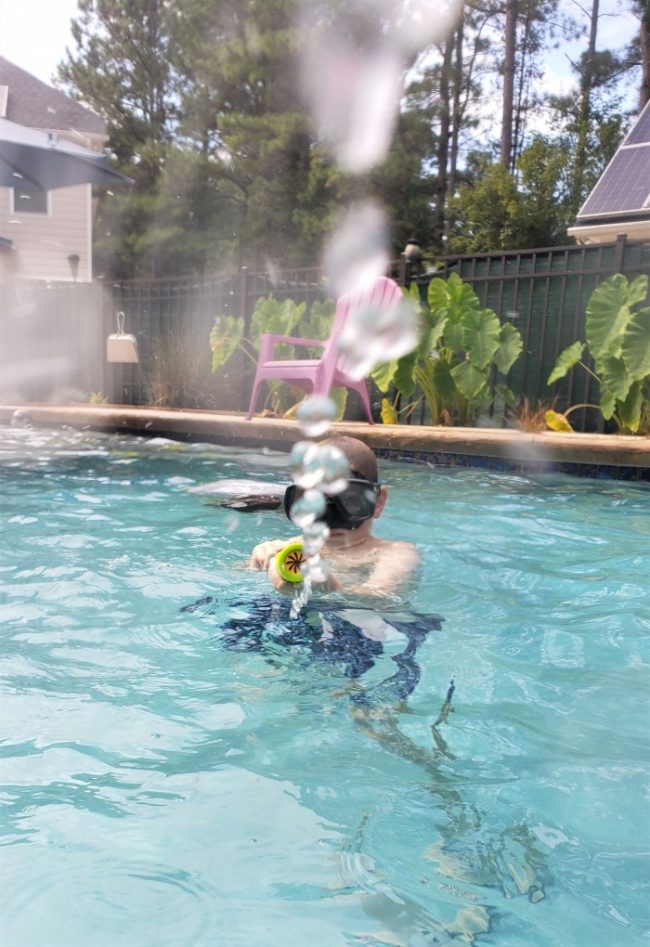 One of my favorite feature of all is that the CaliCase floats! No more dropped phone that's gone to the depths of the sea. Whatever you stash in your CaliCase will float right to the top of the water so you can retrieve your phone, cash, cards, wallet, keys — whatever you've stored inside. It's certified waterproof for up to 100′.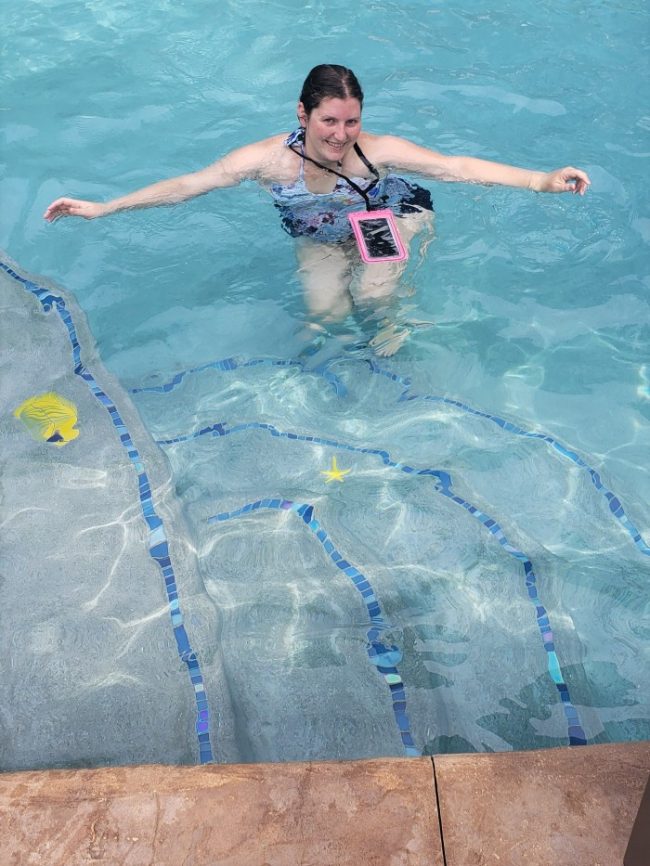 The CaliCase is backed by a lifetime guarantee so if you start to notice any issues with your case, just contact support to get a replacement and keep on enjoying your summer moments.
CaliCase is available in a universal size and an extra large size for those super sized phones and comes in a bunch of fun colors to pick out one for everyone member of the family!
CaliCase Discount Code
Get started protecting your phone and save! You can get 20% off your CaliCase order with the promo code: amomstake
Pool Day Packing List
With those tips in mind, here's an easy pool packing list to help you get ready for your pool day! Print out a copy to stash in your pool bag and the kids can help you go through the list and gather whatever your family needs!
Need to customize the list? Simply cross off items you know your family won't use and pencil in any specialty items your family doesn't want to forget. There's a printable you can grab to help get you started at the bottom of the post.
The Basics:
Swimsuit
Rashguard
Towels
Sandals/water shoes
Swim Diapers (until potty trained)
Snacks
Pool pass / keys
Cash
Safety:
Sunscreen
Life jackets / puddle jumpers
Water bottle
Cell Phone
Waterproof protective phone case
Sunglasses
Goggles / mask
Swimmer's Ear drops
Medications
Pool Toys:
Pool Noodles
Floaties
Dive Toys
Torpedoes
Sand bucket/toys
Inflatable sports toys
Squirt guns
Snorkel
Extra Mile:
Change of clothes
Sun cover-up
Hat / swim cap
Shampoo / conditioner
Sun Umbrella
Beach chair
Wet bag
Aloe / after sun lotion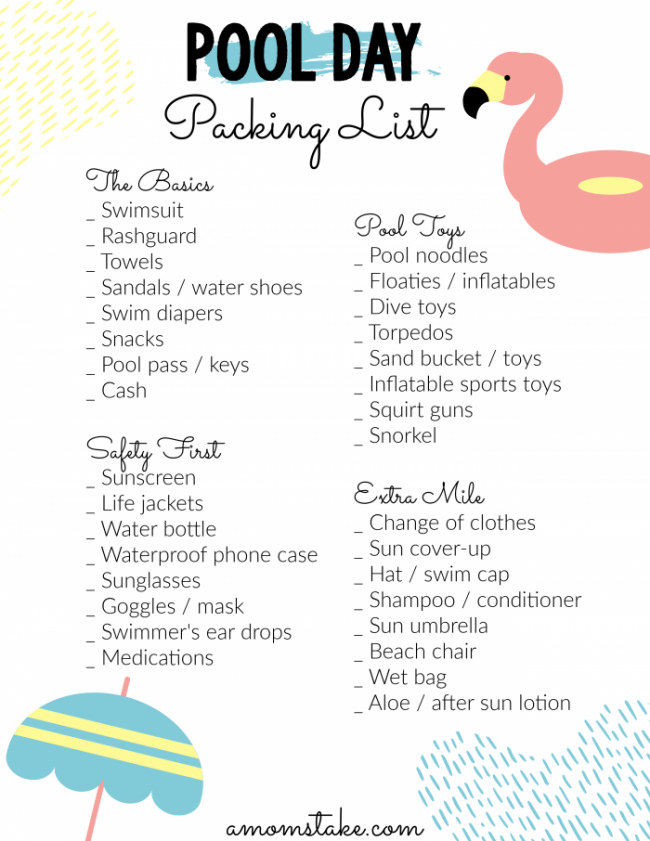 What are your favorite pool day tips?