I received complimentary admission passes to Disney World Orlando. Opinions are my own.
The highlight of our family vacation to Orlando Florida was our visit to Animal Kingdom! We all really loved our visit to Animal Kingdom at Disney World Orlando because it gave us a slower day where we didn't feel like we had to run back and forth across the park and we got to enjoy so many fun attractions that gave off just a totally different feel that other parks.
We started our morning but heading to the back of the park and we were able to hop onto two rides with no lines at all – Expedition Everest and Kali River Rapids. Both were great rides! I loved how Expedition Everest I had no clue what was going to come next as the tracks were "destroyed" and we were sent back the way we came throughout the ride. I loved how very inventive and themed this ride was! Then, we hopped onto a river raft with the kids and they loved getting splashed and soaked! It was the perfect start to our day.
After the rapids ride, we had a great time watching these monkeys play around. The golden monkey had a young baby monkey that was often hanging on her which was so cool to watch. They climbed all over the place even to the top of really high trees on a tiny limb.
Next, we headed off to catch the show, Flights of Wonder. We all loved seeing all the beautiful birds as they interacted on the stage. I was surprised by how truly massive the Bald Eagle is! That is one HUGE bird! The colorful parrots and macaws were my favorite of the bunch, the are just gorgeous with their bright colors!
We caught the show, Festival of the Lion King which was really fun and entertaining. We were among the "Elephants" group. The boys really enjoyed watching as their favorite characters came to live before their eyes and seeing the acrobatics, which was new for them. After the show, we stopped for some lunch at Pizzafari and while food at the park is pricey, it was surprisingly really yummy!
The Kilimanjaro Safaris were the absolute highlight of our day! I loved everything about the safari tour! Our guide was fun and engaging and the scenery was awesome! It completely made me feel like I was on a real African safari thousands of miles away from where I was! Of course, in nature, you wouldn't find groupings like that so close together and so often, but the feeling was there – I felt like it was a so much more natural environment than you see at a zoo. My favorite animals on the safari were the giraffes along with their babies! I also was completely amazed at the trees that grow with what looks like the roots heading upward (see above). They are just so strange looking!!
We got to see a ton of other wildlife on the safari, too, including rhinos, alligators, flamingos, ostrich, zebra, elephants, and many more. Of course, the whole park is filled with animals that you can see on the nature walks, like the bengal tiger pictured above we saw on the Maharajah Jungle Trek.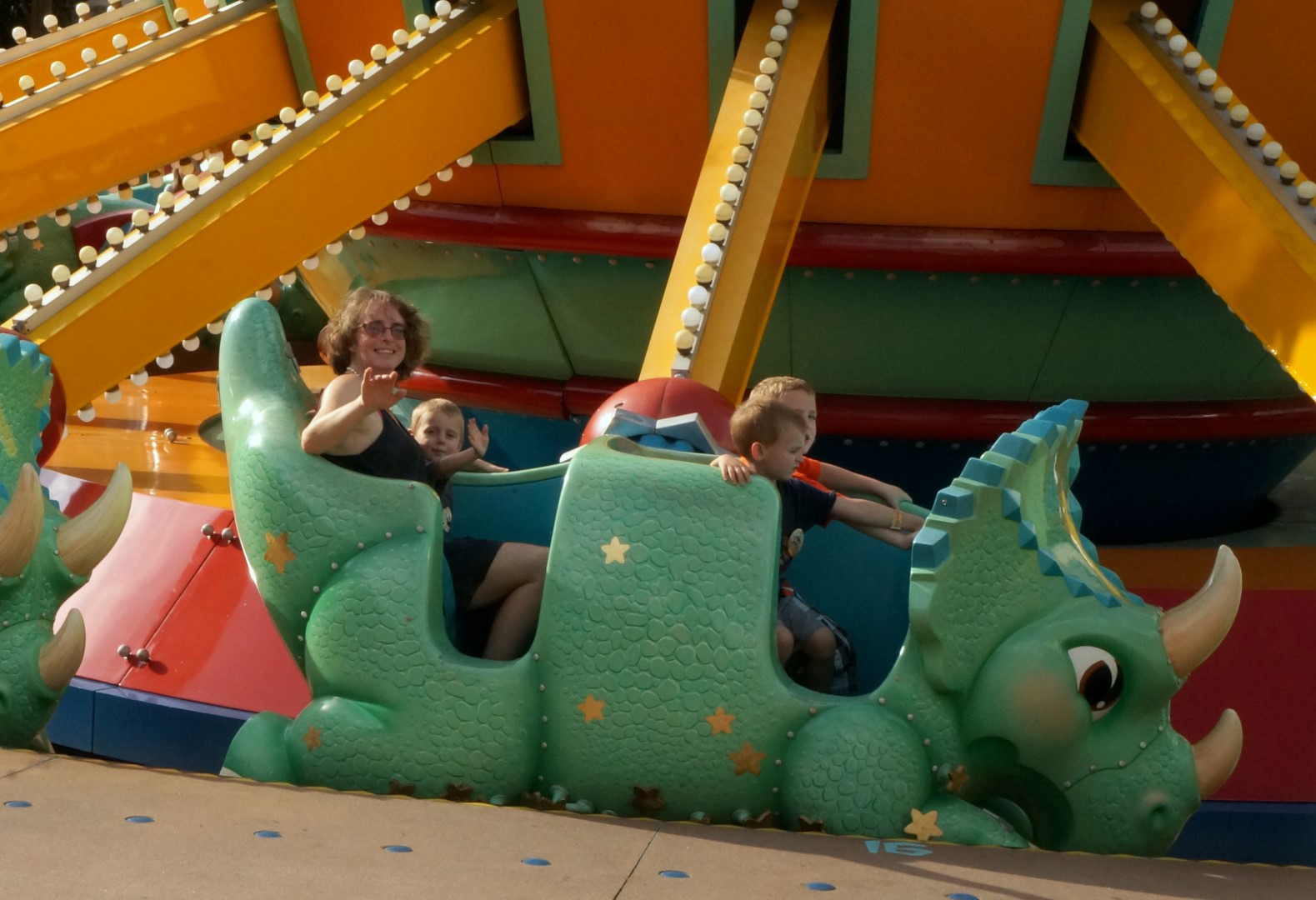 We finished off the day with a few more rides. We climbed aboard DINOSAUR, a great ride that takes you back in time amongst the dinosaurs with a race against the clock so you don't get stuck "back in time". The boys were so cute to watch on this ride as my 5 year old was genuinely worried about being stuck in the time of dinosaurs. Finally, our last stop was taking a ride on TriceraTop Spin!
For even more fun during your day, you can become a Wilderness Explorer, just like in the movie Up, and collect badges all throughout the park. The boys absolutely loved collecting stamps and it really added to our experience! Be sure to sign up when you enter the park as you are crossing the bridge because you'll need to learn the Caw call and get your booklet!
If you want an easy way to book your trip, check out Get Your Guide. They have multi-day park passes as well as experiences you can book ahead of time. You can find attractions available all over the world to book for your next vacation!
Which Animal Kingdom attraction would you want to see first?