Fall is here! Crispy leaves and beautiful colors. A Chill in the air. Boots, scarves, and sweaters are popping up on shelves and racks at all your favorite stores. Is your fall wardrobe ready? I always love to add a few fresh items to my closet this time of year. Here are our favorite tips and tricks for making your fall fashion really stand out this year!
We received samples and compensation for items in this post, all ideas and opinions are our own.
Add Style with Texture
Adding texture to your outfit is easy with the right pieces. This gorgeous mint skirt has a textured weave to it that feels warm and inviting for fall. It's a Cassie style skirt from LuLaRoe that will make you feel like a million bucks as it compliments your curves and gives you a leaner figure while being absolutely the most comfortable thing you'll own! If you love pencil skirts, you need a Cassie or two in your life. What's really fun, is the Cassie can double as a scarf when it's too cold to wear a short skirt. LuLaRoe with Ali Vu helps you find styles you love that are extremely limited in selection, so your BFFs won't show up in the same style. Each fabric is divided across the different sizes, styles, and consultants to deliver a truly limited selection – when you find a print you love you'll want to grab it quick before someone else does. Visit Shop LuLaRoe with Ali Vu on Facebook to shop with a consultant that will help you feel confident and stylish.
Choose Functional Transition Pieces

Being a mom of three young children, the last 5 years have been very transitional for me. It seems as if I am either pregnant, postpartum, or nursing! That can be hard on your wardrobe! Thankfully there are wonderful companies like NOM Maternity that specialize in clothing that looks great during pregnancy and afterwards. I could live in their During & After Snap Dress. It is almost like wearing my pjs, but it looks fantastic and I can easily nurse my baby in it. This merlot color is spot on for fall. Because their clothing is made to be worn during and after pregnancy it is all cut to be flattering and forgiving. The During & After Snap Tee is a staple for any wardrobe and is one of my favorite layering pieces. It is just right for wearing on its own or with a great cardigan or infinity scarf. Having great, functional pieces to get you through transitional phases are key to stretching your wardrobe!
Update Your Frames
Fall is the perfect time to update your prescription and pick up a pair of cute new frames to be on trend for fall. If you typically stick to contacts, consider adding a pair of frames as it can add dimension to your outfits and look really great with your fall style. GlassesUSA.com has a huge assortment of lenses and prescription sunglasses to fit your style. You can upload a picture and virtually try on the glasses before you buy them to check for fit and style. Add Digital Block coating to your lenses, like I did with my pair of Tina Prescription Glasses to filter out blue rays which can cause blurred vision and eye-strain. As I spend a lot of time in front of a computer screen for work, I've really loved these lenses. They make the screen light much easier to tolerate through the day. Visit GlassesUSA.com to find the perfect pair of glasses for your fall wardrobe.
Mix Things Up With A Bold Pattern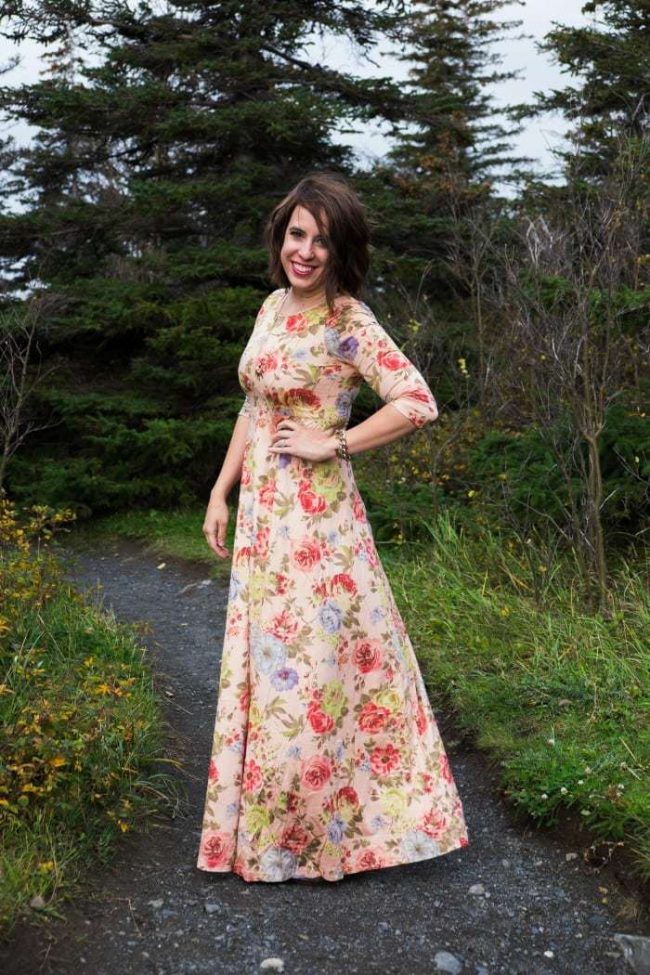 Fall is the perfect time for staples like jeans and cozy sweaters. By breaking up your wardrobe with a gorgeous floral print statement piece like this Ginger Dress Fall Floral from ROOLEE, you can keep your style interesting and fresh! This fabulous maxi dress is so comfortable and easily dressed up or down. My favorite thing about this dress is the suede feel and look of the fabric, it is just as comfortable as a knit dress but looks and feels so luxurious. Dress it up with heels or down with a denim jacket and booties. ROOLEE has an amazing selection of tops, bottoms, dresses, shoes, and accessories. Truly everything you need create the perfect head to toe fall look. I am totally drooling over these gorgeous Caila Booties as well, I will take one in each color please! Whatever it is you need to cheer up your wardrobe for fall, ROOLEE has it!
Update Your Footwear for Fall
When the change of seasons it's time to pack away all our cute sandals and turn to something that fits both fall weather and fashion! Booties are a perfect choice. They look great with skirts and dresses, jeans, and can be dressed up or down to fit your outings. I adore these Rina Booties by ABEO Footwear. They are comfortable, easy to get on and off, and they're so comfortable to walk in. ABEO footwear has built-in orthotics bed that will custom fit to your unique shape of your foot making them a dreamy fit. They will support your arch giving you stability and reduced shock and stress on your joins as well as reduced foot fatigue from a long day on your feet. The Rina style is made with a leather upper with cute buckle closure for a nice added detail and easy zipper opening. For something dressy for fall, you can also turn to their darling Tatum flats with a flexible rubber outsole for traction and support even in bad weather conditions.
Add Your Own Personal Touches

One of my favorite aspects of kids fashion is the ability to really capture my children's personalities through the clothing items that they wear. Perfect for adding those personalized touches, My Design offers paintable rain boots and zimbi shoes (available in children's and women's sizes). That's right, each pair of shoes offers your child the ability to personally design, erase, and repaint their shoes. Whether they like bold colors, fun patterns, or favorite characters, they are able to paint their My Design shoes and make them unique. Best of all, the paint is waterproof, weather resistant, and non-toxic. Simply use the My Design eraser when you are ready for a new design. Talk about such a fun way to show your child's personality! Now through September 30th, use coupon code B5Z7DONH while shopping for My Design shoes on Amazon, and save 25%!
Layer Your Accessories
For a bold look for fall, layer your watch with a wrap bracelet or bangles that will make a statement and a streamlined look. It's one wardrobe essential that will carry you through the seasons. Armitron provides fashionable watches at a reasonable price point. Their Men's Stainless-Steel Multi-Function Blue Dial Watch features a stainless steel band and case with an adjustable bracelet and fold over clasp. It's water-resistant up to 165 feet. Or pick a classy women's watch like their Kayla style Women's Silver-Tone Bracelet Watch with Swarovski Crystals. This pretty watch is decorated with 30 clear Swarovski crystals down the band and another 28 in a bezel around the watch face. It's easy to put on with a two button fold-over clasp closure and water resistant to 165 feet. Visit Armitron to see all of their watch collection.
Add a Fun Flat
I think boots steal all the fun for fall! I love a gorgeous boot, but a staple flat is just as essential for me to complete my fall footwear collection. Zaxy is a fast fashion brand of jellies proudly designed and produced in Brazil. These aren't your jellies from elementary school. These shoes are made made from the softest material and they are one of the most comfortable paris of shoes I have ever owned. It is like walking walking on clouds when I wear them! Zaxy is all about fun and its designs are created for girls and women with a fresh, young attitude. Zaxy jellies are also recyclable and produced in Brazil in some of the most eco-friendly manufacturing plants in the world. These Navy Start Flats look so cute with skirts or paired with a skinny jean. Easy to slip on and off, you will wear them all the time!
Don't Be Afraid to Have Fun
Fall brings with it our favorite holidays, including Halloween. Don't be afraid to get creative this fall, let down your guard a little, and just have fun! T.J. Maxx and Marshalls are a great place to find adorable, and very creative, Halloween costumes this year. With cute kids costumes including donuts, burger & fries, pizza, cookies & milk, monarch butterfly, even a darling pineapple costume for babies. Best of all, you'll find all of these darling costumes at amazing prices! While you are there shopping, look for the T.J. Maxx reusable Halloween bags. They are available as a 2-pack for just $1.49 and all profits go to support Save the Children non-profit. Visit T.J. Maxx or Marshall this fall to add some fun to your fall fashion.
Let Your Littles In On The Style

Mom can't be the only one looking fly this season. Mini Melissa will ensure that your little ladies feet are comfy and cute all at the same time. My 18-month old adores her Mini Melissa shoes. When she gets dressed she run to the closet meowing like a kitty and quickly grabs her Mini Melissa Ultra Girl II black cat mary janes. As the day get chilly and the rain falls here in Alaska, It is so easy to bundle her up in some thick chunky tights and her Sugar Rain Bow Boots. Any mom of toddlers knows that a shoe that can be easily put on, taken off, and cleaned is a must have. Mini Melissa fits this bill perfectly. Even better is that the entire collection is 100% eco-friendly and recyclable.Widely known and loved for their unique jelly style and collaborations with top fashion designers such as Karl Lagerfeld, Mini Melissa is one of my favorite brands to snag for my girls.
Shop Our Favorite Fall Picks
Which of these is your favorite look for fall?