I received tickets to SEA LIFE Aquarium in exchange for my honest review. The opinions expressed above are my own. Affiliate links are included in this post. I'll receive a small commission, at no cost to you, for a purchase made through clicking on a link in this post.
Summertime here in Phoenix is brutal. With temperatures well over 100, I enjoy finding fun and educational activities to keep my son cool during these warm months. One of my son's new favorite activities is visiting the SEA LIFE Aquarium in Arizona. Wanting my son to get the most educational experience out of his Sea Life visit, I created this "I SPY" Printable. Combine education and fun by bringing this printable to your next aquarium visit and competing to find the items fastest.
Checking off items on our "I SPY" printable, my family thoroughly enjoyed our Sea Life Arizona visit. With cool temperatures and dim lights, Sea Life Arizona makes you feel as if you're taking a dive into an ocean filled with fun and unique sea creatures.
My son was in continued awe and amazement as he gazed at these beautiful creatures. With so many eye-level exhibits, you truly feel as if you're underwater swimming with fish, seahorses, jellyfish, sharks, and sea turtles. In fact, my son still talks about all of the "fishies" he saw while visiting Sea Life.
With various "hands-on" exhibits, my son enjoyed being about to touch and feel different sea animals; his absolute favorite was the starfish! Accompanying the "hands-on" exhibits was an abundance of hand sanitizer. As a mother who constantly worries about a sick little kid, I really appreciated being able to wash our hands so frequently!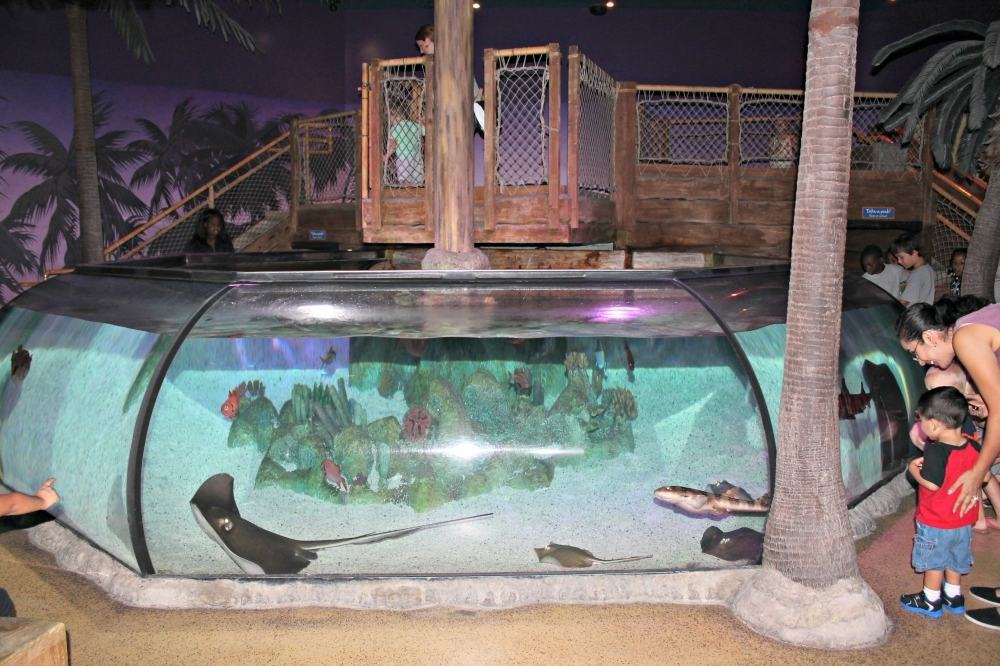 The sting ray exhibit is phenomenal. Not only ar you able to view the rays from the ground, but you are able to climb to the top of the tank and walk on a glass floor overlooking the tank. The feeding of the sting rays was my son's favorite activity. In fact, as they gave the sting rays the fish my son kept asking if he could have some of the fish to eat.
With several little peep holes, my son enjoyed being able to get close and personal with all of the fish.
See our other Sea Life Arizona Aquarium Review for even more behind the scenes pictures and perspective!
With many activities for the whole family, we thoroughly enjoyed our visit to Sea Life. Experience educational fun by heading to the SEA LIFE Aquarium. With over 5 US locations (I visited the Arizona location) and tickets just over $10, visiting the SEA LIFE Aquarium is a must this summer. Did you know SEA LIFE Aquarium Arizona offers a discounted rate when you book online? Save up to 40%!