I received admission and a behind-the-scenes tour to SeaLife Aquarium in exchange for my honest review. The opinions expressed above are my own. Affiliate links are included in this post. I'll receive a small commission, at no cost to you, for a purchase made through clicking on a link in this post.
SEA LIFE Arizona Aquarium is packed with a range of amazing and beautiful sea creatures in a beautiful designed aquarium that encourages learning and hands-on experiences! Here are some of the great features of SEA LIFE Arizona:
Discover over 5,000 creatures in 30 displays throughout the aquarium
Hold a crab or touch a starfish in our Rockpool Experience
Visit our Bay of Rays and become a junior aquarist at our daily ray feed
Walk through our 360 tunnel
Watch feedings and educational talks throughout the day
Learn about conservation and how to care for our oceans
Test your creature knowledge by taking part in a free kids quiz trail
Behind the Scenes Tour
SEA LIFE Arizona just introduced a new Behind the Scenes Tour which offers a 20-minute guided tour at the backside of SEA LIFE Arizona! The tour includes information on how the team cares for the 5,000 creatures on display throughout the Aquarium, information on how ocean water is made in the desert, a visit past the laboratory, animal care, and kitchen areas, and hands-on learning and interactive fun!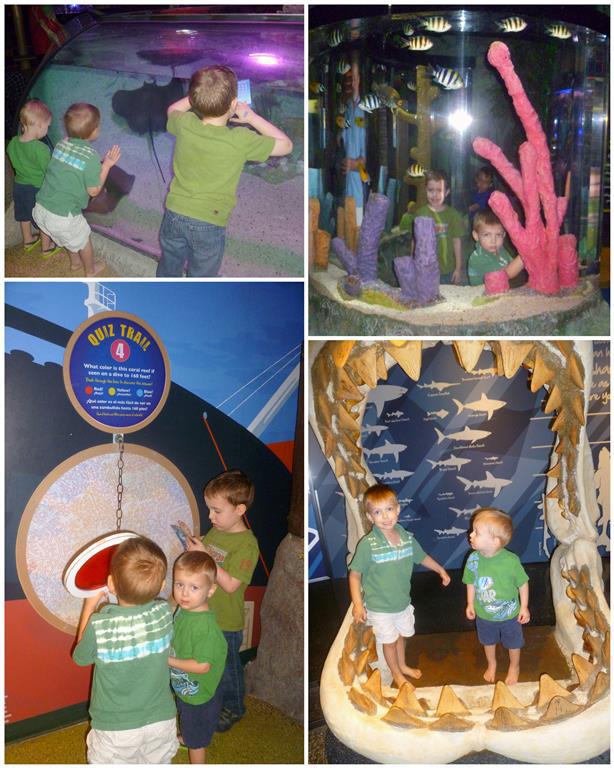 We had the fun opportunity to be one of the first groups to go along on the Behind the Scenes tour! It was neat to see what goes on behind the scenes and learn about different foods the animals eat. We also got to learn about what happens with new creatures that come to the aquarium and a peak at new star fish that had just arrived!
The tour includes a look in microscopes and a water level tester that let the kids participate in the tour which they loved. However, my kids were ready to go back to the slide a few minutes into the tour and were a bit too young to really want to listen and participate to most of the tour. The tour would be fabulous for grade school aged children and above as my 5 year old was interested and listened much better than my younger two.
After the tour, we took our time checking out the different exhibits at the aquarium. My boys loved seeing all the different fish and especially spotting "Nemo" and "Dory" from one of their favorite animated films, Finding Nemo.
My 5 year old absolutely loved the Quiz Trail which gives you a scratch card to mark off the correct answers. The quiz trail is interactive at parts so my younger two liked it as well, but didn't quite grasp the scratch card portion of trail yet.
The aquarium is designed to be as hands-on as possible with neat tanks that let your child pop their head up "into" the tank for a better view and curved class that lets you right up close and personal with amazing animals like sharks and rays! My boys favorite part of the aquarium was the main large pool as several large rays came right up in front of us, just inches and a sheet of glass in front of our faces!
They also loved the walk through tunnel where we say tons of sharks and other sea life! Another really neat room was a circular room with a current and a huge amount of fish that all followed along with the current! It was really neat to watch the mass of fish going around and around.
Admission to SEA LIFE Arizona Aquarium is $18 for adults, $12 for children, and those under the age of 3 are free. You can upgrade your admission tickets to include the Behind the Scenes Tour for $3 per child and $4 per adult. The tours run on a schedule and you will be admitted into the next available time slot. Tour should not exceed 8 guests. Tours start on the hour starting at 11am and through 3pm daily. Did you know SEA LIFE Aquarium Arizona offers a discounted rate when you book online? Save up to 40%!
Grab a copy of our I Spy Printable Aquarium Activity to take with you on your next visit to SEA LIFE!