If you have kids at home, you know that school is in season and weeknights are now BUSY! From homework, to sports and practices, to meetings with the teachers – schedules always get hectic once school is back in session. That means, dinner time is often just as hectic and crazy as the rest of our busy days.
Easy Dinner Recipes for School Nights!
Our favorite weeknight meals are the ones that use ingredients we always have on hand, that are quick and easy to prepare, and that everyone enjoys! With that in mind, here are a few of our favorite easy dinner recipes we often plan for our school night dinners!
Pillsbury Barbecue Cups
We were thrilled this past week to try a new recipe by Pillsbury that has already become a favorite for school night dinners! It meets all of our requirements – easy to make, simple ingredients we always have on hand, and yummy too! The whole recipe takes under 30 minutes and it's the perfect way to use any leftover already cooked hamburger meat!
Grands!® Barbecue Cups Recipe
By Pillsbury – See and Print the Recipe on their Website
Ingredients:
1 lb lean (at least 80%) ground beef, cooked, drained
3/4 cup barbecue sauce
1 can (10.2 oz) Pillsbury® Grands!® Flaky Layers refrigerated biscuits
3/4 cup shredded Cheddar cheese (3 oz)
Directions:
In 10-inch nonstick skillet, mix cooked beef and barbecue sauce. Heat over medium-high heat, stirring constantly, until hot.
Pull each biscuit apart into 2 layers; press each into 4-inch round. Place 1 round in each of 8 greased regular-size muffin cups. Firmly press in bottom and up side, forming 1/4-inch rim. Fill with beef mixture; sprinkle with cheese.
Bake at 375°F 13 to 15 minutes or until edges of biscuits are golden brown. Cool 1 minute; remove from pan.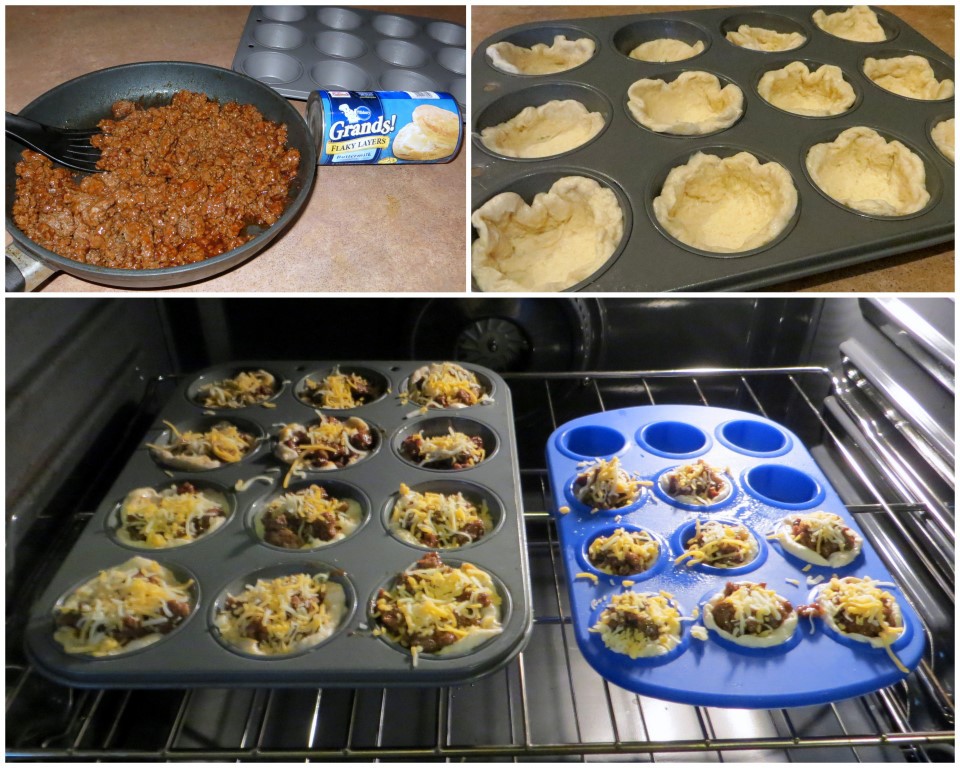 If you pull apart the Grands! Flaky Layer biscuits like the recipe calls for, you actually have enough dough to make 16 cups or a ton of miniature cups that would be great for a party or as an after school snack! We made some cupcake sized and some mini muffin sized barbecue cups.
When the cups were ready, we all sat down together for family dinner, one of the best parts of the day! The kids got to tell us what they were learning about at school while my three year old went on and on telling us all about Dinosaurs surprising us with the facts he had picked up! We really enjoyed the barbecue cups! My oldest plowed through one large and 2 or 3 small cups because he loved them so much! Because all the meat is cooked and contained in the bread cups, ,they aren't all that messy either! This would be an awesome meal to pack up in an insulated cooler and take along with you to your sports practices or other weeknight activities.
With the Barbecue cups being such a great hit with our family, I'm planning to try the Grands! Chicken Pot Pie Puffs recipe next!
For another easy weeknight meal, try Homemade Hamburgers!
I was selected for this opportunity as a member of Clever Girls Collective. The content and opinions expressed here are all my own and are not indicative of the opinions or positions of General Mills. Compensation was provided by General Mills via Clever Girls Collective.