This post is sponsored by Lunchbox. All opinions are my own.

Having a baby is always a super exciting time! Whether it's your first or subsequent pregnancy. No matter if it was planned or a surprise, a new baby is always a blessing! But when you find out your pregnant, suddenly those nine months begin to fly by as you think about preparing for the arrival of your new little bundle of joy.
Fisher Price can help you on every step along the way, through pregnancy as well as when your baby arrives. They have quality products to build the Nursery of your Dreams while counting down to your due date.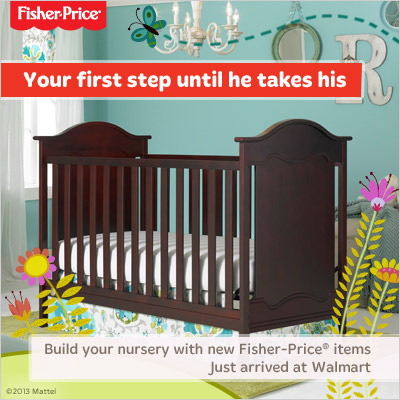 Browse Fisher-Price Convertible Cribs on Amazon
When we were pregnant with our first child, the very first thing I bought was a crib! I couldn't want to start setting up the nursery. As soon as we got home from our ultrasound appointment, I started my hunt for a crib! Our first crib was a really great crib and would have lasted us through all four kids, had the recall not hit on the dropside cribs. We got a new crib because of the recall which has already made it through two kids and has held up fabulous. We used it for a toddler bed before turning it back to a crib for our youngest. Hands down, the crib is the most important thing you'll purchase for your new baby!
You can find Convertible Cribs by Fisher-Price that have a versatile and sturdy design you'll love! Your crib today can convert down the line to a toddler bed and a day bed growing with your child. Browse their variety of styles and colors to create your perfect nursery!
What is the first thing you bought when you found out you were expecting?