I have 4 little girls. My home is a constant flurry of Princess stuff. Princess dresses and crowns and high heels. When the new Cinderella movie from Disney Studios was announced, my girls brought out their Cinderella dress and began to retell the story.
I received admission to a screening of Cinderella in exchange for this post. All opinions are my own.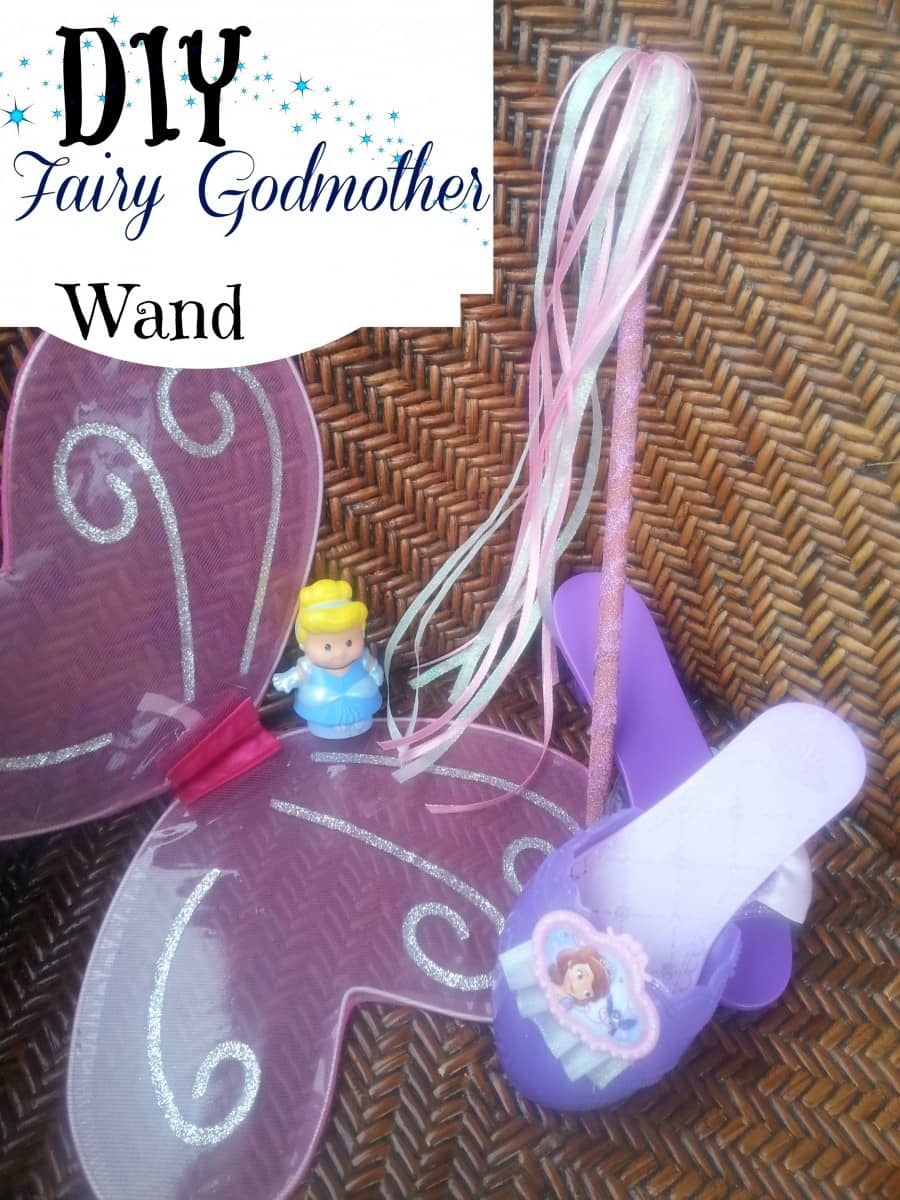 My girls were so excited to see Cinderella "in the flesh." I could not believe how beautiful this movie is. From the amazing costumes, to the blow you away sets, Cinderella is breathtaking. The next thing that really impressed me, and my older daughters, was the lesson that Cinderella was taught at a young age by her mother to "Have courage, and be kind." My girls understood why she would stay there with her stepmother and be treated that way…"her mother wanted her to always be kind, even when people treat you bad." That really impressed them.
When my girls got home, the story they reenacted had changed, and now prominently featured a bright silly Fairy Godmother (thanks to Helena Bonham Carter's amazing portrayal). I did notice that my girls didn't have a wand to turn their pretend pumpkin into a pretend coach. With a wave of my magic wand (a quick trip to Wal-Mart) I had gathered my supplies.
DIY Fairy Godmother Wand
Materials
Wooden dowel (these are sold in a pack in craft aisle at Wal-Mart)
Ribbon (any color your little Fairy Godmother desires)
Glitter tape (like washi tape, sold near scrapbook supplies at Wal-Mart)
Directions
Cut lengths of ribbon 18 inches long. Fold the ribbon in half and taped the fold tightly to the end of the dowel.
Continue wrapping the tape around the dowel completely covered.
And bibbity bobbity boo…you have a wand!
It takes about 5 minutes to put together, and take it from me, it's much sturdier than the plastic wands. My girls have had so much fun reenacting the amazing transformation from the movie.
The story of "Cinderella" follows the fortunes of young Ella (Lily James) whose merchant father remarries following the death of her mother. Eager to support her loving father, Ella welcomes her new Stepmother (Cate Blanchett) and her daughters Anastasia (Holliday Grainger) and Drisella (Sophie McShera) into the family home. But, when Ella's father unexpectedly passes away, she finds herself at the mercy of a jealous and cruel new family.

Soon, she is forced to become their servant, disrespected, covered in ashes and spitefully renamed Cinderella. Yet, despite the cruelty inflicted upon her, Ella will not give in to despair nor despise those who mistreat her, and she continues to remain positive, determined to honor her mother's dying words and to "have courage and be kind."

When Ella meets a dashing stranger in the woods, unaware that he is really the Prince (Richard Madden) and not merely Kit, an apprentice at the palace, she believes she has finally found a kindred soul. It appears her fortunes may be about to change when the King (Derek Jacobi) summons all maidens in the kingdom to attend a royal ball at the palace, raising Ella's hopes of once again encountering the charming Kit. Alas, her Stepmother forbids her to attend and callously destroys her dress.
Meanwhile, the calculating Grand Duke (Stellan Skarsgård) devises a plan to thwart the Prince's hopes of reuniting with Ella and enlists the support of the devious Stepmother. But, as in all good fairy tales, help is at hand. Soon, a kindly beggar woman (Helena Bonham Carter) steps forward and, armed with a pumpkin, a few mice and a magic wand, changes Cinderella's life forever.
Check out the trailer here:
Cinderella is in theaters everywhere beginning March 13th.
Have you seen Cinderella? What did you think?