I received an 18-servings meal prep experience at Dream Dinners in exchange for this post. All opinions are my own.
The planning, prep, and thought process of getting dinner to the table is always a struggle here in my home. It seems like there is often a battle of what to make for dinner. Once we pick out a meal, we often realize that the chicken is still frozen or we are missing some key ingredient.
When we finally pick out and create a meal, then we face a mounding sink full of dishes. I had the opportunity this month to try out Dream Dinners! They opened up a new location in Scottsdale, Arizona, and offered a preview night to a small group of bloggers to try out what they have to offer.
How Does Dream Dinners Work?
At Dream Dinners, you select the meals you would like to make by selecting either a 3 or 6 serving meal to make. Then, choose from one of the 15 or so recipes featured for each month.
Everything is already prepped ahead of time with easy and clear directions you can follow to create your own family meals. Since you create the meals yourself, you know exactly what is going into each meal and can customize the recipes to fit your families taste preferences and dietary restrictions as needed.
Easy to Pick & Make Meals
I selected Chicken Parmesan with Garlic Bread, Santa Fe Shredded Pork Burritos, and Fully Loaded Chicken & Potato Soup with Mini Breadsticks. I started with making the burritos and was surprised when preparing the whole meal took about 5 minutes!
It was as simple as grabbing the measuring spoon already sized right and ready to go in each ingredient and following the steps to prep the meal. For the burritos, that meant tossing in chicken, corn, spices, chilies, etc all into one bowl and mixing.
Then, I filled up each tortilla and rolled them closed to place them in the baking dish. When the burritos were ready, I grabbed a bag of enchilada sauce to add to the top of the pan for use when cooking the meal.
Label As You Go
As each meal was prepared, you can added it to your labeled spot in the fridge so your food stays cool and ready for you while you finish the rest of the meals.
I was seriously surprised by how fun cooking prep was with everything right there easy to reach and ready to use. While I finished up one meal, one of the staff would be right beside me grabbing dirty dishes and cleaning up the space.
I didn't have to do any of the bad parts of cooking and instead just got to have a relaxing evening chatting and mixing.
Save Time Prepping Meals
During the 1-hour time frame I was at Dream Dinners, I prepared 3 large 6-serving meals for my family, enjoyed a sample of Dream Dinner's food, chatted with other bloggers, learned more about the company's concept, and still had time to relax.
I could have been in and out in 20 minutes if I was in a big time crunch. There is absolutely no way I could make all three meals in 20 minutes from home.
It would be a huge time saver since I would need to shop, prep, or clean up for the meals! In fact, the owners told us that the average client says that Dream Dinner's saves them 15 hours per week! That's a TON of time!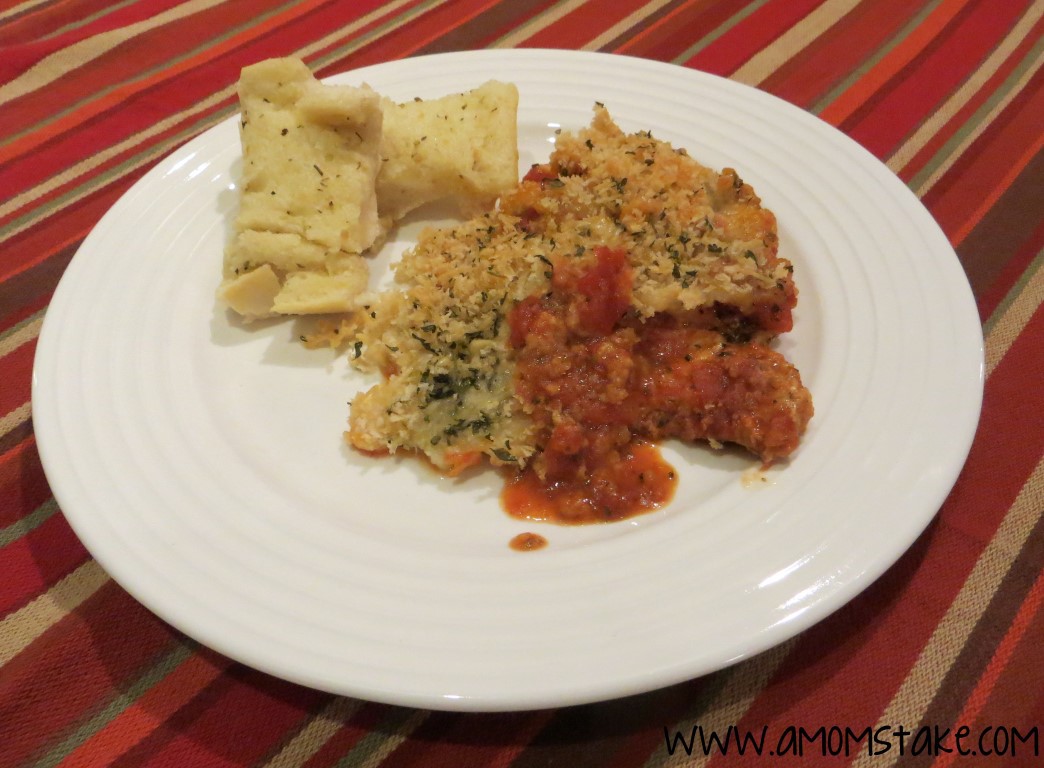 Dream Dinners
Review & Thoughts
We busted out the Parmesan Chicken just a few nights later and it was SO nice to have a meal all ready to go with very little thought needed. There are directions for cooking the meal straight from the freezer as well as from a thawed in the fridge option.
It will save you a lot of baking time if you remember to pull out the meal the night before or the morning of and pop it into the fridge until it's time to cook. I didn't realize this so we cooked our meal from frozen.
The dinner was delicious!! We all really liked it and I was so surprised to see all of my kids gobbling it down and asking for seconds. It was a ton of food, but we all enjoyed it so much that we nearly finished off the whole pan in one sitting.
If you need some help in the kitchen or just want to prepare genuine home cooked meals rather than eating out, Dream Dinners is an awesome solution! They have locations all across the country including their newest location in Scottsdale, Arizona, where I attended the cooking meet-up!