Who here has ever gotten a gift for their birthday or Christmas that was a little… how do you put it nicely… not quite you? I'm sure we all have at one point had to open a gift and fake a little excitement at its content. On the flip side, how many of us have spent hours looking for the perfect gift for someone and still not been able to find something we knew they would love?
This post was created in partnership with Coinstar®. All opinions are my own.
I really hope my grandma's not going to read this post, but I was given one of these very thoughtful type, Christmas gifts once. My grandma had gotten me these really soft, comfy, matching pair of what I perceived were pajamas.
I thankfully got the package at my house and had opened it there. Later, though, when I saw grandma, I expressed my gratitude for the comfy pajamas and thoughtful gift. That is where she told me that they were in fact, not pajamas. Oops. I guess she really expected me to go out in public dressed like that.
The point is, as well meaning as gifts are, they are really hard to predict what someone likes right then in the moment you will be giving them the gift. That is why gift cards have become such a hot ticket item for holidays now. You can get a gift certificate to a store you know they venture to often or one that has a wide range of items for selection. They get to pick something they will absolutely love and you don't have that awkward ugh moment.
If you're looking for some last minute holiday spending cash, the green Coinstar® kiosks can help you turn that loose, spare change into cash for holiday gifts. If you need help finding places to locate that extra change, check this out. You can take that extra change and turn it into instant cash at a Coinstar kiosk to buy gifts, no-fee eGift Cards, or donate it to a charity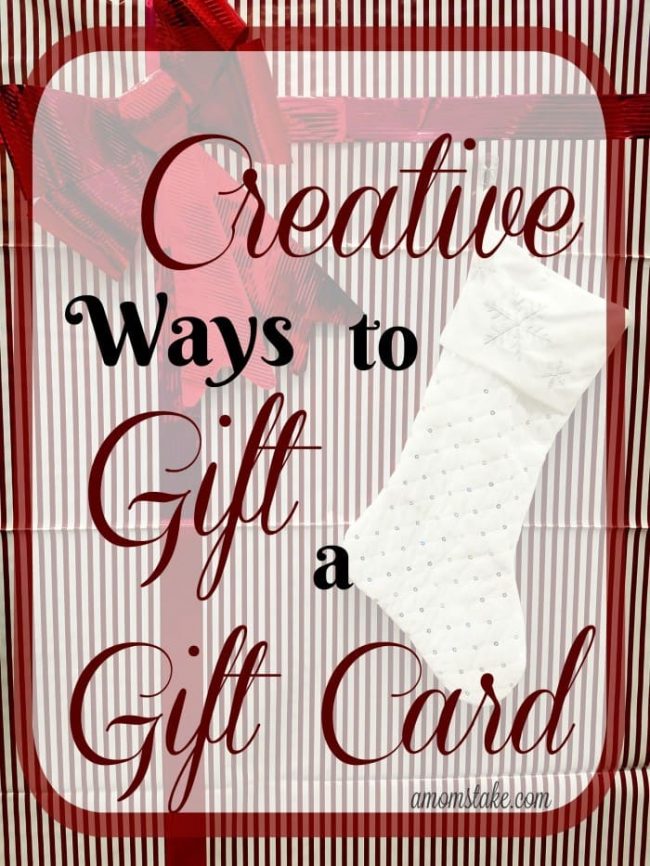 The biggest problem I've heard people express about gift cards is how impersonal they feel they are. Another is how the joy and surprise of opening a gift is no longer there. Well, both of those problems are easily fixed by making those gift cards into a cute gifted present. I'm going to show you some creative ways to gift a gift card.
Hide the gift card in a jar of goodies
My personal favorite is hiding the gift card in a jar or box of candy. My grandma did this for my kids one year and they were ecstatic just to have a jar of candy. They were even more surprised when they opened it to find an extra surprise hidden inside. You could even put it in a tin of homemade candies and treats. Who doesn't love homemade goodies?
Put a gift card in a with a small gift
Gather a basket of simple small items and include a gift card for larger or extra items. You can create your basket around a theme, like kitchen cooking for that chef in the family. Race cars for that little speedster, manicure items for the diva or princess magic for your little princess. Dollar stores and sections are great places to find small items to place in a simple gift basket.
Create a unique gift card holder. Break out with that origami or duct tape, glue and glitter and see what you can do. Make a box, a wallet or something cute to hold the gift card in.
Do you need some quick cash for holiday shopping? How can you be sure that the gift card you buy or receive is something that will be used? Well, you could go in debt, ask what stores they frequent, or you can have the peace of mind knowing that Coinstar understands these dilemmas.
Coinstar to the holiday cash rescue!
Coinstar™Exchange has these wonderful yellow kiosks that are gift card disaster and fast cash miracle workers. If you find yourself at the end of a birthday or Christmas with a huge pile of gift cards to cat palace, and you don't own a cat, don't sweat it. Maybe you have gift cards to cat palace in your wallet from last year. Just take those well-intended gift cards to a yellow Coinstar Exchange kiosk and get instant cash money for your gift cards.
It's an extremely easy process to do. You will be leaving with cash in hand. Cash you can use to do your holiday shopping with. You just simply tell it what store the card is to, how much is on it. Then, slide it through for verification. Decide if you really want to sell it back to Coinstar Exchange. If you do, Coinstar Exchange kiosk will print you a voucher. You then walk it over to customer service and they will exchange your voucher for the amount printed on the voucher.
So, stop carrying around all of those old gift cards that you are never going to use. Instead, put them to good use with Coinstar or Coinstar Exchange kiosks and turn them into holiday spending cash. Click here to find a Coinstar near you.
What will you do with all your new holiday cash?