Best part of Thanksgiving? Pie of course! I'm a fan of just about every kind of pie. Pumpkin and fruit pies, and of course cream pies! Today, I'm thrilled to be sharing a coconut cream pie recipe, which is a perfect pie to add to your Thanksgiving festivities!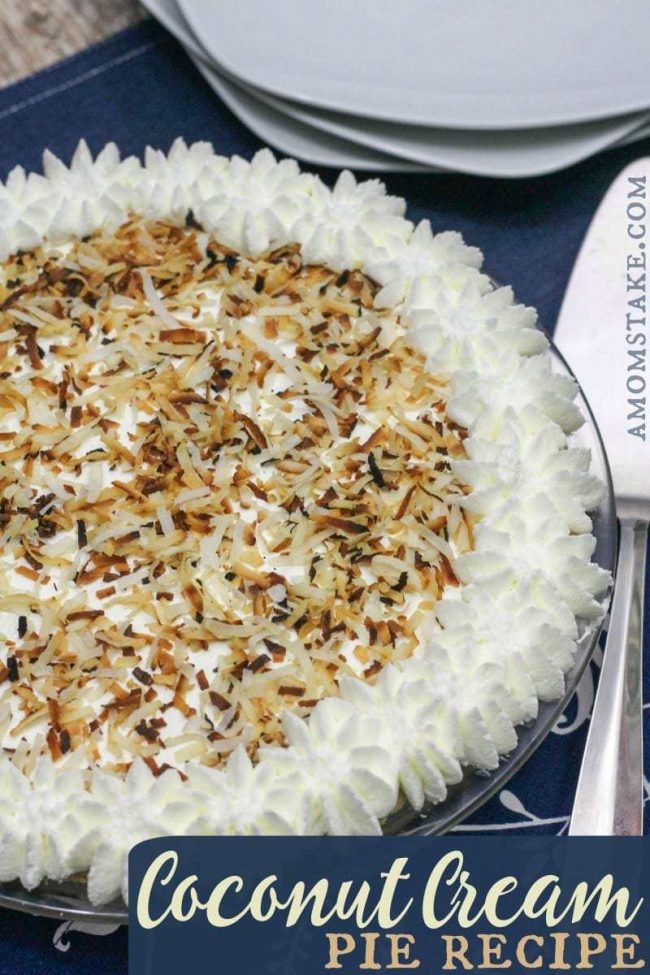 Homemade Pie Crust
Pie Crust Ingredients:
1 1/2 cup flour
1/4 tsp salt
1 tsp sugar
4 tablespoons unsalted butter, cold
3-5 tsp cold water
Crust Directions:
Whisk flour, sugar and salt together in a bowl. Add in butter, using your hands to mix it till it looks like coarse meal.
Continue mixing and add 1 tablespoon of water at a time until it forms a flaky, soft dough. Wrap the dough in cling wrap refrigerating for 30 minutes.
Preheat oven to 375 degrees. Using a baking spray prep a glass pie plate.
After dough has chilled, flour a wooden cutting board and work the dough into a circle. Place the dough into prepped pie pan. Remove any excess dough.
Poke the dough with a fork on the sides and bottom of the unbaked crust.
Bake 375 degrees for 20-30 minutes. Set aside to cool.
Coconut Cream Pie Filling
Coconut Cream Pie Ingredients:
1/2 cup sugar
1/4 cup cornstarch
3 cup heavy cream
4 egg yolks
1/2 tsp salt
1 cup sweetened flaked coconut, processed in food processor until fine
2 tsp vanilla
Topping Ingredients:
1 bag of shredded coconut
1 cup Heavy cream
1/2 cup powdered sugar
1/2 tsp vanilla
Coconut Cream Pie Directions:
Whisk the eggs yolks, set aside.
In a double boiler, add cornstarch, sugar, salt stirring together. Stir in the heavy cream continuing to mix with the ingredients with a spatula from the bottom of the pot to the sides to the top. On low heat bring to a boil, stirring constantly until it begins to thicken.
Remove from heat, then add in the coconut and vanilla. Set aside to cool for 30 minutes stirring occasionally.
Add the custard filling to the prepared crust putting cling wrap over it refrigerating for 2 hours.
While you're waiting for the pie filling to cool, you can prepare your toasted coconut and homemade whipped topping.
Topping Directions:
Spray a lipped edge baking sheet with cooking spray. Spread out the shredded coconut on the baking sheet. Bake at 350 degrees for 10 minutes. Allow to cool.
Make homemade whipping cream by first chilling your mixing bowl and whisk attachments in the freezer for 10 minutes. Blended heavy whipping cream until it forms stiff peaks. Add powdered sugar and vanilla, continuing to mix until all ingredients are blended. Store in the fridge until ready to use.
Sprinkle the top with toasted coconut. Top your pie with whipping cream using a frosting bag with a star tip adding dollops around the edge for decoration.
It looks like a lot of steps, but it's really an easy pie that just has some cooling steps all along the way. This yummy coconut cream pie recipe will be a bit hit with all your guests.
For more Thanksgiving and fall recipes, visit a few of my favorite bloggers: