At our house we have a book reading tradition that is near and dear to my heart. At the beginning of the month of December I wrap up 25 books and place them in a basket under the Christmas tree. Each night one of my kids picks a book and we all snuggle up together and read it by the light of the Christmas tree. This year we are shaking it up a little bit and making the weekends even more magical by adding some fun in the kitchen.
I received compensation and samples for this post. All opinions are my own.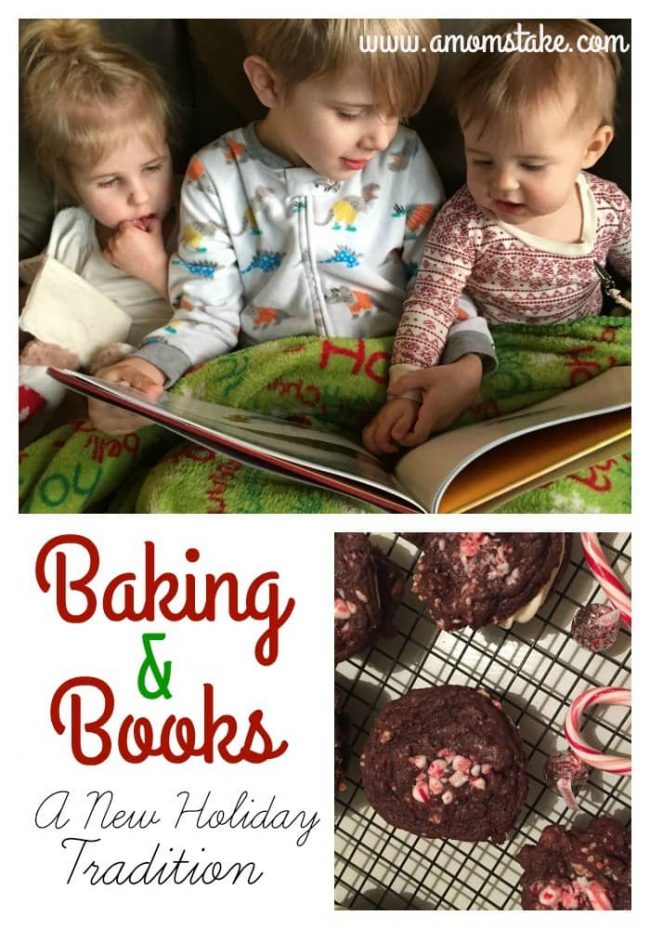 Each week in December we are going to make a special Christmas treat in the kitchen, whip up some hot chocolate and really get comfy in that beautiful glow of the tree. Slippers, Pjs, blankets, the works! Quality time spent with my kids is precious to me. Each year seems to rush by quicker than the last, and I know that my time under the tree reading to them will soon be a treasured memory.
Here are the four books we will be reading for books and baking December:
Your Baby's First Word Will Be Dada! By Jimmy Fallon
Okay, I know this book is not a holiday book, but my kids think it is HILARIOUS! Just like most dads, Jimmy Fallon was determined that his baby's first word would be "dada"! He had to work very hard for it, and the animals in the book are no different. My kids love do all the animal sounds and it makes my 8-month-old laugh so hard. Your Baby's First Word Will be Dada! is just so much fun to read.
The Spirit Of Christmas By Nancy Tillman
Written by the same author who created On The Night You Were Born, another family favorite, The Spirit of Christmas is the perfect book for introducing the best parts of Christmas to your little ones. Its beautiful illustrations depict all of the classic parts of the holidays and remind us that even with all the hustle and bustle, the most important part of the season is being with each other. The Spirit Of Christmas is a must for kicking off your holidays!
The Not Very Merry Pout-Pout Fish By Deborah Diesen
Mr. Fish is back with a magical holiday message that every child needs to learn. As Mr. Fish thinks and plans gifts for everyone on his list he becomes stressed and overwhelmed, sound familiar? He quickly learns that the best gifts come from the heart, they don't need to be big, or bright, or have bling-zing. I would love for my kids to learn this lesson at a young age, and The Not Very Merry Pout-Pout Fish is perfect for opening that dialogue with them.
Tractor Mac Saves Christmas By Billy Steers
The snow is piling up outside and and the town tree lighting is in danger! Where are Sibley the Workhorse, Farmer Bill, and the town Christmas Tree? It is up to Tractor Mac to to brave the blizzard and rescue all of his friends in Stony Meadow Farm. A favorite series of readers young and old, Tractor Mac Saves Christmas is fun for the whole family!
Now that we have covered books, let's cover baking! To kick off our books and baking tradition we are going to be making a family holiday favorite.
Yield: 12 Dozen cookies
Chocolate Peppermint Sandwich Cookies
Ingredients
Cookies:
1 cup unsalted butter, softened
1 1/2 cups sugar
2 eggs
1 tsp vanilla extract
1 tsp peppermint extract
2 cups all purpose flour
2/3 cup cocoa powder
3/4 tsp baking soda
1/4 tsp salt
1 Cup chocolate chunks
1/2 Cup Hershey Candy Cane Kisses (roughly Chopped)
1/2 cup candy cane pieces (Broken into chunks)
Marshmallow Buttercream Filling:
1 Jar 7oz. of Marshmallow Creme
1 Cup of Butter
2 Cups Powdered Sugar
1 Teaspoon Vanilla
Instructions
Preheat oven to 350.
Beat butter, sugar, eggs, vanilla and peppermint until light and fluffy.
In a large bowl stir together flour, cocoa powder, baking soda, and salt.
Slowly add flour mixture to butter mixture until well combined.
Stir in chocolate chunks.
Use cookie scoop to drop cookies onto ungreased baking sheet.
Press candy cane pieces on top.
Bake 8 to 10 minutes.
Cool slightly then transfer to wire rack to cool completely.
For Filling:
Mix butter and marshmallow creme until smooth, add powdered sugar and vanilla.
Mix until smooth.
Spoon onto cookies and top with another cookie!
Nutrition Information:
Yield:
12
Serving Size:
1 sandwich cookie
Amount Per Serving:
Calories:

767
Total Fat:

37g
Saturated Fat:

23g
Trans Fat:

1g
Unsaturated Fat:

11g
Cholesterol:

116mg
Sodium:

298mg
Carbohydrates:

104g
Fiber:

2g
Sugar:

74g
Protein:

6g
Sound yummy!? Believe me, they are. The holidays are upon us! Start baking and get reading!
Which of these amazing books would you use to kick of your Books and Baking Tradition?