This is a Sponsored post written by me on behalf of ALPO® Brand Dog Food. All opinions are 100% mine.
Mealtime is a very beloved time of the day for Gunner, my chocolate lab. Every morning at about 8 am, I feel Gunner's wet nose poke my arm to let me know it's breakfast time. As I make my trek outside to fill his food and water bowls, he wags his tail and jumps with giddy anticipation; Gunner LOVES his food. Ever since introducing ALPO's variety dog food to Gunner's diet, his excitement for mealtime has grown to new heights.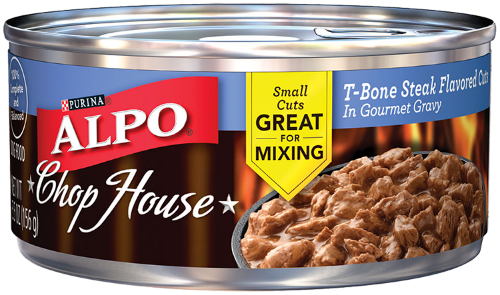 Provide your furry friend 100% complete nutrition with ALPO® wet dog food. Filled with healthy ingredients such as protein, whole grains, and veggies, your pooch will enjoy eating ALPO® in a variety of flavors: T-bone Steak Flavored Cuts, Tender Cuts with Lamb, Filet Mignon, Rotisserie Chicken Flavored Cuts. ALPO® Chop House 5.5 oz containers come in small cuts or finely ground (great for mixing with dry food) and provide the perfect sized meal for dogs in all life stages. Not only will your dog absolutely love ALPO'S® many delicious flavors, but ALPO® dog food helps support strong bones, teeth, and a shiny coat. What more could you ask for in a dog food?
The second I arrived home from the grocery store after purchasing ALPO®, Gunner greeted me at the door wagging his tail and running in circles; he knew the contents inside the grocery bags were his. Sniffing the ALPO® cans, he begged me to open them by sitting and giving me "high five" (this is what he does when he wants something).
As I opened a can of ALPO® to feed Gunner, he put his paws on the counter and started licking the food straight from the can; I think it's safe to say he LOVES ALPO® dog food. While guzzling down an entire can of ALPO® in less than a minute, his tail wagged excitedly.
To say Gunner loves ALPO® would be an understatement; he is completely smitten. Every time he walks by the pantry, he sniffs under the door and begs for another can. I'm so pleased that Gunner loves a dog food that provides such wonderful benefits: a shiny coat, strong bones, and complete nutrition.
Give your dog 100% balanced nutrition by introducing ALPO® ($14.99 per 12 pack) into your pet's diet. To stay up-to-date and for the latest offers, connect on ALPO's Facebook Page or follow ALPO® on Instagram.